DIA Playoff Speculation Latest
DIA Playoff Speculation Latest
Baylor flanker Ryan MacIntosh eludes an LSU tackler during Saturday's Red River Conference final. Luke Schiltz photo.
Baylor's defeat of LSU in the Red River Conference final puts the entire DIA playoff picture into some muddiness as we await the latest rankings.
(This article contains some changes from the original based on what teams will be playing in the playoffs ... basically we shouldn't have had Arkansas State in there, sorry -AG)
With the Bears beating the Tigers (Baylor Downs LSU on Late Try to Take Red River), Baylor gets an automatic spot in the playoffs as a conference champion. There are five of those who are participating in the DIA playoffs. But there are seven more spots, which are dependent on the D1A Rankings. 
Here's how it could well shake out:
Conference Champions
California - Saint Mary's
Mid-South - Life University
Big Ten - Indiana
West D1A - Air Force
Red River - Baylor 
Rugby East - Penn State (Will Not Participate)
PAC Conference - Cal (Will Not Participate)
Right now, according to the D1A Rankings, and our own opinions, the seeds should be as follows:
#1 Saint Mary's
#2 Life
#3 Indiana
#4 ... 
Here's where it gets complicated. According to last week's rankings, LSU was ranked ahead of Air Force, but with LSU losing to Baylor, you wonder if the voters for the rankings will move LSU down or Baylor up (this writer votes for the rankings, and has already voted; I won't say how I ranked the teams, so as not to influence anyone still to vote). So it's possible this #4 seed could go to Air Force or Baylor.
Baylor's championship earned the Bears an automatic DIA playoff spot. Luke Schiltz photo.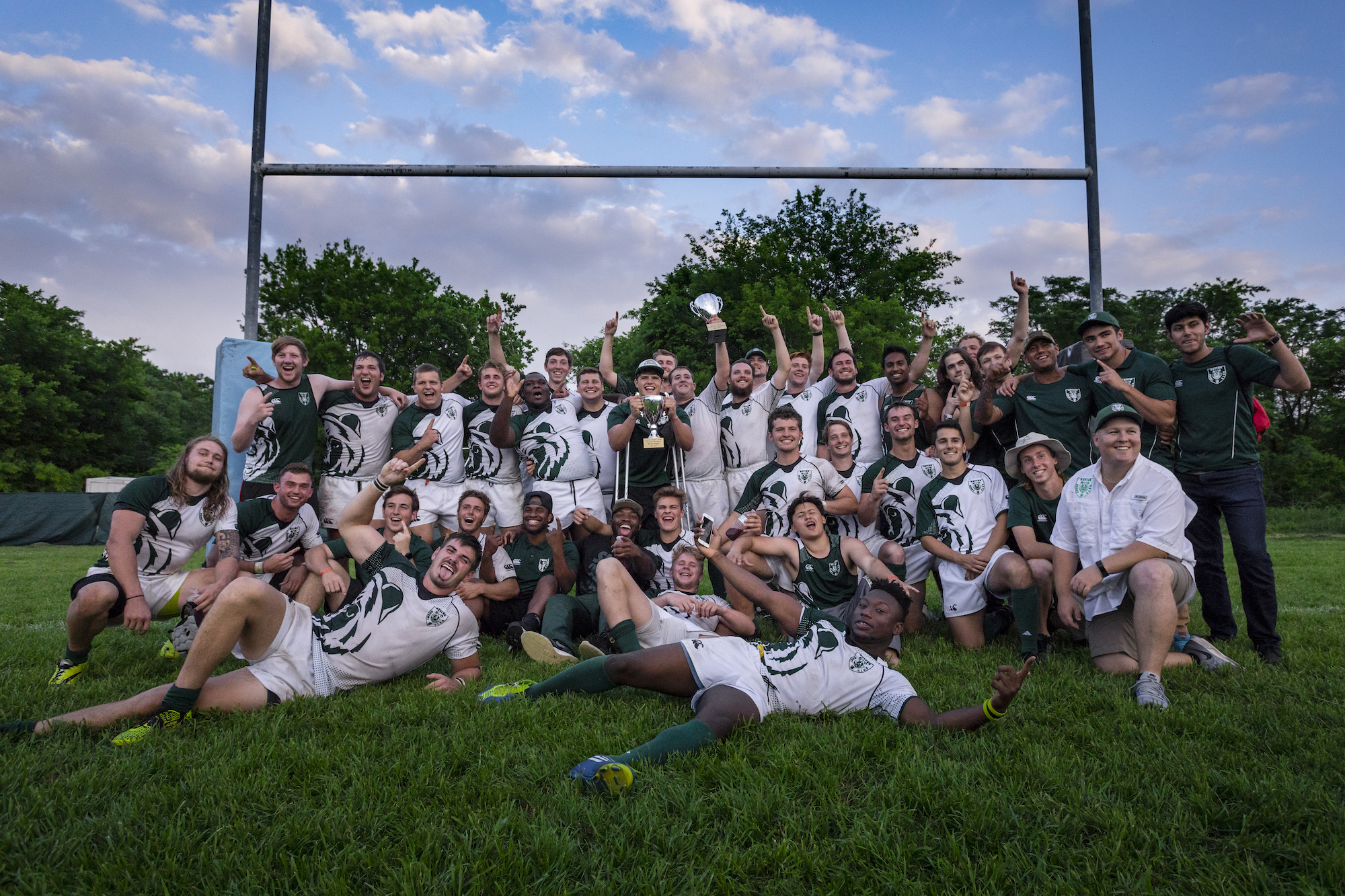 Those four teams get a bye to the April 22 quarterfinals.
Now here's a look at the teams who would be in the 1st round on April 15:
#5 Air Force or Baylor (the lower-ranked of the two)
#6 BYU (at-large team that is still near the top of the rankings)
#7 Lindenwood (2nd in Mid-South)
#8 San Diego State (2nd in California Conference)
#9 Utah (Top participating finisher in PAC)
#10, 11, and #12
Here's where it gets difficult. You've got LSU, which was undefeated in the Red River until the final, which they lost by three points. You've got Arizona, which finished 3rd in the PAC Rugby Conference after wins over USC, UCLA, and Arizona State, but a humbling 53-3 loss to Utah March 25. You've got Colorado State, which was probably stronger than Air Force but lost out on the conference title thanks to a nullified result against Colorado. Maybe getting bumped from the playoffs is the upshot of having to forfeit a game (even a game you played).
And then you've got Davenport. As has happened in previous years, Davenport has garnered serious DIA playoff consideration despite being winless in conference play. The Panthers are a good team, a very good team, in a tough conference. They lost to Clemson by a point on the road in their first game of the spring season. Had they won that maybe there's be more of a movement behind DU. Fall victories over Arkansas State, Bowling Green, Notre Dame, and Lindenwood-Belleville aren't nothing. They also lost by two against Notre Dame College. Is that enough? 
So the last three spots are available for Arizona, Colorado State, or Davenport. 
April 15's matchups, then, could look like this:
Arizona/CSU/Davenport at Baylor or Air Force
Arizona/CSU/Davenport at BYU
Arizona/CSU/Davenportat Lindenwood
Utah at San Diego State
But also remember, San Diego State and Cal Poly are yet to play, and that result could change things a little bit - Cal Poly wins that game and maybe both SDSU and Cal Poly are in. It all comes down to the rankings.