Week 8 Pick'Ems Powered by Silverback Elite Rugby
Week 8 Pick'Ems Powered by Silverback Elite Rugby
Fairfield is climbing. Can they beat Fordham? @coolrugbyphotos.
Another week, another slate of Pick'Em games! Congratulations to Scott Nies who has now been our top player on consecutive weeks and Kaleb Boleyn who leads our season standings.
Goff Rugby Report's picks were a little hit-and-miss last week, so let's see if the GRR brain trust can do better this time.
Week 8 College Power Ratings By Silverback Elite Rugby
This week's prize is another $10 Gift Card to Rugby Imports! To play, submit your picks here before Saturday.
Here are the top pickers from the last two weeks: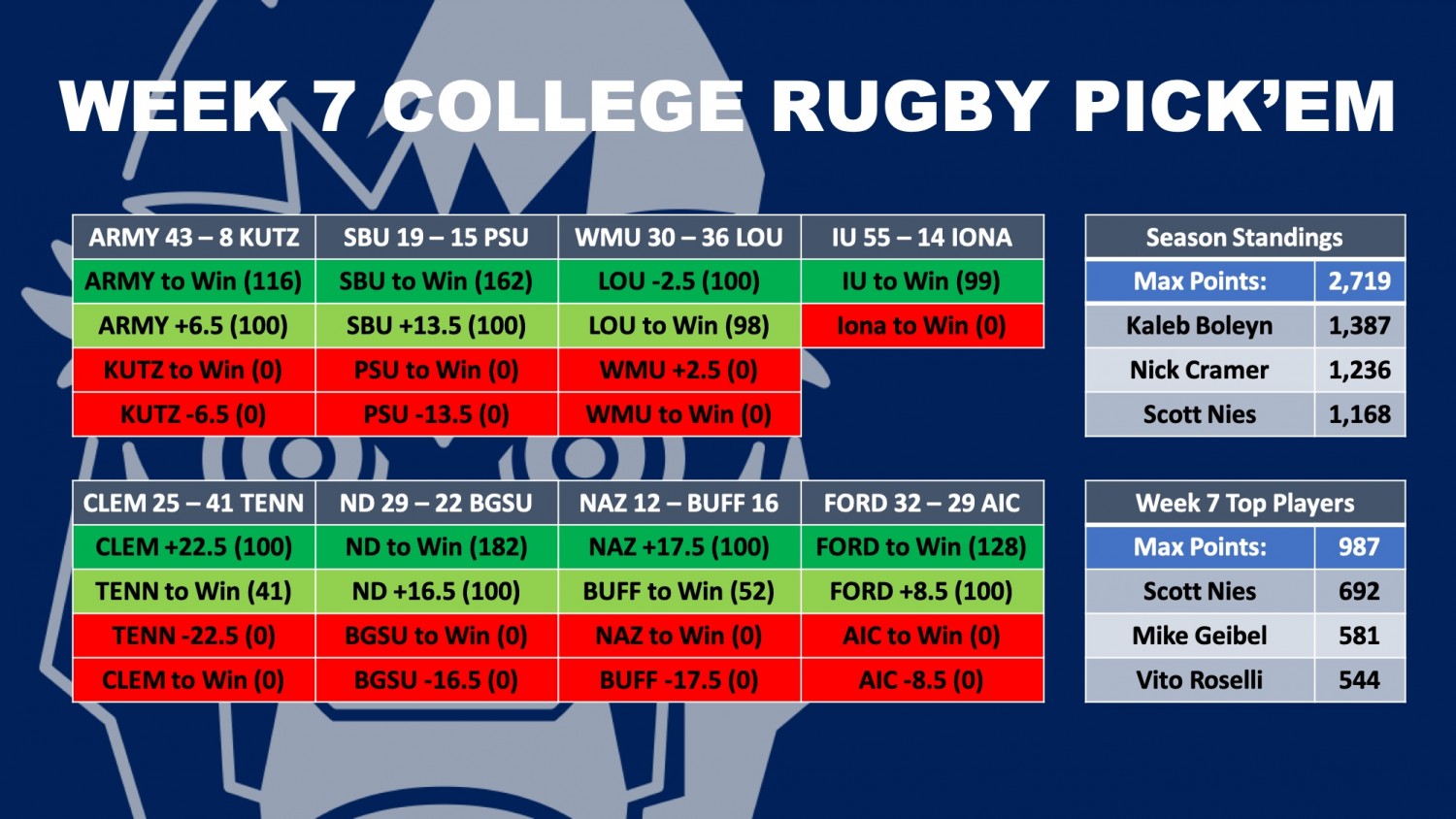 Featured Matches
Army vs Navy
Silverbacks Power Index: Navy by 2.5
Goff Rugby Report: Army by 7
Purdue at Michigan
Silverbacks Power Index: Michigan by 5.5
Goff Rugby Report: Purdue by 3
Penn State at Ohio State
Silverbacks Power Index: Penn State by 12.5
Goff Rugby Report: Ohio State by 3
Washington State at Boise State (Pick'Em!!!)
Silverbacks Power Index: Washington State to Win
Goff Rugby Report: Boise State by 7
Mount St. Mary's at Mary Washington
Silverbacks Power Index: Mary Washington -4.5
Goff Rugby Report: Mary Washington by 12
Fairfield at Fordham
Silverbacks Power Index: Fairfield by 3.5
Goff Rugby Report: Pick em
St. Bonaventure at Notre Dame College
Silverbacks Power Index: St. Bonaventure by 5.5
Goff Rugby Report: St. Bonaventure by 12
Northern Iowa at Loyola Chicago
Silverbacks Power Index: Loyola by 9.5
Goff Rugby Report: Northern Iowa 19