Rivalries, Playoffs, and Conference Championship On The Line
Rivalries, Playoffs, and Conference Championship On The Line
Lindenwood has been playing a lot, but tougher games are coming. Todd Lunow photo.
Some big games highlight this weekend in Men's DI college rugby.
Check back for scores.
---
Support us! A small donation os $5 from everyone who reads this goes a long way to paying out hosting, travel, and IT costs! It's easy, just click here>>
---
NCR DI
Several big matchups sparkle in the NCR DI conferences. The Liberty semifinals, of course, with Fordham at Northeastern and Syracuse at Iona (which is now kicking off on Sunday 1PM ET).
This has been a bit of a surprise season for Syracuse in that they started with two very big losses, but some players returned after that, and they settled down to mete out some big scores of their own in going undefeated in their conference games.
Also big is Mary Washington vs Queens U. Charlotte. Both are 5-0 with the maximum 25 points in the standings. So it's a simple winner-take-all. If, by the way, the teams tie and both have the same bonus point situation (both score four tries, or both don't), then Mary Washington is 1st. Regardless, both should be thinking about the NCR playoffs in November.
It's a bit of a cluster (in a good way) in the MARC. Salisbury, West Chester, Rowan, and St/ Joe's are all 3-1 (and when they play each other it's always close). None of these four play each other, but, notably, 2-1 Rutgers plays Salisbury. A win by Rutgers could make this even more coagulated. JMU at Rowan is a somewhat similar situation. 
| | | | | |
| --- | --- | --- | --- | --- |
| 10/30 | Mary Washington | 5-32 | Queens U. Charlotte | Chesapeake |
| 10/30 | Virginia Tech | 55-14 | Maryland | Chesapeake |
| 10/30 | NC State | 0-20 | Southern Virginia | Chesapeake |
| 10/30 | James Madison | 10-63 | Rowan | MARC |
| 10/30 | St. Joseph's | 33-10 | Delaware | MARC |
| 10/30 | Salisbury | 29-5 | Rutgers | MARC |
| 10/30 | Temple | 12-41 | West Chester | MARC |
| 10/30 | Brown | 91-0 | Penn | Ivy League |
| 10/31 | Syracuse | 8-62 | Iona | Liberty SFs |
| 10/30 | Fordham | 17-20 | Northeastern | Liberty SFs |
| 10/30 | Oregon State | 32-17 | Washington State | NCRC / NCR |
| 10/30 | Western Washington | 79-14 | Washington | Non-Conference |
| 10/30 | Stony Brook | at | Colgate | Liberty Empire |
DIA
It's actually a fairly quiet weekend in DIA action as the Red River takes the weekend of Día de los Muertos off. Of note: Michigan State takes on Michigan in the annual rivalry match. This is a highly-anticipated game because of the in-state bragging rights, and also because it decides (mostly) which of these two will make the top four in the Big Ten and be able to play for 3rd against Illinois.
The game is Friday night and will be live-streamed here>> KO for the B-side game is 4:45PM ET, with the A-side game at 6:15pm.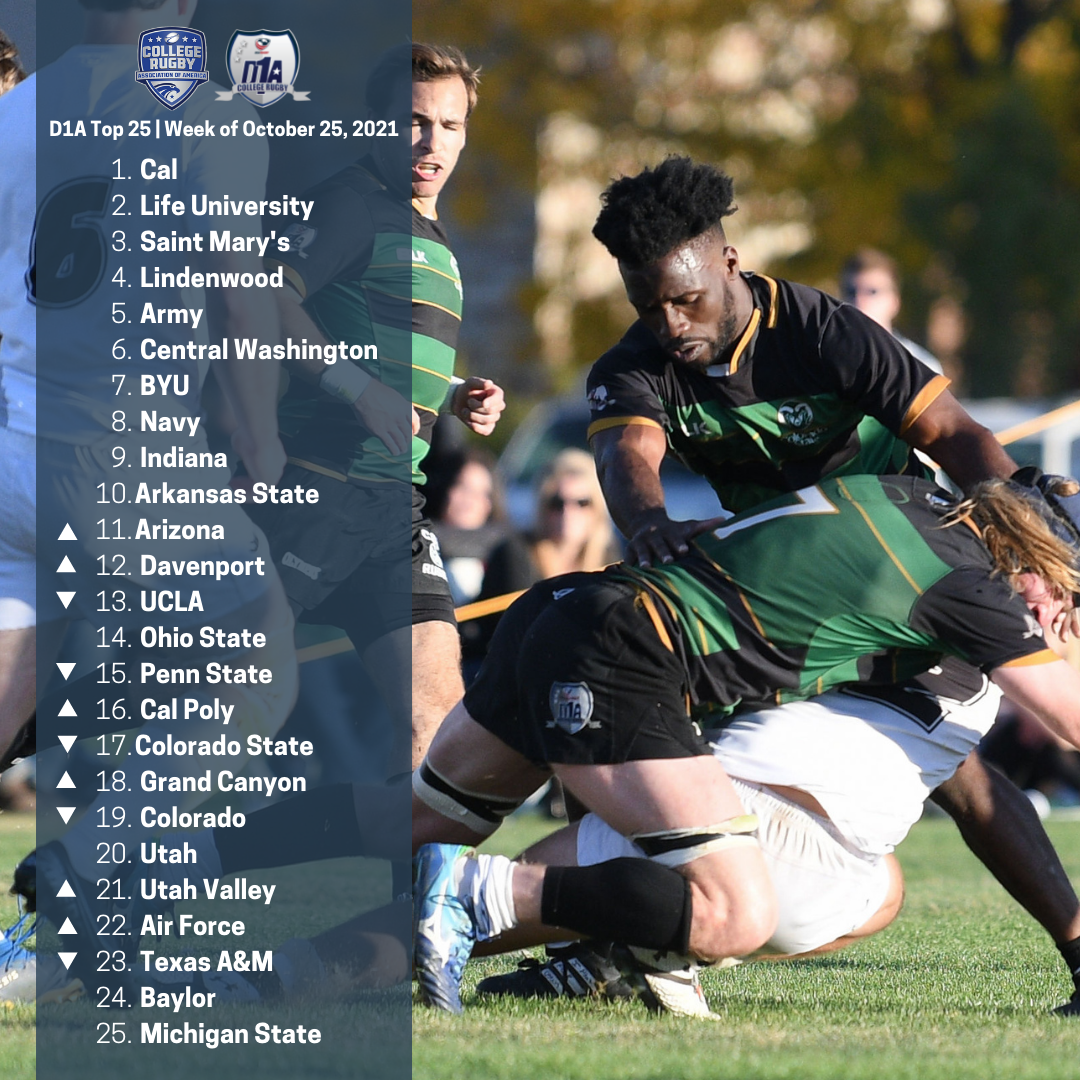 Meanwhile, there's the little matter of a conference championship game in the Rocky Mountain with a very smart, hardworking Colorado State at BYU. Now, while CSU has enjoyed a pretty strong fall, they have to be underdogs going into Provo. BYU is currently 5-0 with an average score of 68-3. Their lowest score was 46 and their highest points-against was seven. In fact, they've allowed just the one try all fall. CSU promises to be a tougher proposition if only because CSU beat Colorado (last week's BYU opponent) and Utah Valley (the team that scored that lone try).
But the Cougars have some sharp claws. The game will be shown here at 1PM Mountain Time>>
We haven't seen a lot from the Mid-South teams so far, but Lindenwood has been playing a lot; it's just been games against a lot of regional DII teams, sometimes 7s and sometimes 15s. They've won every game. This week is the beginning of a bit of a tougher road for the Lions. They are scheduled against the Kansas City Blues men's club and after that it's Iowa Centra CC, Army, and a conference game at Davenport to round out the fall. That will show us a bit more of where they are.
Speaking of Iowa Central, who aren't a DIA team but where else can we talk about them? They go to Wisconsin this weekend:
"We're going to rest some guys and give some other guys, including a few from Wisconsin, an opportunity to step up and show us what they can do," said Tritons Head Coach Brent Nelson. "We aren't in the business of giving playing time to anybody, but the kids that have earned it and deserve it, they'll receive it."
Iowa Central has been battling the elements this week in preparation for the Badgers.
"It's been tough with the rain, but we had a good indoor session and a good film session," Nelson said. "We still haven't put together our best 80 minutes, so I'm excited to see that when it happens. We're still growing and learning as a team."
Notre Dame College is at Penn State and Kutztown at Navy in the Rugby East. Penn State and Navy are coming off losses by a total of ten points. The 45-42 loss for PSU against Ohio State was a wild one.
"It was crazy," said Head Coach Justin Hundley. "Ohio State played well. Some uncharacteristic mistakes put them in good scoring positions. A couple of untimely turnovers and we went behind two scores. We fought back well but too little too late."
Everyone, by the way, is chasing 2nd in the Rugby East, as Army has sewn up 1st.
Saint Mary's College gets an early start on their winter slate of games with a trip to Colorado to play both the University of Colorado and a USA Academy team. They usually start this way (although this might be a week or so early for the Gaels) and they try to make a trip to two before the conference season starts.
This time they are playing a team made up of the USA Rugby Academy players not in South America right now. It's all a chance to test things out for Saint Mary's, and for the Academy for that matter. A quick look at the Saint Mary's schedule has one shaking one's head—they have Life University November 22 and then Life West. they have Cal, Central Washington, BYU (twice), UCLA, as well as Oxford, Cambridge, and Trinity (Dublin). And that doesn't include their conference schedule, which should be tougher this year than it has been in a while.
| | | | | |
| --- | --- | --- | --- | --- |
| 10/29 | Michigan State | 25-5 | Michigan | Big Ten |
| 10/30 | Ohio State | 60-24 | Illinois | Big Ten |
| 10/30 | Indiana | 43-5 | Purdue | Big Ten |
| 10/30 | Kutztown | 15-37 | Navy | Rugby East |
| 10/30 | Notre Dame College | 14-22 | Penn State | Rugby East |
| 10/30 | Lindenwood | 64-0 | Kansas City Blues | Non-Conference |
| 10/30 | 404 Academy | at | Arkansas State | Non-Conference |
| 10/30 | Colorado State | 0-62 | BYU | Rocky Mountain Final |
| 10/30 | Iowa Central CC | 90-10 | Wisconsin | Non-Conference |
| 10/30 | Saint Mary's | 54-10 | USA Academy | Non-Conference |
DIAA
Probably the biggest game in DIAA this week is Cincinnati vs Western Michigan. 
At 4-1 Cincinnati is in excellent position to challenge for a higher spot, but with WMU and Bowling Green on the slate the next two weeks, the Bearcats have a lot of work to do to get there.
DIAA-Level Men College Rankings Week 9
In the Lonestar, Texas State at UT San Antonio is just a trip down I35 but will take someone a long way toward the conference championship conversation.
| | | | | |
| --- | --- | --- | --- | --- |
| 10/30 | Houston | at | Abilene Chr. | Lonestar |
| 10/30 | Texas State | 20-12 | UT San Antonio | Lonestar |
| 10/30 | Sam Houston State | 48-5 | UT Dallas | Lonestar |
| 10/30 | Kennesaw State | 5-70 | Kentucky | SCRC |
| 10/30 | Tennessee | 45-0 | South Carolina | SCRC |
| 10/30 | Bowling Green | 26-12 | IUPUI | MAC |
| 10/30 | Cincinnati | 20-37 | Western Michigan | MAC |
| 10/30 | Dayton | at | Pittsburgh | MAC |
| 10/30 | Oregon State | 32-17 | Washington State | NCRC / NCR |
| 10/30 | Western Washington | 79-14 | Washington | Non-Conference |
| 10/30 | Iowa | at | Truman State | Heart of America |
|   |   |   |   |   |