NCR Championship Weekend: Who, What, and How They Got There
NCR Championship Weekend: Who, What, and How They Got There
Christendom is looking for a small-college national title.
The NCR Championship weekend funnels teams from all sorts of backgrounds into a three-day celebration—here's a look at how the teams got here.
Packed Playoff Weekend in College Rugb—Scores
DII
See more details on DII here>>
Live Stream Kicks Off 11AM CT>>
Small-College Cohen Cup
Christendom was the second-best team of any division in the Cardinals Conference, with only D2 Virginia beating them. They had to work for it, though, with close wins over VMI and, in the regional semifinal, Loyola of Maryland. Freshman John Ascough keeps scoring clutch tries for them, including two key scores to put them ahead against VMI a month ago. Matthew Westin and Owen Kennedy have ramped things up in the playoffs.
Overall Christendom is 10-1 with only the loss to Virginia preventing an undefeated season ... so far.
They take on Holy Cross for whom the season has been feast or famine (mostly feast). They have won big over the likes of Eastern Connecticut and Geneseo, but lost to Middlebury 20-17. Led by No. 8 and co-captain Nicholas Macchi and fullback Riley McGeady they play tenacious defense, beating Colby 32-5 in the Round of 16. But Endicott made it very difficult for Holy Cross in a game HC escaped 34-27.
St. John's has been the toughest small-college team out of Minnesota for years, twice winning the national title. They were hit hard in the playoffs, though, giving up 34 to Rio Grande and 31 to Franciscan. They still won, 51-34 and 34-31 to get to the semis. They take on a newer program in new Mexico Tech, which is 8-0 and has won most games by wide margins. they move the ball well and have a ton of hard runners. But they didn't win by a wide margin in the regional final, having to hold off Humboldt State 21-20 to get to Houston. This promises to be a tight game.
Small-College Challenge 
We already talked a lot about Siena College, which is a team that found some talented players and found itself much stronger than expected. They are the favorites and take on College of Charleston, which beat Elon and Wake Forest in league play but had to be frustrated at the number of forfeits they faced in their conference. So they'd be forgiven for being untried and unready for the playoffs. Instead they hammered Emory & Henry and held off a determined and much more seasoned Widener 42-33 to make it to Houston.
In the other semi, Western Oregon is the only West Coast team in action in Houston this weekend, but they earned their spot in the small-college challenge semis. After an early loss to DI Oregon State, the Wolves beat Central Oregon CC 51-5, OIT 36-17, and Gonzaga 12-10 to make the semis. They meet the other favorite in Wayne State. Benefiting from some additional coaching from pro player Martini Talapusi, whom Head Coach Darrin Barner brought in to help fold in a new offensive structure, and with scrumhalf Javier Luong and powerful lock Joe Dao playing well, they have found their voice.
In 12 games played this season, Wayne State has lost only once, to DI Iowa Central CC. They have won all of their other games comfortably, with the playoff run of  127-3, 86-12, 45-7, and 78-12 showing their offensive power.
DIAA
West Chester was in a very tight MARC conference in which the Rams, St. Joseph's, Rowan, and Salisbury could all have finished at the top of the table. It was essentially a four-way tie, with almost all the games between those four being decided by a try or less. So which ever teams would move on would likely know how to battle it out. As it turned out Salisbury had hit a wall, but St. Joe's and West Chester won their first playoff games and ended up playing each other in the semis. That's where West Chester elicited some measure of revenge for their previous loss to the Hawks and and won 30-19.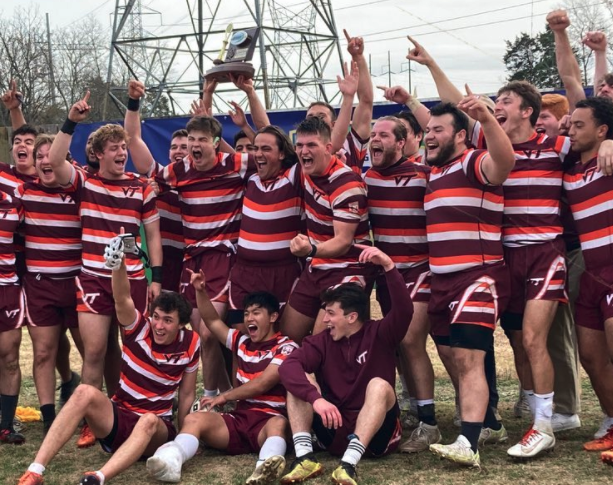 Player-coached Virginia Tech has also had a tough time, playing in the Chesapeake Conference, where the top teams were funneled into the DI playoffs. That left 5th-place VT with the DIAA playoffs. Well not being intimidated even when you lose can have its benefits, and the Hokies were not just content to make up the numbers. A massive win over Salisbury garnered them confidence, and then they beat Boise State 27-11. They might have had an easier side of the bracket than West Chester, but Virginia Tech, led by their excellent hooker Rocco Munna, also has a bit of a "why not us?" feel about them.
DI
The top teams from the Chesapeake and Liberty were funneled into a playoff with three teams from the Rugby East in the DI playoffs. In the end, the Rugby East teams showed what happens when big schools with rugby traditions or backing, combined with tough games every week—they tend to do well in the playoffs.
Penn State's tenacity, and Dalton Musselman's clutch goalkicking, along with some huge plays from flanker Aidan King and wing Brian Stella, got them through two one-point victories over Brown and Queens to attend Saturday's final. For St. Bonaventure, this season has been the result a several years of building with the calm presence of Head Coach Tui Osborne and some patient support from the school. They had already beaten Kutztown, but in a close game and when Kutztown was missing some key players. Last week, they won by an even larger score despite those players being back for Kutztown. They didn't let any of that bother them.
Penn State and St. Bonaventure to NCR D1 Final
Bowl Games
The concept of Bowl challenge games is a popular one on paper, but it hasn't always been easy for teams to make that travel at the end of the fall. Still the idea, and the ideal, persists and this week and two bowl games are slated for Saturday. Central Florida, always a contender in the Florida DIAA league, which is yet to start, will take on University of Connecticut, which went 3-3 in the Liberty with a close loss to Fairfield perhaps their best result.
Exciting news #TritonNation! @ICCCRugby will travel to Houston, TX on December 11th for the inaugural Rhino Rugby Bowl being held at the home of Houston SaberCats Rugby, AVEVA Stadium! #TritonsStandTall #TritonExperience #CRCBowlSeries pic.twitter.com/hX6UT0z7nO

— Iowa Central (@IowaCentral) November 11, 2021
And then we have the game of programs the game forgot, with Iowa Central, a two-year school that can't find a conference, and Wheeling, a former DIA program that is slowly building back to that level. Iowa Central played a eclectic mix of DI, DIAA, and D2 teams this fall. They beat Marian, Northern Iowa, Minnesota, Nebraska, Iowa, and Wisconsin, but lost to Army's 2nds, Lindenwood, Arkansas State, and Davenport.
Wheeling had the same sort of mix as an independent, beating Franciscan, IUP, Alderson Broaddus, and West Virginia, and losing to Army and Notre Dame College. Interestingly they, too, played Davenport, and tied 29-29. So if you go by that game alone, Iowa CCC is favored.