What Happened to Make Siena College Rugby So Dominant So Fast
What Happened to Make Siena College Rugby So Dominant So Fast
Siena celewbrates winning their conference.
As the NCR Championship Weekend comes ever closer one of the teams in the small-college challenge bracket has drawn some attention.
Siena College has rolled through its league with destructive force, going 7-0 with two forfeit wins, three more shutouts, and two wins in which they allowed just one penalty goal. Their non-forfeit scores are: 53-3, 81-0, 99-3, 103-0, and 118-0. Trinity College, which must have been unhappy about losing 81-0 back in September can now look back and realize they did pretty well. Only Babson, in the NERFU Challenge Cup final, did better.
But of course observers inside and outside the conference are looking at a 91-point-per-game average and wondering what's going on? And in addition, rumors have been flying saying Siena is a varsity program offering rugby scholarship money and shouldn't be in the competition they're in. We sat down with Gregg Matthews, who oversees the program and helps on the coaching staff that includes Head Coach Jaco Visser and Assistant Coach Patrick Deloughery. Matthews, a Scot, also works in Siena's admissions department, and that's key to this story.
Here's why Siena is winning by such massive margins.
COVID Uncertainty
Like a lot of college rugby programs, Siena shut down when COVID his in 2020. The team did nothing, no practice, no games. They had just started an alumni support system that was putting money into the program, so Matthew looked at what else could be done.
"We thought we either have to make value of the time that we have, or we have to stop, so we started recruiting," said Matthew. "We looked for students who qualified to get into the school; we wanted to increase numbers who come in the door, but there were pros and cons to doing this."
The pro would be, of course, getting more students with rugby experience attending Siena and helping make the rugby program more successful and at the same time showing the school that rugby is a draw. (It's worth pointing out that there is a distinct trend of fewer men than women attending college, and so something like a men's rugby team is a way for a college to entice more young men to apply.) The con? Siena's club sports apparatus is not equipped to oversee a serious inter-collegiate sport. Club sports departments can be different things, from "not-quite-varsity" as at BYU to something that is really only for intramural play. 
So someone had to oversee Siena Rugby, and that fell to the athletic department.
Still Matthew and the coaches didn't know what they had. They were able to recruit some students—more on how in a minute—but had no assurance that they would be any good or if the team would perform well. 
"You find a kid with a two-and-a-half-minute video and really you have no idea how good they were," said Matthew. "And we no idea how well they would come together."
So Siena, which has been competing in Small-College for a few years now, tracked into the Challenge division of NERFU. This was clearly a mistake, and probably an avoidable one, but it was uncertainty about what this team would be that put them in the league they were in.
Timing and History
Siena used to play in the Tri-State Conference small-college division and never made it past the regional playoffs. They had no historical reference to say they would be nationally powerful. But they were recruiting players, including some from overseas. They asked NCR about rules regarding overseas players and NCR, like any college competition, said they have to be full-time students in good standing, and that's it. No college sport can restrict play based on country of origin.
And then there was the issue of timing. Siena had to confirm their competition conference in the spring, and many of the recruited students didn't commit until later.
"If we'd been looking at the NERFU Championship division, remember we had no buses or any transportation, we're self-funded, and students were asking how far away games were because they weren't sure they could make it," said Matthew. "In hindsight if we could have changed [leagues] in August we would have, but we had to plan and we didn't know at the time what students were coming."
(By the way, Babson is a very good rugby team and in the end, holding Siena to just 53 was quite an accomplishment.)
Recruiting
Matthew oversees the New York Capital Region in his job in the college's admissions department. In his role, he knows all of the details about what the academic standards are, what majors are losing students and therefore would want more new students that pursue that major, and what funding and money is available through grants and special scholarships.
"We have done things in a very different way," said Matthew. "When I go and I speak to an individual, I am fully packed and prepared as an admissions counselor. That's an advantage we have. I spoke to at least two or three individuals who were outstanding rugby players but didn't make the cut academically, but there were students who did. The school has endowments that are available and many aren't used in a given year."
This might be a scholarship for a student who pursues a specific course of study, or has a specific background. These types of scholarships are partial, but are very common. Matthew knew about them all.
"You need to know the landscape," he said.
Many of the Siena students are studying business, an area where the school excels.
Meanwhile, COVID also made it difficult for anyone in admissions to recruit the way they normally did. There are no college fairs or other in-person meetings because of the pandemic. So Matthew was doing all his student meetings virtually, and reasoned there was no difference between talking to a kid from Schenectady on Zoom or talking to a kid from Cape Town on Zoom. He just had to find the right ones. 
Matthew spoke to hundreds of potential Siena rugby players and was able to find several local kids, plus ten from overseas, who not only played rugby well, but also met the academic standards, found some scholarship rugby through academic-specific endowments, and were able to get in. Six of them are from South Africa, and the other four are English and Irish.
"We were looking to develop the spine of the team," said Matthew, whose knowledge of rugby also factored into who he talked to.
So No. 8 Andrew McCallum came in and was an immediate impact. They brought in a lock from South Africa to augment two local kids at that position, and built from there.
Scholarships and Varsity Status
It's human nature to engage in rumor, and it's human nature to make a story a little better. What's more impressive a story? You got a $2,500 tuition break because there's a fund for left-handed sociology majors with Armenian heritage, or that you got a scholarship for playing rugby? The rumors are floating that players got rugby scholarships at Siena (this type of rumor has spread about other colleges as well), when really what's happening is that a student got a partial scholarship ($50,000 or $500, people still call it a scholarship) and was also recruited to play rugby.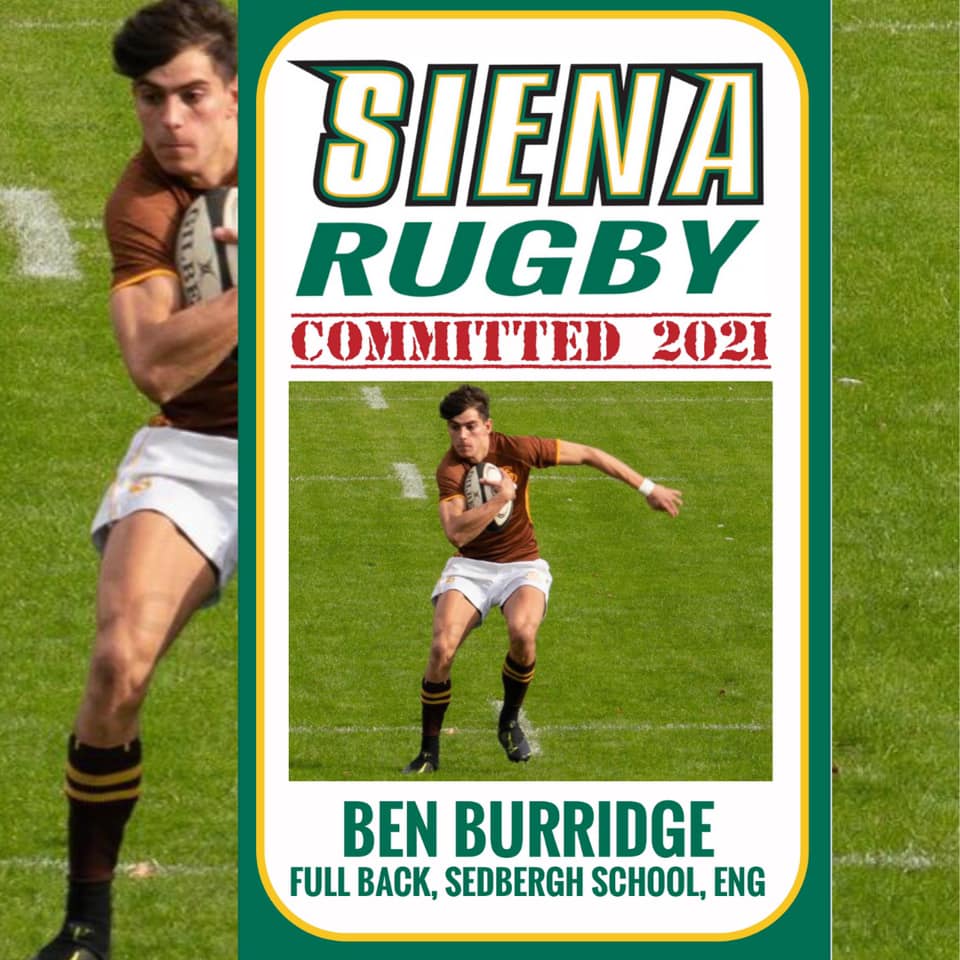 If that student used a placement service or agency, that agency would also have an incentive to say they got their client a rugby scholarship, even if the financial help was actually due to academics.
Siena Rugby, said Matthew, is not a varsity program and does not provide rugby scholarships. Any tuition help a student gets is through normal channels.
The athletics department oversees the team but gives them no funding aside from what all club sports teams get through the students' activities fees. They get no trainers, no gym time, no academic support, no apparel.
"We are self-funded aside from alumni support and the recreation sports allocation," said Matthew. 
But Matthew and the Siena Rugby coaches exacerbated the thought that the program had more influence when they took over the team's social media accounts. They kept on top of posts and added recruiting announcements. Those announcements, little more than some digital fanfare, helped bolster the idea that Siena Rugby was a full member of the Athletic Department.
There is one thing they do get from being under the Athletic Department, though—Head Coach Jaco Visser has a siena.edu email address. He is, officially, part of the school staff, even if they don't pay him. This tiny detail helps garner respect from the students and the school as he's no longer an outsider.
So Why the Dominance?
The reason Siena has dominated so much, then is ....
1. Players. They did get 10 overseas players plus talent from locally (Matthew's region that he works in admissions is the New York Capital Region, which runs from Westchester up to the Canadian border; there aren't a lot of high school teams in that region, but a few and he has found players from there). Those players have provided an injection of talent, athleticism, and knowledge to a program that, remember, was always pretty useful.
"The other players have thrived being around more experienced rugby players," said Matthew.
2. Alumni. An increased alumni presence has helped secure the coaching staff and get buses for the team when they travel.
3. Coaching. The coaching staff is accomplished. Visser has been a successful coach in Upstate New York for years and he knows the game and the landscape. 
4. A Commitment. "We're selling nothing except for a commitment to elevate the club," said Matthew.
5. They're in the wrong league.
That 5th point is the crux of the matter. Everyone knows now that Siena should not be in the Challenge Bracket and instead should at least have been competing for the Cohen Cup. Given that NCR changed the status of DIAA and DI teams this year mid-season, this could potentially have been done for Siena, as well—giving them some sort of play-in for the top bracket. 
But, what's done (or not done) is done. Matthew said he and everyone else knows that Siena is in the wrong competition, and that very possibly they will be looking to jump to DI next year. Where? It doesn't take much to figure that the Liberty Conference is an obvious fit, with three of the Liberty I-95 Division less than 3 hours away and one, Albany, about 15 minutes away. Other Liberty teams — UConn, UMass, Syracuse, Binghamton — are all about two hours away. It's a no-brainer.
Lessons
The thing is, what Siena is doing can be done elsewhere, and often is. While college rugby teams may not have someone actually working in admissions, they can learn as much as possible about how the system works. Coaches can learn about special scholarships and grants. They can learn which majors are scrambling for students and which are overbooked.
They can find out if the school wants more overseas students or is looking to bolster numbers from another region. 
Armed with that kind of information, any coach can then get the Next Phase Rugby app at nextphaserugby.com and find rugby-playing high-schoolers with their academic and rugby information. Siena is possible elsewhere; it's just that everyone hopes that if that happens again, the improving program finds the right competition earlier.