Final D1A Rankings of Fall of 2021
Final D1A Rankings of Fall of 2021
Did Ohio State move up after their Bowl win over Air Force? Sabrina Houlihan photo.
The final D1A rankings for the fall of 2021 have been released with Cal remaining at #1, but with Army making a move.
West Point finished the fall 8-1, with their only loss a 21-10 decision to Dartmouth in which Army rested some regular starters. For some voters, this result was enough to keep Army from being #1—that along with what voters expect will come out of Berkeley this season. In addition, while Saint Mary's hasn't played much, the Gaels have played a bit, and beating Life University was enough to ensure they hand onto #2.
With Ohio State finishing off their fall with a solid victory over Air Force, Indiana, which split their games with the Buckeyes, nudged upward.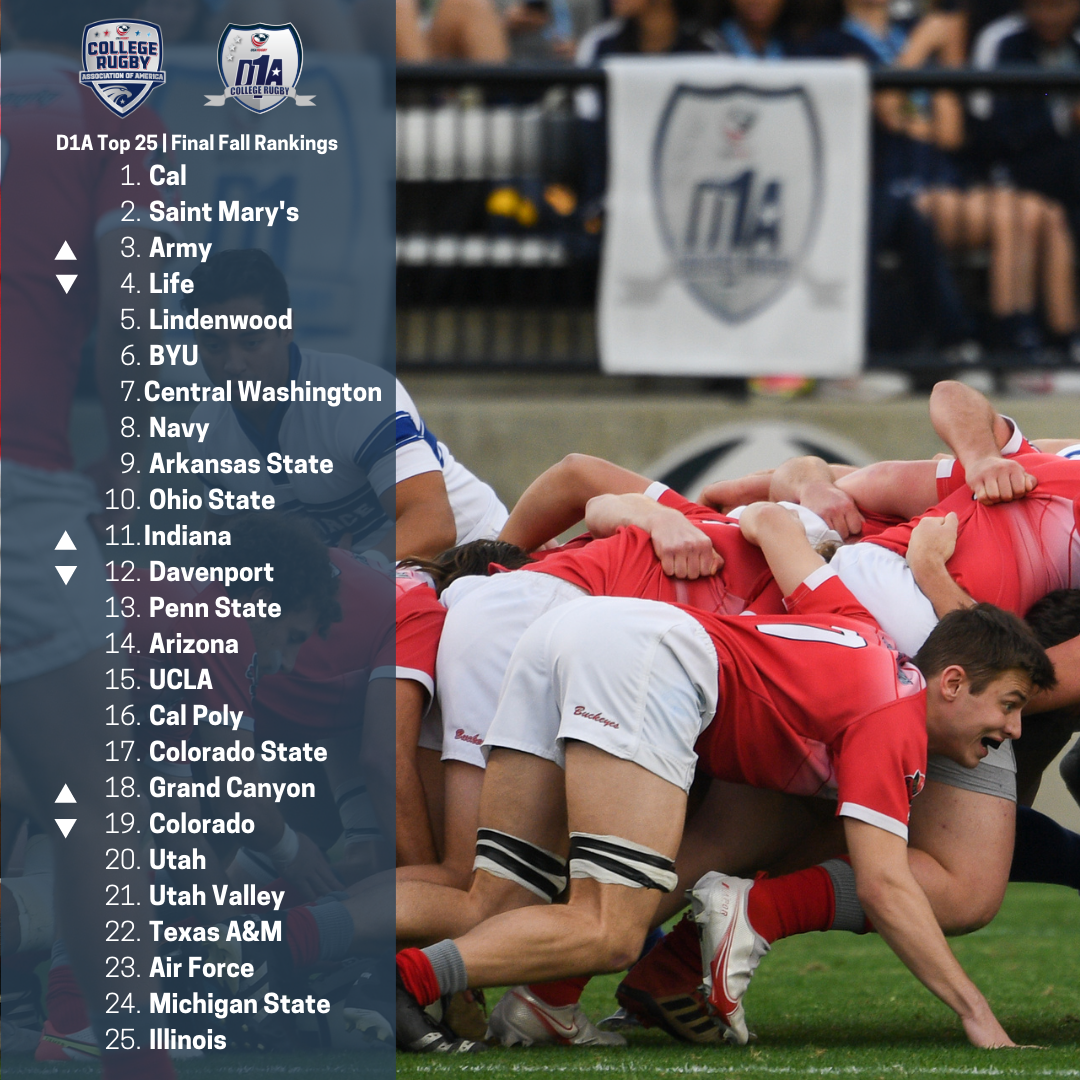 We've got a Winter Break, but then the Dennis Storer Classic at UCLA opens up the season for the hosts, as well as Cal, UC Santa Barbara, Cal Poly, UC San Diego, Oregon, and possible some more teams. Saint Mary's opens their 2022 with a January 8 clash with UC Santa Cruz (for their 3rds) and then their 1sts get a run a bit later, and then UC Davis a week later. Central Washington won't kick off until January 28 against the Seattle Rugby Club.
As for how Goff Rugby Report voted, well we gave a bit more heft to the fall season than other voters. The difference is small, but it's enough for us to say that Army, the most active of the top teams, is #1 at the moment. We also have Lindenwood just a little ahead of Life and a somewhat unknown Central Washington lower down than most voters. These are small margins in the voting and in the end the other voters have Army a shade lower and CWU a shade higher and that makes a difference. 
We also like Baylor a bit more.
How Goff Rugby Report Voted in the Final Fall D1A Ranking
GRR's Vote
College Team
1
Army
2
Saint Mary's
3
Cal
4
Lindenwood
5
Life
6
BYU
7
Navy
8
Ohio State
9
Indiana
10
Davenport
11
Central Washington
12
Arkansas State
13
Penn State
14
Arizona
15
UCLA
16
Colorado State
17
Texas A&M
18
Utah Valley
19
Colorado
20
Grand Canyon
21
Michigan State
22
Utah
23
Baylor
24
Cal Poly
25
Air Force