EIRA U16s Learn Lessons Quickly
EIRA U16s Learn Lessons Quickly
The Eagle Impact Rugby Academy players have essentially come out of nowhere to form a team. Few have enjoyed much press, even in these pages, and that's because they are young and learning.
But another interesting aspect is that the players are coming from a variety of programs. We spoke with three players, of which one, flyhalf Sean Nolan, is from a major championship team - Back Bay. 
The team captain, Kai Carlberg, players for the Springfield Junior Celts in Illinois. Austin Arnett, who showed up to play center and started instead at openside flanker, players for the Tribe in Tennessee.
Dan Bandoni photos.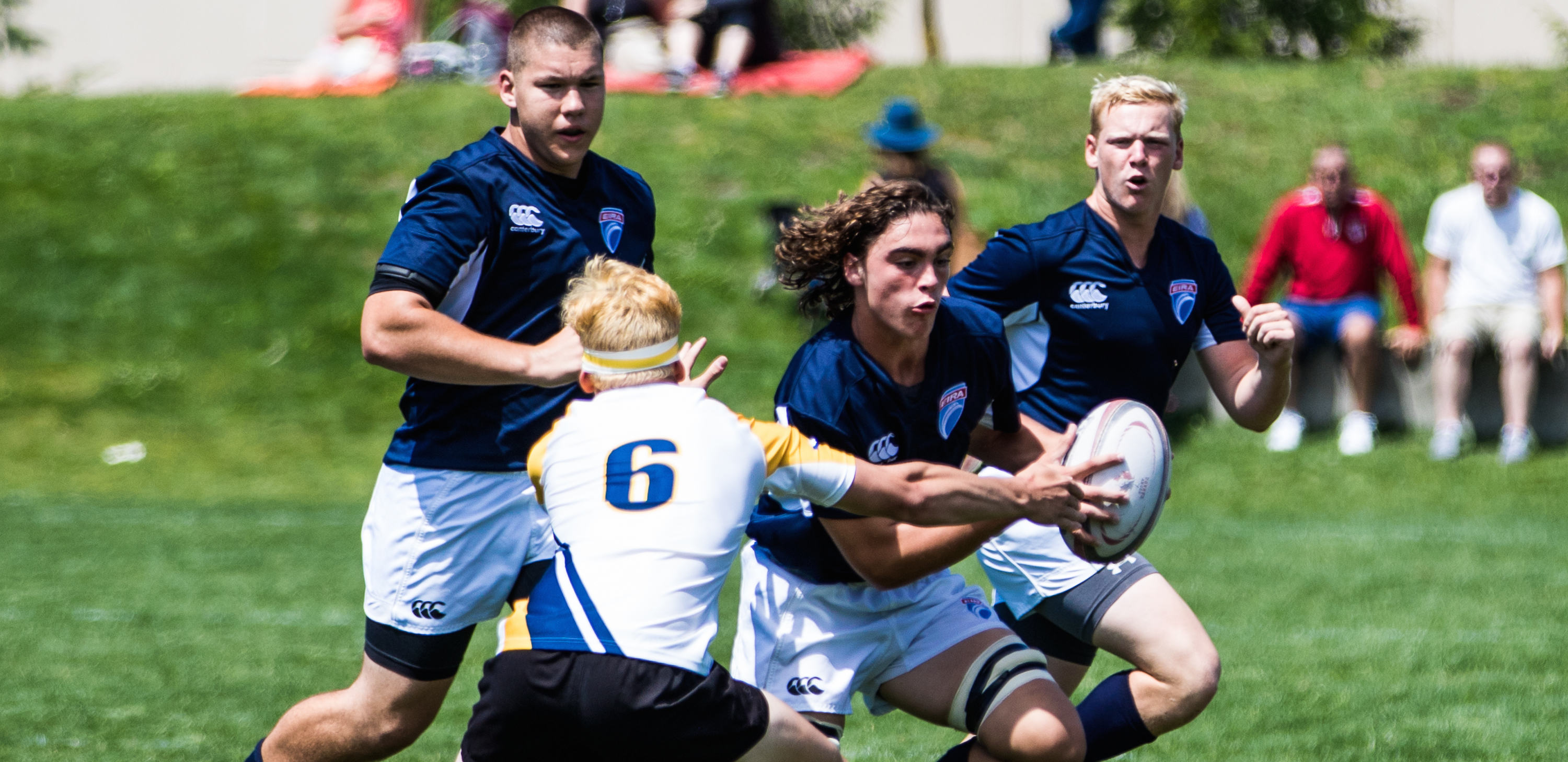 The story runs through the entire team - the names like Gonzaga and Granite Bay sit next to Amoskeag and Loudoun - good teams of course, but it's not as if it's just a roster of young players from national champions. The coaching staff of John Banarhall, Jeff Bonnett, and Tim Kluempers, brought in players from all over.
Nolan was with the U16s last year and said keeping calm and sticking with the game plan was a big part of the team's success last year. Carlberg, too, has been involved with  EIRA teams before, playing in Las Vegas and with the EIRA SoCal team in the Rocky Mountain Challenge. 
But for Arnett, like several on the team, this trip to BC and this group of players and coaches was completely new.
"We heard that Salty Thompson was having an EIRA camp in Tennessee, so one of my best friends and I went," said the Tribe center-turned-flanker. "We really liked it and we got picked for this trip."
Then when he showed up, the demands of the team forced a position change.
"He showed up and was at center and the passing just wasn't clicking for him," said Carlberg. "But then we'd see him put a hit on a kid and we though, yeah, flanker will work."
The individual skills are what Eagle Impact Rugby Academy is all about.
"In Illinois there are good players and some good teams, but we're still playing a lot of smash mouth rugby, and we need to be better at the skills," said Carlberg. 
But in the end, it's about creating something - a team - out of a disparate group.
"It's a great experience," said Arnett. "We get to meet new players who become great teammates. They become family, and it's a bond never to be broken."
"It makes me happy because I can talk rugby with these guys," added Carlberg. "At home my friends don't play rugby, but here they all do."
"I love it because here you can actually play," added Nolan. "Everyone knows how to play; everyone knows what to do. So you can just go out and play your game, do your job, and depend on your teammates. It's a lot of fun."
Those lessons of teamwork and using your teammates were learned on Wednesday.
In the opening game of the two-game series against the BC U16s, the EIRA U16s had the toughest experience of the three. EIRA took an early lead, then BC tied it up. EIRA replied and then BC took the lead again. It wasn't until late in the game that the tourists really took control. They won 39-17, but it wasn't easy.
"We knew it wasn't going to be easy, but if we stuck to our structure, we'd be OK," said Carlberg. 
Carlberg had to give the players a reminder to stick to their game plan.
"In the second half we went back to our short passes and the way we wanted to play," added Nolan. "It made a big difference."
The problem was that when shaken up, young players revert to what they know, added Arnett. 
"Guys have to remember that here, everyone is good," said Nolan. "You've got to remember to let the other guys do their jobs."
Dan Bandoni photos.