DII College This Week: Time to Fill Out The Bracket
DII College This Week: Time to Fill Out The Bracket
Virginia gets a shot at a conference title this week. Photo Napoleon Afework @caughtbynap.
We fill out almost the rest of the NCR D2 playoff bracket this week.
We find out who is the New England-Wide champion, the Tri-State champion, the Great Midwest champion, the MARC champion, Cardinals champion, MCRC champion, and the Allegheny champion. With additional seeds going to #2 and (in two cases) #3 teams, we will fill out every spot except for the two allocated to the Southern Conference. And even then we'll know, by the end of the weekend, which two teams will be in; we just need to know who is #1 and #2.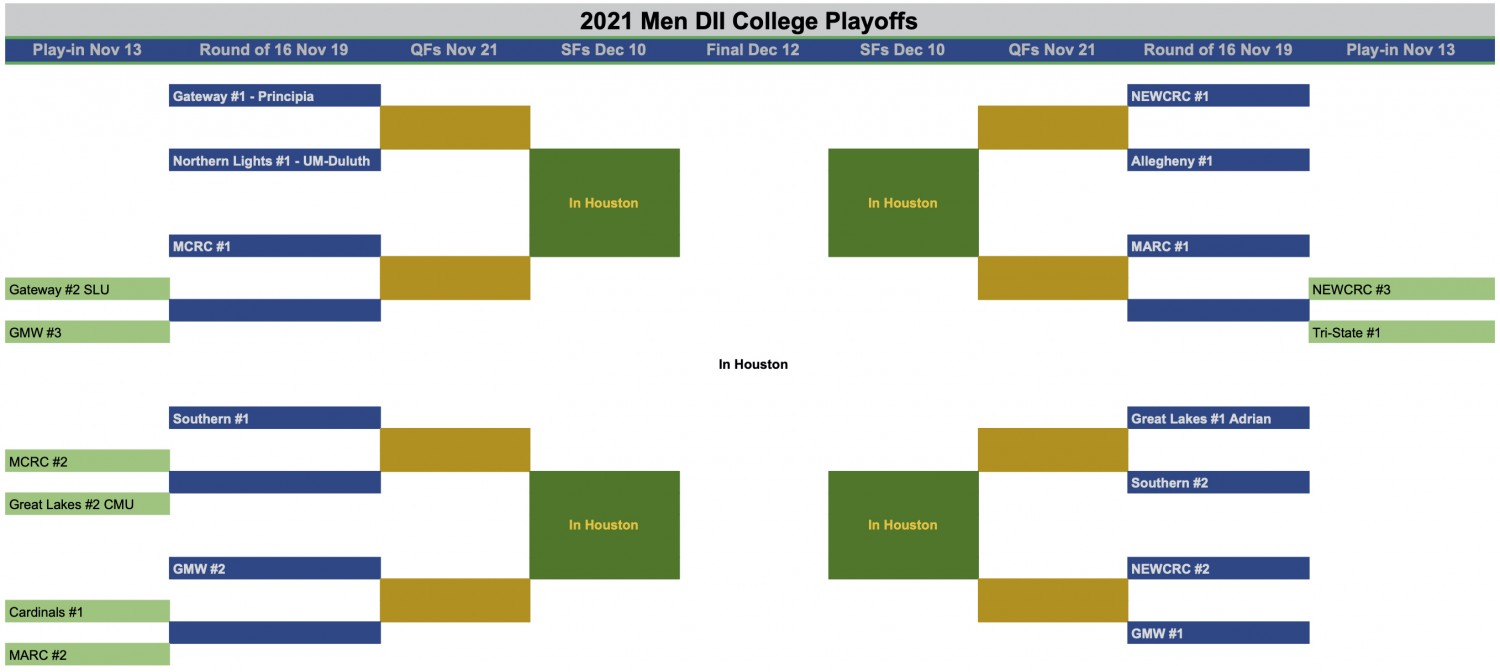 (Click on bracket at right for a bigger version)
For the CRAA D2 end-of-fall clash between the Rocky Mountain and SCRC, we know the RMCC team, it's Montana State, and the SCRC team won't be decided until November 20. Not a problem seeing as the winner will be pretty close to the finals venue in North Carolina, so they don't need a lot of time to plan.
Most of the favorites in these conferences are the ones in the final, but it will be interesting to see how Georgia Tech keeps coming along in the SCRC. And the Illinois State vs Northern Iowa Great Midwest final is a slight surprise. Northern Iowa had been up and down before the COVID shutdown and this year has been an offensive powerhouse.
And they can play D too.
"We played very disciplined defense," said UNI Club President Kaleb Boleyn. "We knew Whitewater was going to be physical; our guys stepped up and we got a win. Whitewater is a fantastic team and it goes to show how strong the rugby in the Midwest is. 
"We excited for the championship and expect a tough physical battle as Illinois State is a very solid post season team, looking to avenge their loss to us. We're looking to play smart physical rugby and bring home our first Great Midwest Championship."
Player-Coached Illinois State Makes Great Midwest Final
Too Few Games, Too Few Opponents; Virginia Looks to Playoffs
How did Bucknell Get Through the Shutdown?
Check back for scores
| | | | | |
| --- | --- | --- | --- | --- |
| 11/5 | Wake Forest | 17-5 | Elon | Southern Challenge |
| 11/5 | Adrian | 82-24 | Michigan Selects | Non-Conference |
|   |   |   |   |   |
| 11/6 | UMass Lowell | 14-29 | Norwich | NEWCRC Final |
| 11/6 | Vermont | W-L | Providence | NEWCRC 3rd/4th |
| 11/6 | Memphis | 10-27 | Georgia Tech | SCRC |
| 11/6 | UNC Greensboro | 0-28 | College of Charleston | Southern Challenge |
| 11/6 | Western Carolina | at | Wingate | Southern Challenge |
| 11/6 | Lander | 0-5 | Belmont Abbey | Southern Prem Cons. |
| 11/6 | Coastal Carolina | 28-0 | Appalachian State | Southern Prem Cons. |
| 11/6 | Furman | 10-36 | UNC-Wilmington | Southern Prem SF |
| 11/6 | Kent State | 38-17 | WVU | Allegheny SF |
| 11/6 | Marian | 14-45 | Thomas More | MCRC Final |
| 11/6 | Illinois State | 27-23 | Northern Iowa | GMW D2 Final |
| 11/6 | UW-Whitewater | 22-54 | Marquette | GMW D2 3rd/4th |
| 11/6 | Bucknell | 25-17 | Villanova | MARC SF |
| 11/6 | Drexel | 15-36 | Georgetown | MARC SF |
| 11/7 | Virginia | 118-0 | VCU | Cardinals Final |
| 11/7 | Georgia Tech | Fft W-L | Ole Miss | SCRC |
| 11/7 | RPI | 10-47 | Marist | Tri-State Final |
| 11/7 | IUP | 46-0 | Kent State | Allegheny Final |
| 11/7 | Georgetown | 23-15 | Bucknell | MARC Final |
| 11/7 | Drexel | 33-21 | Villanova | MARC 3rd-4th |