Conference Championships Highlight DII Games This Weekend
Conference Championships Highlight DII Games This Weekend
Marquette is a #1 seed in the GMW playoffs. Now what? Alex Goff photo.
There's been a Northern Lights sighting; the conference in Minnesota has been very quiet, but Minnesota-Duluth plays MSU Mankato on Saturday for the conference title.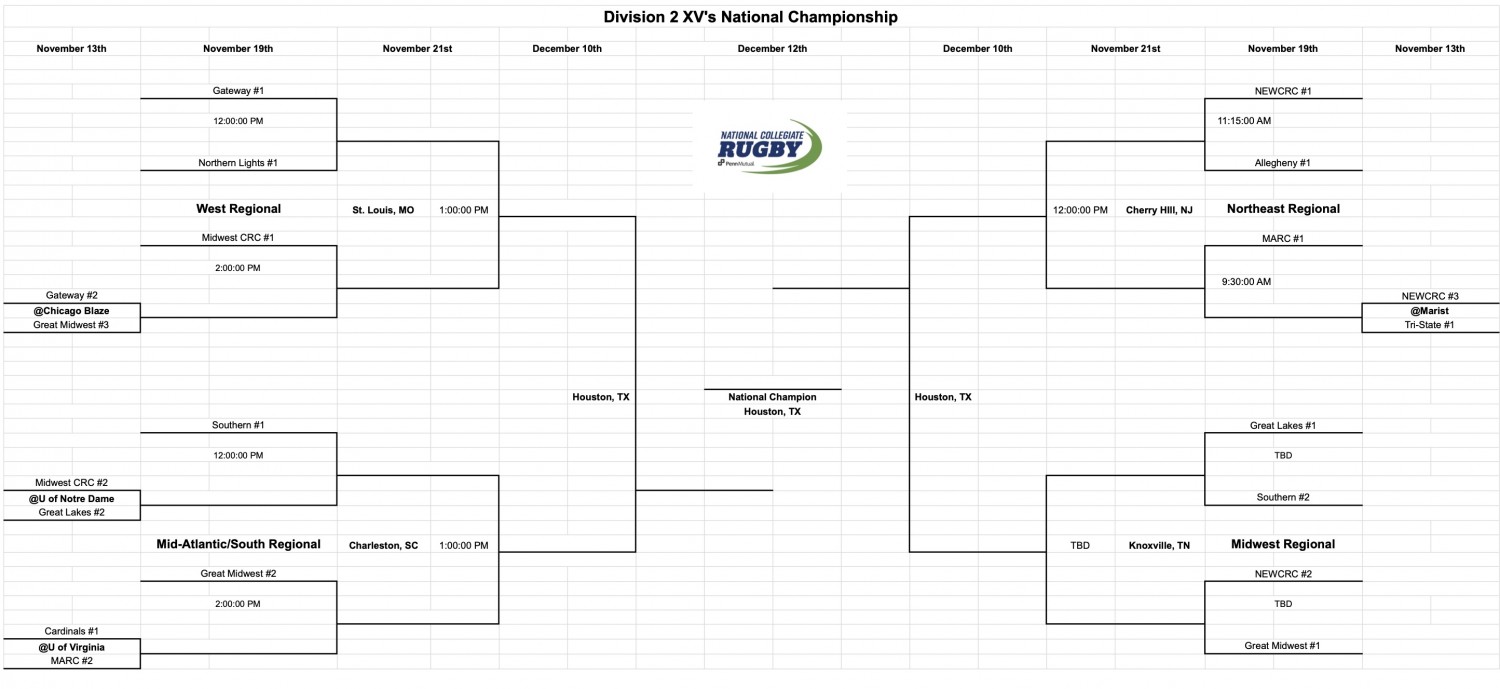 That decides one team in the NCR national playoff, and we'll know who they play by Sunday, as the Gateway Conference wraps up its championship. Note: Central Missouri won't be able to compete as expected this weekend so Missouri S&T will take their place. Those two tied 5-5 in the regular season so it's not as if this will be any easier for Principia. The Gateway winner will play the Northern Lights winner November 19 in the NCR Round of 16.
Gateway
The Gateway runner-up will play the #3 team from the Great Midwest. We won't know who that will be, but we take a step closer as the semis are this week with GRR #3 plays #13 and GRR #4 plays #6. Wow.
Men D2 College Rankings 2021 Week 8
Southern
The Southern Conference also has its semis, sort of. The final will be in two weeks, so one of the semis will be November 6. We're still a couple of weeks away from finding out the MARC champ, but in Great Lakes Adrian is expected to be #1 and Central Michigan #2. In the MCRC Thomas More and Marian will be playing off for the conference title, but the MCRC #2 gets to play the Great Lakes #2 in a play-in so everyone will get a shot it seems.
---
Support us! A small donation os $5 from everyone who reads this goes a long way to paying out hosting, travel, and IT costs! It's easy, just click here>>
---
NEWCRC
The New England Wide semis are also this weekend with #26 Providence at #9 UMass-Lowell and #12 Vermont at #1 Norwich. The final will be a week later. The top three get a shot in the NCR playoffs, with #1 vs Allegheny #1 (IUP maybe?), #2 vs Great Midwest #1 (that should be a good game), and #1 in a play-in vs the Tri-State champion. (We had listed Coast Guard as playing Lowell but that was due to a standings error—not ours for once—and we've corrected the matchups.)
Tri-State
On Sunday the Tri-State has its semis and the final a week later. Keep an eye on Marist.
MARC
As for the MARC, Bucknell is still ruling the roost for now.
"Every week we learn something about ourselves from one of our opponents," said Bucknell Head Coach Seth Gazes. "Two weeks ago, York really had a great scrum and gave us lots of trouble which we worked hard to address. This past week Bloomsburg was really tough defensively at the breakdown and had us on our heels in the first half."
With No. 8 Chad Tiernan "the smartest player on the field," center Tommy Baldwin "the heart and soul of the team offensively and defensively," prop Anthony Warnick "does the hard, thankless work all over the field, and fullback Harrison Sotir finishing all their work, they could be the breakout team of the season.
Check back for scores and bracket updates. 
| | | | | |
| --- | --- | --- | --- | --- |
| 10/29 | UNC Greensboro | Ccld | Wake Forest | Southern Challenge |
| 10/30 | Regis | at | Northern Colorado | Rocky Mountain |
| 10/30 | Providence | 15-26 | UMass Lowell | NEWCRC SF |
| 10/31 | Vermont | 3-17 | Norwich | NEWCRC SF |
| 10/30 | UM Duluth | 30-15 | Mankato | Northern Lights Final |
| 10/30 | Auburn | Fft W-L | MTSU | SCRC |
| 10/30 | Wingate | 7-40 | Elon | Southern Challenge |
| 10/30 | Campbell | 0-28 | Western Carolina | Southern Challenge |
| 10/30 | East Carolina | 29-7 | Belmont Abbey | Southern Prem 5th SF |
| 10/30 | UMS&T | 5-63 | Principia | Gateway SF |
| 10/30 | St. Louis University | 38-19 | Pitt State | Gateway SF |
| 10/30 | Calvin College | Fft L-W | Adrian College | Great Lakes |
| 10/29 | Saginaw Valley State | 5-73 | Central Michigan | Great Lakes |
|   |   |   |   | Great Lakes |
| 10/30 | IUP | 28-0 | Alderson Broaddus | Allegheny |
| 10/30 | WVU | at | Kent State | Allegheny |
| 10/30 | VMI | at | George Mason | Crossover |
| 10/30 | Washington & Lee | at | VCU | Crossover |
| 10/31 | Xavier | 0-28 | Thomas More | MCRC |
| 10/30 | Marshall | at | Miami (OH) | MCRC |
| 10/30 | Western Kentucky | 0-28 | Marian | MCRC |
| 10/30 | MSOE | at | Michigan Tech | GMW Small |
| 10/30 | Illinois State | 15-10 | Marquette | GMW SF |
| 10/30 | UW Whitewater | 17-33 | Northern Iowa | GMW SF |
| 10/30 | TCNJ | 20-31 | Drexel | MARC |
| 10/30 | Villanova | 28-0 | Moravian | MARC |
| 10/30 | Lehigh | 10-17 | East Stroudsburg | MARC |
| 10/30 | York | 5-44 | Scranton | MARC |
| 10/30 | Susquehanna | 26-17 | Bloomsburg | MARC |
| 10/30 | Shippensburg | 7-57 | Bucknell | MARC |
| 10/31 | Seton Hall | 10-61 | Marist | Tri-State SFs |
| 10/31 | RPI | 22-15 (OT) | USMMA | Tri-State SFs |
| 10/31 | Lander | 12-55 | Citadel | Southern Prem 5th SF |
| 10/31 | Principia | 50-5 | St. Louis U. | Gateway Final |
| 10/31 | UNC Chapel Hill | 7-16 | UNC Charlotte | Southern Prem SF |