Men D2 College Rankings 2021 Week 8
Men D2 College Rankings 2021 Week 8
Norwich and UMass-Lowell both are in the mix. Photo Norwich Athletics.
With the #1 team losing we have to have a new #1.
Adrian had a good chance to vault into that place but—as has been the case through a chunk of their season—they had an opponent cancel on them, and #2 Norwich beat a ranked opponent in convincing fashion. So it's logical that Norwich takes the #1 spot.
Where to put Furman? They lost to the #19 team and while you could argue that UNC-Charlotte has dramatically improved (UNC-Charlotte Win Jolts Southern Conference Pecking Order ) but it's tough to say they should rise to, say, #3 or #4. In the end, we nudge them up to #7 and Furman down to #8. It is distinctly possible that any team in the top 14 or so could go on a national championship run. We do think it's pretty tight in this group.
UMass-Lowell, which, like #1 Norwich, is undefeated in the NEWCRC, might well be higher than #9, but, as we have implied, we think that group is almost interchangeable.
The big change in this ranking is Georgia Tech. The thing about Georgia Tech was that they tied Auburn at the beginning of the season. After that, Auburn went on a run to show that they were much improved from two years ago. Tech, however, had forfeit wins and not enough data for us to go on. So we needed something, and an impressive win over MTSU was what did it. We had a list of five or so teams we were waiting on for this week's rankings. Three of those, Georgia Tech, Providence, and Sacred Heart, all come into the Top 40. Providence came into the Top 40 a couple of weeks ago after a close win over Coast Guard, but then they lost to Sacred Heart, and we wondered at their ability to back up a win. The Black Pack's victory over Boston University put paid to that.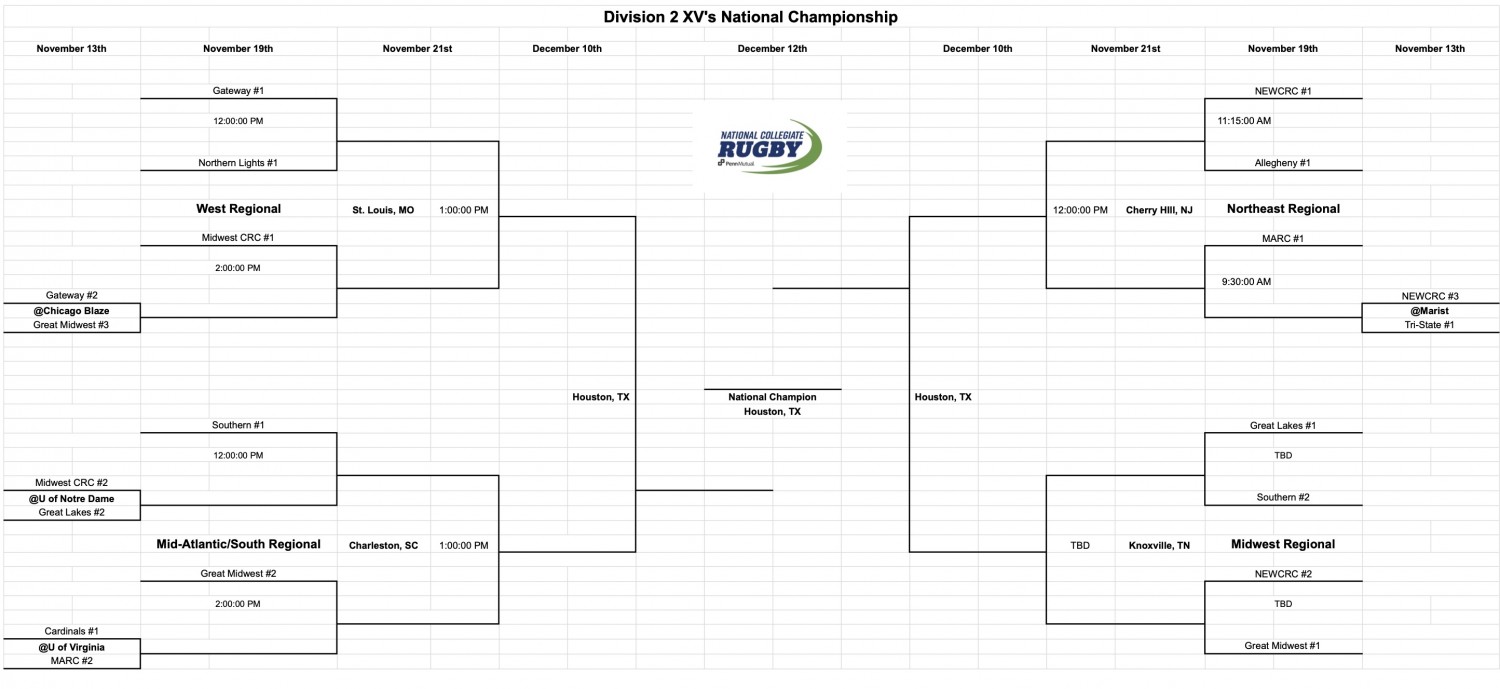 With Coast Guard's loss to Norwich, in which they lost 46-0, we can sort of see, now, a hierarchy in the NEWCRC with none of those teams in the Top 20 but still in there. Providence, it seems, is at the top of that second group. Sacred Heart may have beaten Providence, but not those other teams. A win over UNH gets them in at #40.
The other big mover is Pitt State, which beat UMS&T 14-0. Now the talk is that they could have scored more. Whatever, what matters to us is the shutout. Shutouts are tough to accomplish against good teams. S&T drops seven spots and Pitt State moves up 14. Also moving up is Bucknell because they keep beating good teams. 
Click the image at the right to see a larger version of the NCR Men's DII playoff bracket.
---
Support us! A small donation os $5 from everyone who reads this goes a long way to paying out hosting, travel, and IT costs! It's easy, just click here>>
---
Rank
Prev
Team
Conference
Notes
1
2
Norwich (VT)
New England-Wide
Beat Coast Guard (21)
2
3
Adrian (MI)
Great Lakes
Forfeit win
3
4
Marquette (WI)
Great MW
Beat UW-Milwaukee
4
5
UW-Whitewater (WI)
Great MW
Beat Northern Michigan 
5
6
Marian (IN)
MCRC
Lost to Lindenwood
6
7
Northern Iowa (IA)
Great MW
Beat Loyola (26)
7
19
UNC-Charlotte (NC)
Southern
Beat Furman (1)
8
1
Furman (SC)
Southern
Lost to UNC-Charlotte (19)
9
10
UMass-Lowell (MA)
New England-Wide
Beat Vermont (11)
10
9
IUP (PA)
Allegheny
Beat Kent State
11
8
Central Michigan (MI)
Great Lakes
Beat Calvin
12
11
Vermont (VT)
New England-Wide
Lost to UMass-Lowell (10)
13
12
Memphis (TN)
SCRC
Beat Ole Miss
14
13
Illinois State (IL)
Great MW
 
15
16
Belmont Abbey (NC)
Southern
 
16
20
Auburn (AL)
SCRC
Beat Mississippi State
17
24
Bucknell (PA)
MARC
Beat Bloomsburg
18
Unr
Georgia Tech (GA)
SCRC
Beat MTSU (15)
19
33
Pitt State (KS)
Gateway
Beat UMS&T (14)
20
17
Montana State (MT)
Rocky Mountain
 
21
14
UMS&T (MO)
Gateway
Lost to Pitt State (33)
22
23
UNC-Wilmington (NC)
Southern
Beat Coastal Carolina
23
25
Villanova (PA)
MARC
Beat Drexel (38)
24
27
Principia (IL)
Gateway
 
25
18
UW-Platteville (WI)
Great MW
 
26
Unr
Providence (RI)
New England-Wide
Beat Boston University (22)
27
21
Coast Guard (CT)
New England-Wide
Lost to Norwich (2)
28
22
Boston University (MA)
New England-Wide
Lost to Providence
29
28
Marist (NY)
Tri-State
 
30
29
USMMA (NY)
Tri-State
 
31
30
UNC (NC)
Southern
 
32
31
Citadel (SC)
Southern
Beat East Carolina
33
34
Virginia (VA)
Cardinals
Beat Old Dominion
34
15
MTSU (TN)
SCRC
Lost to Georgia Tech
35
35
Grand Valley State (MI)
Great Lakes
Beat Ferris State
36
32
Thomas More (KY)
MCRC
Forfeit win
37
36
Central Missouri (MO)
Gateway
Beat John Brown
38
40
Georgetown (DC)
MARC
Beat Towson
39
26
Loyola-Chicago (IL)
Great MW
Lost to Northern Iowa (7)
40
Unr
Sacred Heart (CT)
New England-Wide
Beat New Hampshire