American Rugby Legend Kathy Flores Has Died
American Rugby Legend Kathy Flores Has Died
Kathy Flores was dedicated to coaching and was coaching Brown through this season. Photo Brown University Athletics.
Legendary American rugby player and coach Kathy Flores has died.
The Head Coach of the Brown University women coached all over the country, including her national chamion Florida State University women's club, multiple national champion Berkeley All Blues, and, of course, the USA National Team.
All-Time American, Kathy Flores
Kathleen "Kathy" Theresa Flores (1955-2021) was a rugby player and coach, winning multiple national championships over her 45-year career. She was a strong champion of the women's rugby community and her contributions to the sport of rugby were extensive. Over her career, she won multiple national college and club championships, numerous awards, and is considered a pioneer and ground breaker in women's rugby. 
She was the first woman to coach any national rugby team and the first woman of color to coach a national team. She was the first captain of the USA Women's Rugby Team in 1987 and helped lead the to the 1991 World Cup championship.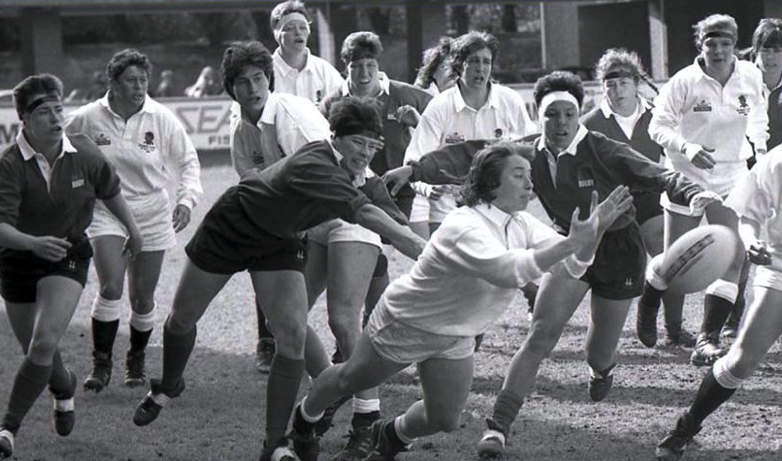 (Flores, in the headband, during the 1991 Rugby World Cup final against England)
Kathy's career began in 1978 as a player at Florida State University where she captained and coached the team to four national championship titles. In 1985, she was a member of the grassroots-organized, invitational women's national team, the first US women's team to play international matches. Following that she was a member of the first official USA Women's Rugby Team, which she was a part of through 1994, helping the Eagles to a second-straight RWC final in her final year.
From 1994-2010 she embarked on arguably one of the most successful coaching stints of all time, leading the All Blues to 11 National Championships. She coached the USA Women's Rugby Team from 2003 to 2010, and was the coach of the 2006 and 2010 US Women's World Cup Team. In 2009, Kathy helped spearhead the Women's Premier League. 
This past weekend, Flores, who had been privately battling an illness for some time, was unable to accompany her Brown team to their game. This was a first, and not a good one.  Brown Women Win in Tense, Emotional Game 
Personal: I have known Kathy for decades. She was, at first, cautious about talking to the press, but over the years we developed a good friendship and she was honest, candid, and exceptionally intelligent. She was one of the first to send me commiserations on the death of my wife, even as she was battling her own health crisis. At the 2006 Rugby World Cup she allowed me to attend a USA pregame dinner during which I asked the team a bunch of goofy and frivolous questions. "Thank you for that," she said afterward. "They needed that."
They won the next day, so maybe that helped. 
She was all class, with a superb brain, and the last time I saw her was in Utah in July, scouting and recruiting as always. I don't think it occured to her to stop or take a breath.