Women Club 7s Rosters
Scion won it all last year. Brian Jackson photo.
Below are the rosters for the Women's Club 7s Championships.
The teams involved include defending champs Scion, the 2019 (and 2018) champions San Diego Surfers, and runners-up from the last two years, Life West and Berkeley All Blues.
Three of the last four tournament MVPs—Jade McGrath, Teigan MacDonald, and Megan Sanders—are back too.
(Not all of these players might play—they are players who have submitted their waivers, but the larger rosters will be pared down.)
Boston
 
NOVA
Tiffany
Arce
 
Josephine-Ann
Asumang
Mireille
Berry
 
Gabrielle
Avilla
Hannah
Bogich
 
Sheila
Bertrand
Emily
Chretien
 
Anna Rae
Clark
Lisa
Van Eerde
 
Sarah
Cokington
Isabel
Haber
 
Elizabeth
Eways
Hannah
Mackay
 
Ariel
Johnson
Alexandra
Nelson
 
Maureen
McInerney
Catherine
Ordile
 
Kayla
Ramsay
Grace
Pattarini
 
Gloria
Reyes
Maya
Raghavan
 
Taylor (Jasmine)
Smith
Margaret
Reiss
 
Haley
Robinson
Emma
Santosuosso
 
Samantha
Aguilar
Cleverina
Cong
 
Emma
Aul
Nicole
McCardle
 
Emilia
England
Stacey
Markovic
 
Caitlyn
Fosnacht
 
 
 
Hadley
Vanderbush
DC Furies
 
Gina
Reistrup
Mackenzie
Davis
 
 
 
Sarah 
Schindehette
 
 
 
Douha
Knio
 
Rocky Mountain Magic
Hann 
Humphreys
 
Katherine
Lohaus
Elizabeth 
Bahret
 
Alexandra
Hammon
Olivia 
d'Aliberti
 
Justine
Perl
Michelle
Vander Ploeg
 
Glory
Woolley
Alyssa
Corralez
 
Nichole
Wanamaker
Emily
Rainey
 
Selena
Tuilaepa
Katy
Stewart
 
Juliann
Tordonato
Augusta
Maguire
 
Madison
Slaught
Kelsie
Whitney
 
Hannah
Tennant
Danielle
Deshaies
 
Kailynn
Hampton
Sharifa
Love-Schnur
 
Julia 
Mulligan
 
 
 
Jessica 
Dombrowski
Washington Athletic Club
 
Alizah 
Yrigolla
Christa
Banks
 
Carson 
Hann
Emily
Barber
 
Deanna 
Nash 
Lauren
Barber
 
 
 
Hali
Deters
 
Scion Rugby
Gabrielle
Fernandopulle
 
Katherine 
Lutton
Sophie
Frick
 
Abby 
Gustaitis
Jenny
Johnson
 
Lauren 
Rhode
Lauren 'Nikki'
Kenyon
 
Spencer
Boldt
Erica
Legaspi
 
Marisa
Hall
Carly
MacKinnon
 
Jade
McGrath
Erica
Myers
 
Camille
Johnson
Megan
Sanders
 
Charlotte
Wallace
Lauren
Kujawski
 
Monique
Coffey
Leah
Ingold
 
Jessica
Lu 
Megan
Banford
 
Emily 
Fulbrook
Kayla
Hunkin-Clark
 
Autumn
Czaplicki
Danielle
Cole
 
Natalie
Bjorklund
 
 
 
Camile
White
Atlanta Harlequins
 
Dana
Meschisi
Susan
Adegoke
 
Haley
Langan
Emerson
Allen
 
 
 
Monique
Compito
 
San Diego Surfers
Adrionna
Duncan
 
Julia
Buescher
Sylina
Flowers
 
Lauren
Thunen
Cortney
Kuehl
 
Cathy
Cai
Akilah
Guzman
 
Elona
Williams
Sarah
Montembeau
 
Madison
Arenchild
Meredith
Nelson
 
Teigan
MacDonald
Destiny
Roberts
 
Ashley
Torrecillas
Meredith
Schwartz
 
Jaime
Albarelli
Erin
Smith
 
Sophia
Pyrz
 
 
 
Lindsay
Mahoney
Life West
 
Dajian
Brown
Aimee Ramos
Ramos
 
Grace
Kukutai
Alex
Gonzalez
 
Elizabeth
Tafuna
Alex
Wing-LaClaire
 
Amy 
Verdonik
Alia 
Ah Far
 
Margaret
Reichard
Bailey
Johnson
 
Briana
Riley
Bianca
Ortiz-Pallen
 
 
 
Christina
Opeti
 
Tempe
Emma
Harbage
 
Tracey
McLane
Heidi
Tressler
 
Veronica
Houck
Jenna
Balestra
 
Chloe
Jex
Lauryn
Nazareno
 
Makenna
Flynn
Molly
Kozasky
 
Tatum
Quimby
Myia
Wilkes
 
Sydney
Dudley
Neariah
Persinger
 
Janice
Dykes
Rachel
Pau'u
 
Alexandra
Jaros
Roxelle
Thomas
 
Kristina
Aprahamian
Siale
Alatini
 
Taylor
Didesch
Sisileti
Hingano
 
Keina
Crawford
 
 
 
Danielle
Borie
Chicago North Shore
 
 
 
Kadie
Sanford
 
Berkeley All Blues
Olga
Niyibizi
 
Naomi
Carillo
Sarah
Anderson
 
Kathryn
Chasakara
Rachel
Kaplan
 
Elena
Clark
Emily 
Krahn
 
Hope
Cooper
Emma
Farnan
 
Evan
Hoese
Elizabeth
Geary
 
Tiana-Malia
Kawaihoa-Marquez
Erin
Nelsen
 
Shelby
Lin
Tarynn
Mays
 
Serena
Liu
Emily 
Tunney
 
Sara
Maurer
Nicole 
Fisch
 
Tyra
Norlander
Kaitlin 
Rebholz
 
Monika
Rozkowska
Esme
Heater
 
Laura
Thacker
Stephanie
Ramirez
 
Cassandra
Tong
Ariane
Lozac'hmeur
 
 
 
Rebecca
Levine
 
 
 
Alecia
Eschenbrenner
 
 
Phoenix Rugby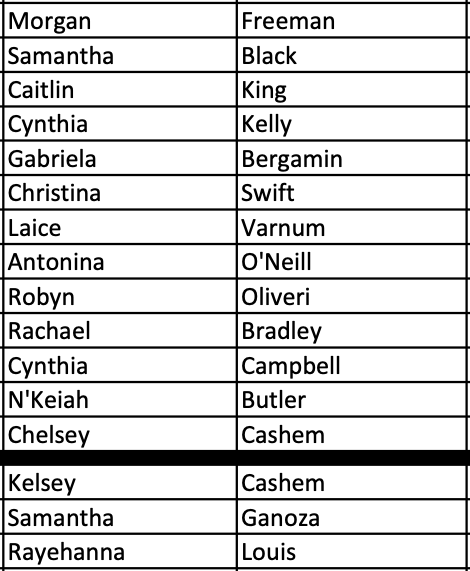 Chicago Lions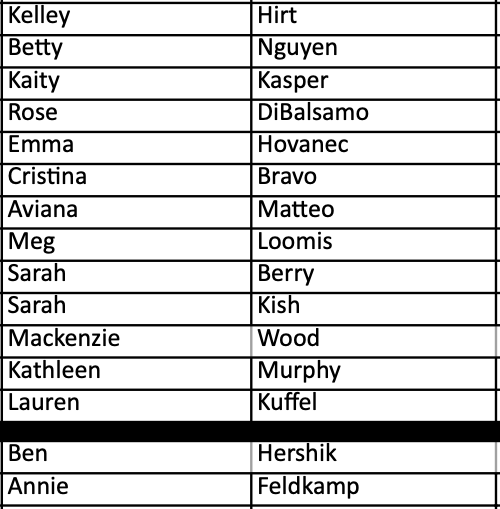 sHARCS