Wild Results Continue In Northern California
Wild Results Continue In Northern California
Danville v Jesuit. Sandi Allan photo.
Northern California's Boys Premier division is all over the place as no one has been able to break away and stay unbeaten.
This week, Danville beat Jesuit in a mud-spattered rivalry matchup.
Granite Bay v Lamorinda. Dan Bandoni photos.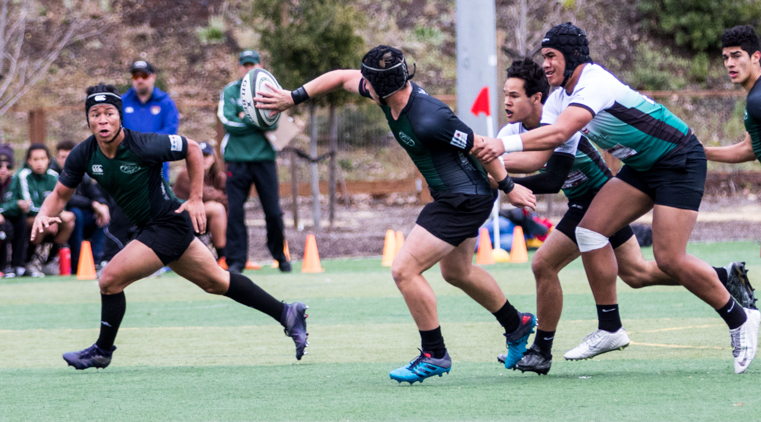 Danville rode a strong first half to a 20-0 lead. Jesuit lost possession early and started to get into penalty trouble. Those penalties allowed Danville to work its way down to punch in a try. Two penalties from Luke Freeman made it 13-0, and then another Danville try made it 20-0.
In the second half, Jesuit adjusted well, with flyhalf Vili Hopoi showing some snappy running and scoring just two minutes into the half.Danville replied, but then tries from scrumhalf David Starnes and flanker George Miller (Mason Phillips converted all three) made it 27-21.
Danville, however, held on for the victory as Jesuit threatened once more. Jesuit named Jack Slimm and Luke Freeman players of the game for Danville, while the Danville players picked Laiatu Latu and Vili Hopoi for Jesuit.
"All credit to Danville – they came to play and they brought the physicality and a game plan that kept us on the back foot, but I am very proud of the boys for mounting a spirited comeback," said Jesuit Head Coach John Shorey. "The beauty of sport is that we get to look at the film and work on improvements for the next week."
Meanwhile, the team that beat Danville early in the season, SFGG, fell 42-20 to CK McClatchy. With Zack Neff and Inoke Waqavesi, Jr, back on the field, CK looked hard to stop.
"It was a hard game, back-and-forth," said CK assistant coach Casey Cartmill. "In the second half CKM stuck to their structure and system and was able to pull away for a hard-fought win versus a tough SFGG team."
The keys, added Head Coach Inoke Waqavesi, were "pressure on defense, patience on offense, and good ball movement."
And then, Granite Bay, after a couple of recent losses, bounced back to beat Lamorinda 43-26. It was, again, wet and muddy. Granite Bay got an early from on a well-taken break from wing Garret Curtis. Lamorinda scrumhalf Kaleo Nelson was very good and helped direct his team into scoring position. But in a physical contest, a key try from prop Doug Mitchell helped Granite Bay pull away.
So what that means for the standings is unclear, as some of these games are listed as non-league. What it means for the rankings is even more unclear. Danville has lost to SFGG but beaten Granite Bay and Jesuit. Lamorinda has beaten CK McClatchy, Marin, and Jesuit, but lost to Granite Bay. Jesuit has beaten Mother Lode and Granite Bay. CK McClatchy beat SFGG but lost to Granite Bay and Elsie Allen.