Who's the Best HS 7s team of the Summer? Here's One Argument
Who's the Best HS 7s team of the Summer? Here's One Argument
Berks County was the only team in the top three in both Tropical 7s and NAI 7s.
Perhaps this post was put out there a little tongue-in-cheek, but it brings up an interesting topic.
Here's the post:
If you can't see the post, it's a comparison of the finishes of the two major HS 7s tournaments of the year, Tropical 7s and NAI 7s. Here's the image:
So kidding around? Maybe not. Remember that the NAI 7s was originally envisioned as the culmination of a North American 7s series. Tropical 7s was supposed to be part of that series, and there was to be a Canadian event—they just couldn't squeeze such a tournament into the tight Canadian schedule. 
And if you did treat these two tournaments as part of a series, what would you see?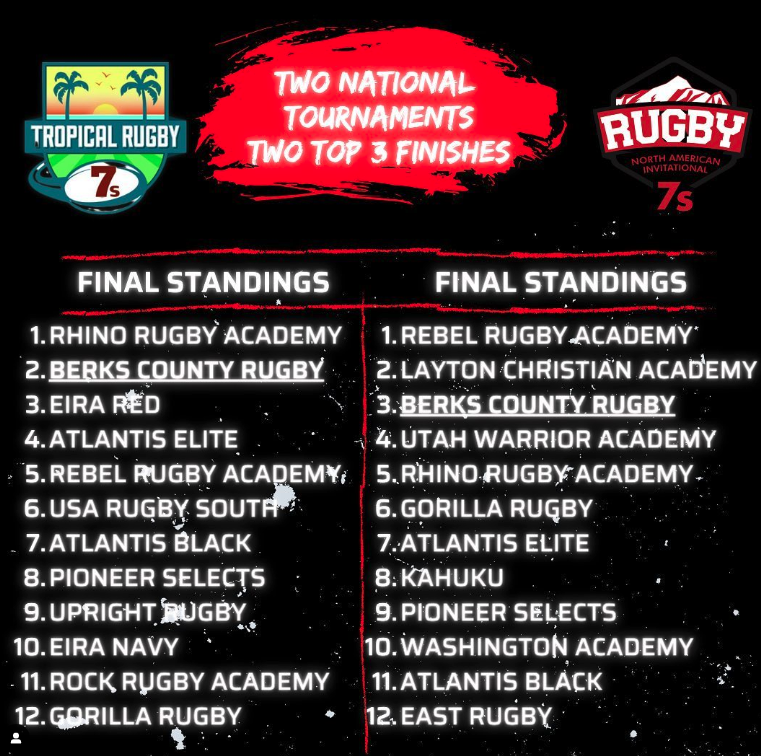 Let's give the teams Sevens World Series points for where they finishes and if you did that you'd get this ranking:
1. Berks County 36
2. Rhino Rugby Academy 35
2. Rebel Rugby Academy 35
4. Atlantis 26
5. Layton Christian 19
6. Pioneers Selects 18
7. EIRA Red 17
8. Atlantis Black 16
8. Gorilla Rugby 16
10. Utah Warriors Academy 15
11. USA Rugby South 12
12. Kahuku 10
13. Upright Rugby 8
14. EIRA Navy 7
15. Washington Academy of Rugby 7
16. Rock Rugby 5
17. East Rugby 4
Not all of these teams played in both tournaments, so you wonder where Layton Christian or EIRA might have ranked if they'd played twice. But that's the thing, you've got to show up both times to get the points.
Not surprisingly, the tournament winners (Rhinos at Tropical and Rebel at NAI) are near the top, but notice Berks, which finished 2nd and 3rd, was actually more consistent. And in the tournaments Rhinos or Rebel didn't win, they were each time knocked out of the quarterfinals by Berks. 
This is unofficial, but fun to look at nonetheless. Using a team made up almost entirely of players from the Berks 15s team that plays league rugby in the spring (with one or two additional players), with the same coaches through the season, Berks ended up right there in the conversation. And maybe they were the conversation.
And one more thing.
Brutal honesty. Being good at anything requires you to look in the mirror and be honest about what's going wrong, and not pointing fingers. Considering how Berks finished in NAI 7s, look at this interview again.