USA Women Making Massive Impact in UK Premier 15s
USA Women Making Massive Impact in UK Premier 15s
This kick from the touchline went over for Kelter. Photo Saracens Rugby.
USA women's national team players continue to make a huge impact in the Premier 15s league in England.
Alev Kelter, a week after scoring a try in her debut for Saracens, was player of the game in her team's 22-8 defeat of Harlequins. 
Not to be outdone, USA skipper Katy Zackary was also player of the game in her match, capping off a 36-32 win over Gloucester-Hartpury with a 60-meter eightman pick for a try. She actually scored three but that first jaunt got her Try of the Week.
ZACK ATTACK 

Check this out from @USARugby star @katezack28 #Premier15s pic.twitter.com/KVeGowhUJC

— Allianz Premier 15s (@Premier15s) February 5, 2022
Eagle flanker Rachel Johnson also scored in that game ... again. Hope Rogers has fit in nicely. Check out her try-saving tackle here ...
NO ENTRY @exechiefswomen's defence: wow 
#Premier15s pic.twitter.com/rXllz6fsRW

— Allianz Premier 15s (@Premier15s) February 5, 2022
And Jennine Detiveaux started on the wing. Megan Foster was on the bench as backline relief. And that's not even the entire US contingent on the Chiefs, as Gabby Cantorna is also a Chief, but is injured.
All-time great Alycia Washington is with the Worcester Warriors and she started at lock, got a yellow card, and battled on in a close loss to Bristol. Kristine Sommer was at blindside flanker in Gloucester-Hartpury's loss to Exeter, with Maya Learned starting at prop. Nick James started for Sale in their win over Loughborough. She also served as the vice captain. Katana Howard started at flyhalf, while Catie Benson was on the bench.
Across the scrum from James was Charli Jacoby propping for Loughborough and Bulou Mataitoga offering some exciting looks at outside center. She didn't score this past week, but she scored the week before.
Maiden tries for @USAWomenEagles duo Bulou Mataitoga [@LightningRugby] and Alev Kelter [@SaracensWomen] in Round 12 #Premier15s pic.twitter.com/LQBnhjI0iJ

— Allianz Premier 15s (@Premier15s) February 1, 2022
There are as many as 20 Americans (our count currently is 17 but we could be missing someone, it keeps changing): Catherine Benson, Sale Sharks; Amy Talei Bonte, Gloucester Hartpury; Gabby Cantorna, Exeter Chiefs; Jennine Detiveaux, Exeter Chiefs; Megan Foster, Exeter Chiefs; Katana Howard, Sale Sharks; Charli Jacobs, Loughborough Lightning; Nick James, Sale Sharks; Rachel Johnson, Exeter Chiefs; Alev Kelter, Saracens; Maya Learned, Gloucester Hartpury; Bulou Mataitoga, Loughborough; Hope Rogers, Exeter Chiefs; Kristine Sommer, Gloucester Hartpury; Alycia Washington, Worcester Warriors; Carly Waters, Saracens; Kate Zackary, Exeter Chiefs
(Bonte is not with Gloucester at present so we crossed out her name - AG)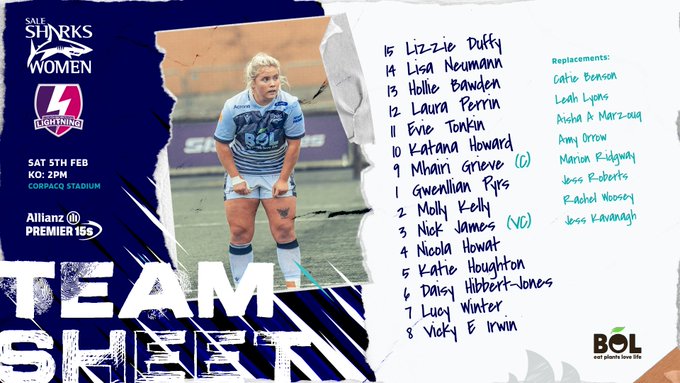 Even though the Eagle women didn't have an especially successful 2021, you can't fault the commitment of the players to get better. For the vast majority, of not all, of these players, they can't be paid for their play in the Premier 15s. They get housing and food and transportation, but many are holding down jobs remotely or working on their studies remotely. They are doing double-duty, in a strange land, to get better. (Correction - this may have been the case earlier, but it's changing and players are now being paid-AG)
And they are taking on major roles. Washington of course is a leader wherever she plays. Most of these players are starting. Rogers joined Exeter late and was starting within a short time. Kelter, after joining Saracens just a few weeks ago, has taken over the goalkicking duties. And as we mentioned, Zackary and James have captaincy roles.