USA U18 Boys Finish Camp 3-0-1
USA U18 Boys Finish Camp 3-0-1
The Boys HS All American/U18 winter camp finished off with a win and a tie over Canadian opposition to finish off the camp games with a 3-0-1 record.
USA Blue took on Canada White and dominated, winning 33-0.
No. 8 Russell Lemaster scored the first two USA tries in that game, with Lewis Gray converting. Captain Will Chevalier added a try to make it 21-0 with Gray's conversion. 
Marcus Schumacher's try made it 28-0 with Gray's conversion, and then Carson Shoemaker scored at the end in a very convincing performance.
On the other side of the ledger, USA Red tied Canada Red 20-20.
Canada opened up the game with a try from Colin Rolph converted by Jamin Hodgkins, who added a penalty for a 10-0 lead. The USA got a penalty from Sean Nolan, but Canada answered with a try from Ciaran Breen to make it 15-3 in the first half..
USA's Dylan Ramirez got his team back in the game with a crucial try just before halftime, and Nolan's conversion made it 15-10 for Canada, and the Americans kept up the momentum, with Mateo Gadsden going over to tie the game 15-15.
Ryan Bullock's try put the USA ahead for the first time at 20-15, but Canada's Jacob Bossi capped off a driving maul to deadlock the game 20-20. In a tense ending, neither team gave an inch, and it ended 20-20.
Those results followed up USA Red's 22-10 defeat of Canada White and USA Blue's 42-13 defeat of Canada Red earlier in the camp.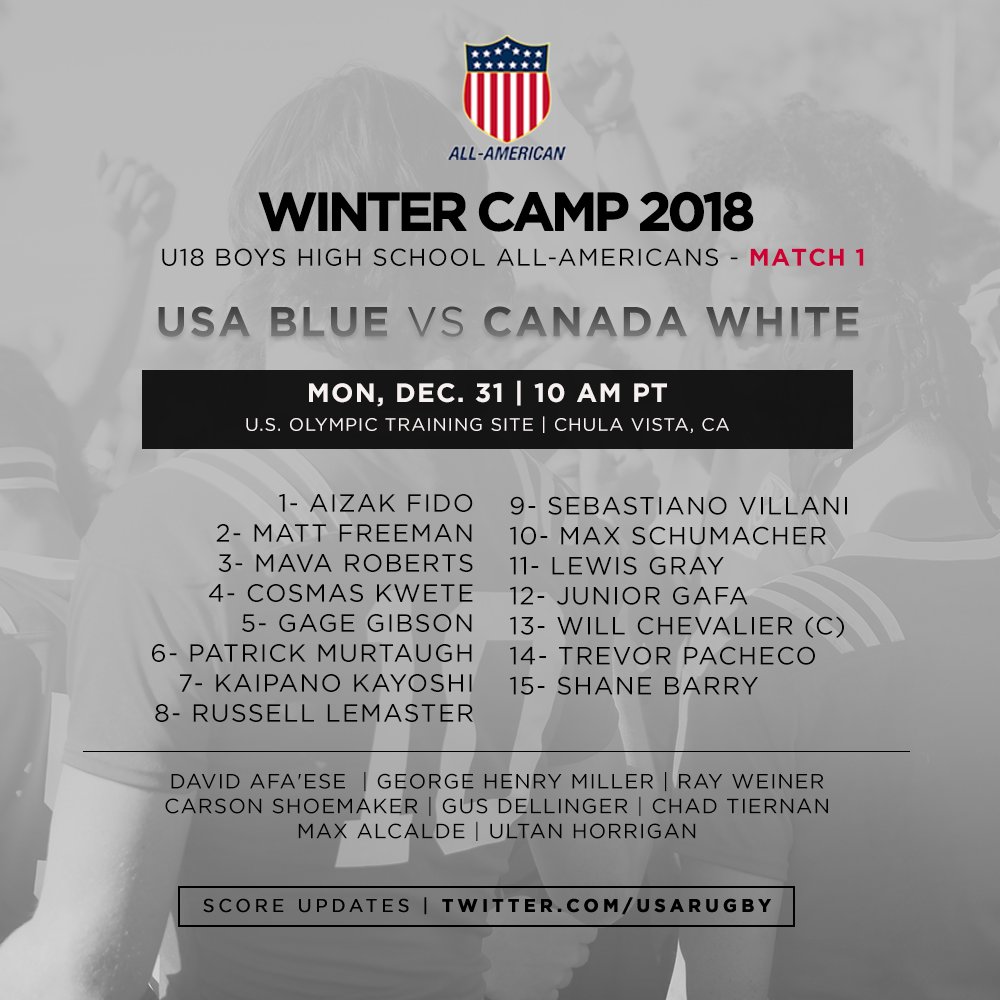 Canada U18 White Roster:
1. Willem den Ouden
2. Ryan Goodyear
3. Hudson Barnaby
4. Adam Ford
5. George Piper
6. Philipe Marchand
7. Isiah Springer
8. Brenner Kelava
9. Carson Young
10. Mikko Vorster
11. Sony Bermudez-Chavez
12. Alex Hickman
13. Talon McMullin
14. Kevin Mwamba
15. Max Tavenor
16. David Scollon
17. Ben Mowbray
18. Nicholas Harington
19. Jayden Woodworth
20. Thomas Artmann Sherren
21. Reese Stanley
22. Cody Nhanala
23. Relmu Wilson-Valdes
24. Jan-Hendrik Lourens
25. Jacob Bourne
26. Eric Godden
27. Liam Bowman
28. Graeme Norris
29. Elvis Duru
30. Jack Carson
31. Jared Usmar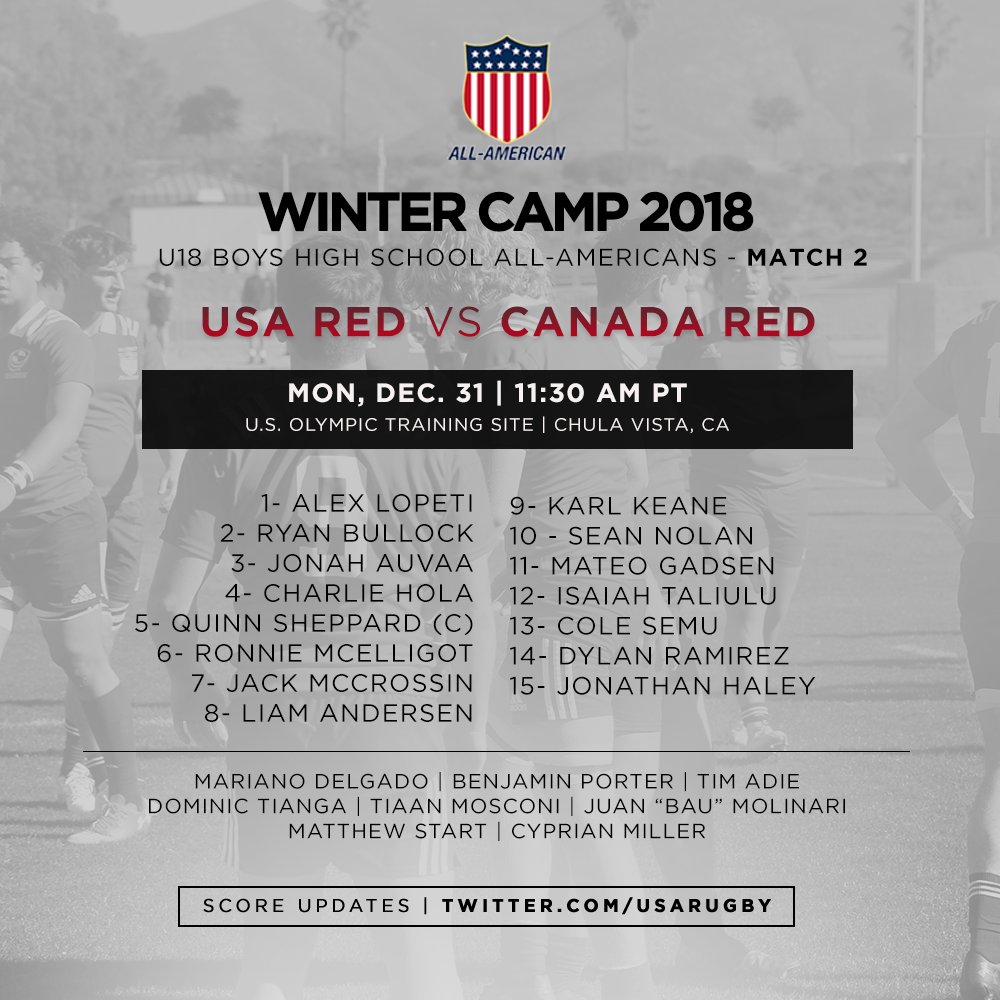 Canada U18 Red Roster:
1. Raymond Chou
2. Jacob Bossi
3. Logan Markland
4. Connor Paivarinta
5. Logan Weidner
6. David Bunmi-Nathan
7. Michael Reid
8. Braden Bruce
9. Sean Snyman
10. Zac Sanderson
11. Takoda McMullin
12. Ciaran Breen
13. Storm Buck
14. Lucas Vanderburg
15. Elijah Springer
16. Matt Klimchuk
17. Joshua Mao
18. Deklan Williamson
19. Matthew Amyotte
20. Colin Rolph
21. Daniel Clement
22. Sterling Seunarine
23. Callum O'Neil
24. Lucas Shortall
25. Jamin Hodgkins
26. Jackson Kerr
27. Brandon Power
28. Zach Monckton
29. Max Abercrombie