USA Sending U18 Team to 2017 Maccabiah Games
USA Sending U18 Team to 2017 Maccabiah Games
The 2013 Men's 7s team, which won the gold medal.
The World Maccabiah Games Organizing Committee will be entering a Boys Junior team at the 20th World Maccabiah Games in July, 2017.
The Maccabiah Games is a multi-sport event, similar to the Olympic Games, but for Jewish athletes. Many famous Olympians have participated in the Maccabiah Games in various sports, including swimmers Mark Spitz and Lenny Krayzelburg, and gymnasts Mitch Gaylord and Kerri Strug, all later Olympic gold medalists. The USA has participated in rugby since 1981 and won the Gold Medal in 1997. In 2013, the rugby competition expanded to include 7s as well as 15s, and the USA won Gold in the 7s event and bronze in 15s.
Several notable American rugby players have played in the Maccabiah Games, including Craig Levine, Greg Schor, Shawn Lipman, Stuart Krohn, Aaron Manheimer, Jeremy Nash, Aaron Blatt, Kevin Swiryn, and Dallen Stanford. In 2013 a junior bracket was initiated. The USA did not send a team, but will do so for the Maccabiah Games to be held July 4-18, 2017, in Israel.
The 2009 Maccabiah Games USA men's team. Among them, a very young Zack Test, not yet a USA 7s star, 6th from the left in the back row.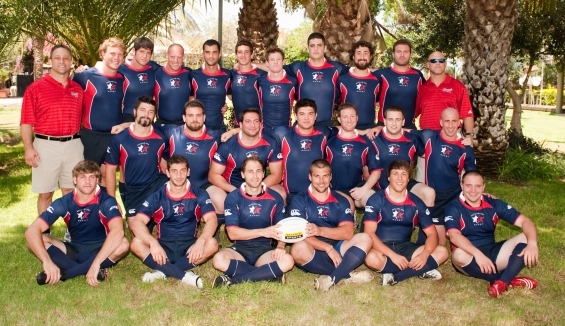 The USA Junior team will play both 7s and 15s, and Greg Schor Haskin has been named the Head Coach of the team, by Maccabiah USA Rugby Chairman David Rudzinsky.
"We're very excited about this," said Schor Haskin. "This is more than just an athletic competition. "It's the cultural experience that makes it really special. We hear stories time and again of players who are Jewish, but didn't really identify seriously with their Jewish heritage, but came away from the Maccabiah experience with a newfound appreciation for who they are and where they come from.
"My experience at the World Maccabiah Games in 1993 left a lasting impression on me that I always wanted to give back to youth rugby. The camaraderie among the Jewish athletes at the World Maccabiah Games is excellent and the competition high. Spending almost a month in Israel experiencing our Jewish ancestry is very important, and I am excited to provide the same experiences I've had to my players."
Schor Haskin said this is a new experience for the USA Maccabiah program, but will be an excellent building-block for young rugby players and future senior Maccabiah teams.
The program is currently looking for American Jewish rugby players who were born in 1999 or 2000. If your mother or grandmother is or was Jewish, that counts. 
Already a couple of players are in the mix, notable Schor Haskin's son, Chase, who is a Florida Youth Rugby select-side player out of Weston HS, and toured British Columbia with the Eagle Impact Rugby Academy team in 2015. 
To be considered for the the team and to get information about tryouts and camps - including a planned participation in the 2017 Las Vegas Invitational 7s tournament - please contact David Rudzinsky at 617.799.8045 or via email at drudzinsky@gmail.com.