Three Sit Atop Rugby Oregon
Three Sit Atop Rugby Oregon
Linn Benton gets the ball out in league action this spring.
It's early days in the Rugby Oregon girls HS competition but already three teams have risen to the top.
Linn Benton is 2-0 after beating Canby 47-12 this past weekend. Grant is 2-0 now after shutting out both North Clackamas and Cleveland. The Lady Barbarians are also 2-0 after taking care of North Clackamas. 
"We are pleased with how the girls are playing," said Linn Benton Head Coach Curt Betts. "We feel like their success so far really comes from working together as an overall team. Our forwards are doing a great job controlling the breakdown, and our backs are adding new elements to their game every week."
The biggest thing they're doing well? Rucks. Both the forwards and the backs are strong over the ball and have bought into the need to keep stringing phases together. 
"It's really hard to get the ball away from them," said Betts.
The Lady Barbarians, for their part, started very strong. They opened up with the PrezFest tournament, and in four shortened games scored 105 points and gave up 15.  At Rugby Oregon's preseason tournament, they outscored three opponents 75-0. But the regular season has been a little rougher.
The Barbarians win ruck ball in the mud.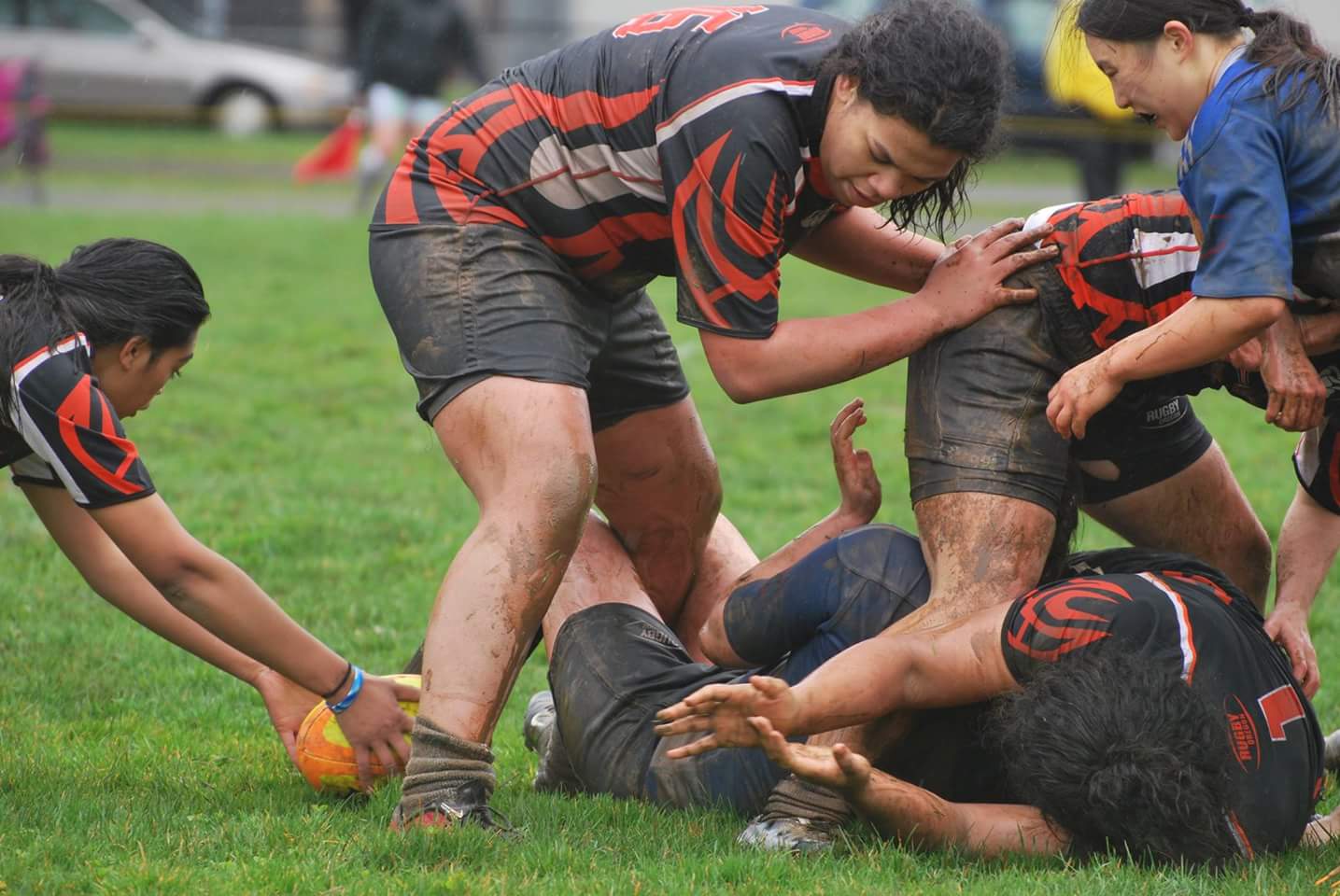 In the opener against the Valley Panthers they were behind 17-10, and then exploded for 42 points in the second half to win 52-22. Against North Clackamas, they started shorthanded, but somehow held a slim lead. 
"In the second half, after talking about it, we started to play well," said Head Coach Greg Tracy. A red card for a high tackle put them down to 13 players, and then a red card for not wrapping up. Down to 12 players, they still won 59-20.
Injuries and the rd cards have hurt the Barbarians, but, said Tracy, "we have added a couple of new girls who seem to be coming up to speed pretty quickly. We will be back to our normal selvs in a couple of weeks. I am feeling good about our team after losing 11 to graduation or moving last year.  We have a young team this year and are looking forward to having a pretty good team for the next couple of years."
Madison Rettenmaier, Line Tafea, and Neni Aisea have stood out for the Barbarians.
But everyone is taking note of Grant. While the Panthers remain a competitive side, it's Grant's two league shutouts, against teams that scored significant points against either Linn Benton or the Barbarians, that have people talking.