Tennessee Edges Kentucky - SCRC Latest
Tennessee Edges Kentucky - SCRC Latest
Tries were hard to come by for both teams, but Tennessee (in orange) prevailed. Ann Leatherwood photo.
The University of Tennessee won the big clash of top SCRC teams Saturday, getting a last-second penalty goal from wing Ben Schwartz to put the Vols up 24-22.
Kentucky put together a very smart and well-organized game plan, but Tennessee's backline defense pressured the Wildcats well enough to control much of the first half.
Photos Ann Leatherwood.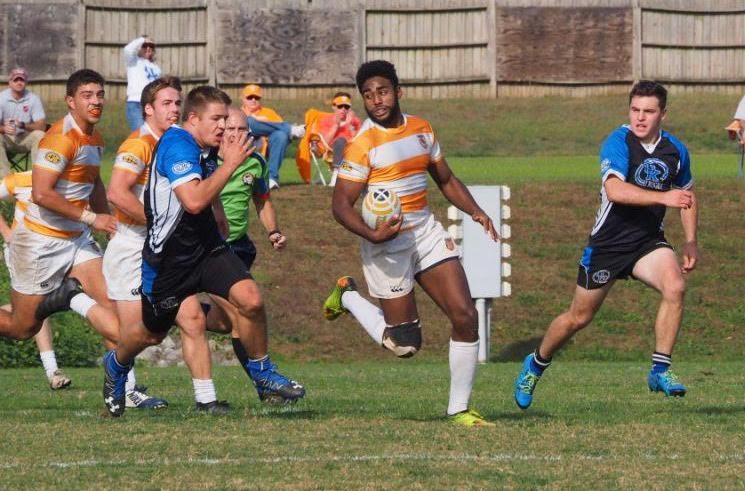 Kentucky scored early with a penalty goal from CJ Leadingham, but then Tennessee replied with a try from flanker Dylan Craven, and, midway through the first half, a try from flanker Hayden Ryan. That made it 12-3, and while Kentucky edged back with another Leadingham penalty, Tennessee kept the Wildcats at arm's length with a Schwartz penalty to make it 15-6 going into halftime.
At that point, though, Kentucky figured things out a little bit and got through for a try from Porter Ramsay. That made it 15-11 at the break.
"That was a big momentum shift," said Tennessee Head Coach Marty Bradley. "If we'd been able to go into halftime up 15-6 we would have been feeling pretty good. But at 15-11 it was a different ballgame."
"It took about 30 minutes for us to adjust to UT's backline pressing us on defense," said Kentucky Head Coach Gary Anderson. "From there i thought we played very well."
Schwartz and Leadingham traded penalties in the second half as the defenses hammered each other, and then traded penalties again to make the score 21-17 for Tennessee. Then, Tennessee fullback Sam Hawkins went into the sin bin thanks to a yellow card. Kentucky lofted a high kick, but a miscommunication between the two Tennessee wings about who would cover for Hawkins left it open for Elijah Warfield to race in for the Kentucky try.
"We had a guy go up for the ball thinking that his fullback was the last line of defense, but our fullback was sitting in a chair on the sideline," said Bradley. "It was a very smart play by Kentucky."
So Kentucky now led for the first time since minute #10, at 22-21. Tennessee came back, and earned a penalty - they opted for the lineout but were stopped. The Vols got another penalty, closer in, but Schwartz mis-hit the ball and missed. Then, with no time left, Schwartz got one more change, and banged it over to win the game.
"We had two or three scoring opportunities that we should have converted on, but did not," said KU' Anderson. "UT is a great program run by a great coaching staff and we are optimistic we will get a rematch in the final, but first we have to refocus and get ready for a rematch vs 'Bama."
For Tennessee, the back row of Ryan, Craven, and Josh Landon was excellent, with Landon leading the way on defense. Bradley was very complimentary of Kentucky.
"They aren't just a team that has popped up and will be good short-term," he said. "They've recruited some good players and are well-coached and organized. They are on the right path."
Tennessee's victory over Kentucky gives the Vols the #1 seed from the SCRC in the semis this coming weekend. Tennessee will play Florida, while Kentucky takes on West #1 Alabama.   
In other SCRC action, Alabama beat Florida 52-12 in impressive fashion to finish 5-1 in league action. South Carolina defeated Auburn 67-6 to finish 4-2, while Ole Miss beat Vanderbilt 79-12 and Georgia finished off a good season with a 79-5 pasting of Mississippi State.
It's worth noting that while Tennessee finished 6-0, the Vols won their two key games - over South Carolina and Kentucky - by a total of five points. 
| | | | | | | | |
| --- | --- | --- | --- | --- | --- | --- | --- |
| SCRC East | W | L | T | Pf | Pa | Pd | Pts |
| Tennessee | 6 | 0 | 0 | 255 | 60 | 195 | 24 |
| Kentucky | 5 | 1 | 0 | 241 | 80 | 161 | 20 |
| South Carolina | 4 | 2 | 0 | 224 | 66 | 158 | 16 |
| Georgia | 3 | 3 | 0 | 168 | 144 | 24 | 12 |
| Vanderbilt | 0 | 6 | 0 | 31 | 362 | -331 | 0 |
|   |   |   |   |   |   |   |   |
| SCRC West | W | L | T | Pf | Pa | Pd | Pts |
| Alabama | 5 | 1 | 0 | 338 | 43 | 295 | 20 |
| Florida | 3 | 3 | 0 | 170 | 184 | -14 | 12 |
| Ole Miss | 3 | 3 | 0 | 200 | 254 | -54 | 12 |
| Mississippi State | 1 | 5 | 0 | 90 | 305 | -215 | 4 |
| Auburn | 0 | 6 | 0 | 50 | 279 | -229 | 0 |