St Edward Beats Jesuit of Sacramento
St Edward Beats Jesuit of Sacramento
St. Edward HS of Ohio pulled off a major upset in beating #2-ranked single-school Jesuit of Sacramento.
Jesuit went into the game ranked behind Ohio team St. Ignatius in the FloRugby Top 50. St. Edward came in ranked #7. But most would have expected this to be a straightforward Jesuit victory.
Tracey Jaycox photo.

| | |
| --- | --- |
| |   |
And in fact Jesuit did start the stronger, leading 10-0. Inside center Vili Hopoi opened the scoring for Jesuit followed closely with a try from wing James Bayard. With neither score converted, Jesuit was up 10 points with just seven minutes played.
St. Edward replied with tries from Charlie Green and Mo Hamed, with Conor Forrestal adding a conversion for a 12-10 lead. Jesuit nudged ahead when prop Joe Marchant, recently ranked as the top prop in HS rugby in the USA, powered over to make it 17-12 before halftime.
At the half the Eagles had a chance to chip away by pouncing on a loose ball, but lock Laiatu Latu made an outstanding hustle play and stopped an almost certain seven pointer right at the half.
St Edward started right where they left off and with some silly Jesuit penalties, the Eagles through Grant Gutchall to level the game at 17-17. Jesuit flanker Max Sackett then jumped on a loose ball from an Eagle scrum to score and Jesuit went back on top.
Another series of penalties and St Edward regained the lead with Joe Toth scoring out wide and Forrestal converting. So that made it 24-22 St. Edward with time winding down. Jesuit's Hopoi kicked a penalty to go up 25-24, but with time almost up, Forrestal replied with a penalty of his own to seal a 27-25 victory for St. Ed's. Jesuit had one more shot but the kick to win it sailed wide.
?"i'm>
Green and Forrestal were named players of the game by the Jesuit captains. St. Edward next takes on Australian touring side Toowoomba Grammar at Treasure Island in San Francisco. 
Tracey Jaycox photo.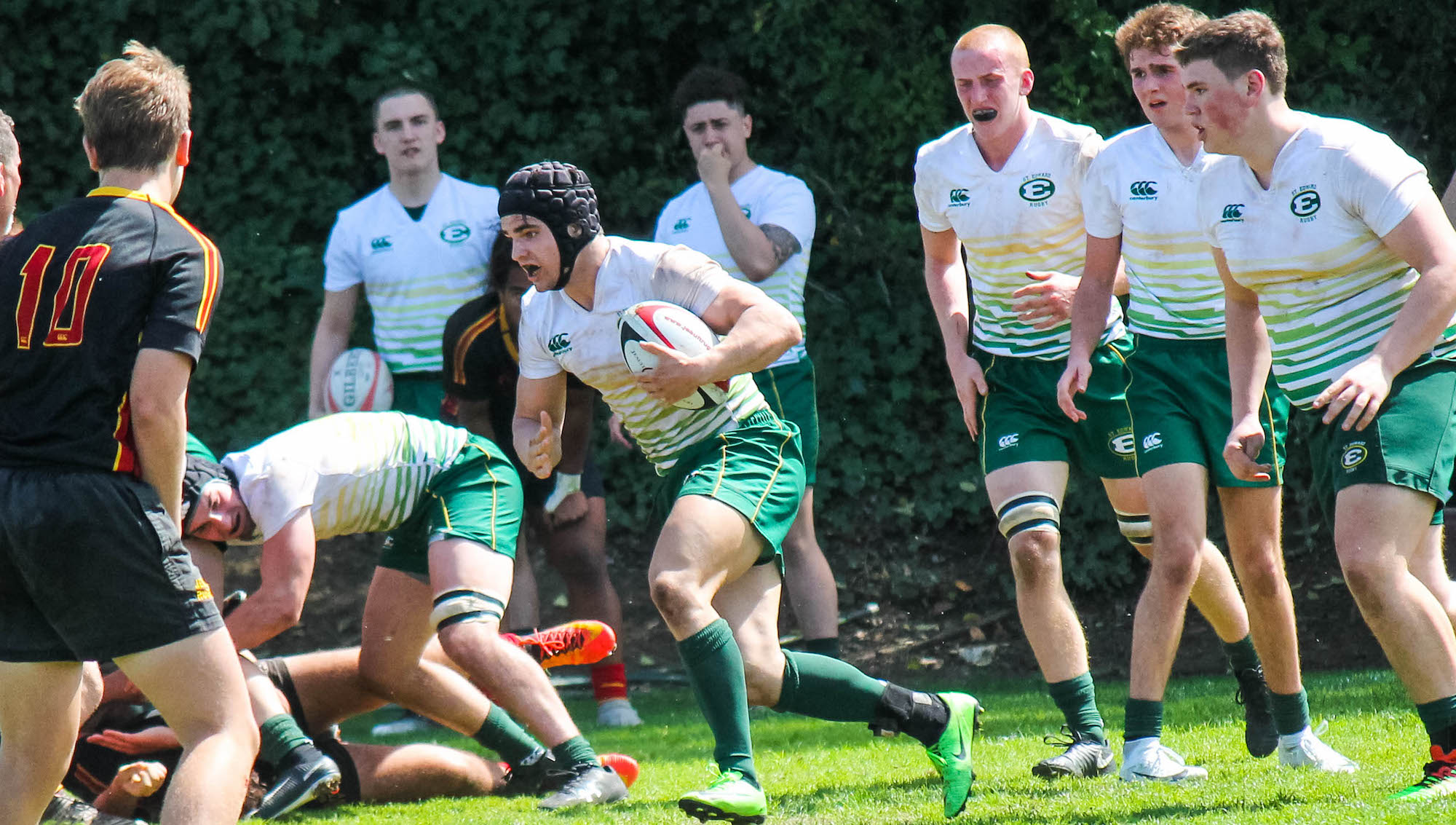 Meanwhile,St. Edward Head Coach Tom Cleary  praised the effort of his forward, led by Green and Noah Militello.
"Their hard running committed defenders and held them tight so they couldn't overload the backline," said Cleary.
Colin Hass had a superb game in the lineouts.
"Jesuit is an outstanding program that we look forward to playing again," said Cleary. "They are the type of program that brings out the best in you. This was probably one of the best and classiest teams we have ever played."