Sorensen Finalist - Francesca Sands
Sorensen Finalist - Francesca Sands
Sands says she hates to run. We're not sure we believe her. Photo courtesy Dartmouth Rugby.
Sometimes, when you're cruising in space on a rugby field, the ball in hand, you've just got to make a decision. 
Francesca Sands knows that, and knows that when you make a decision, it helps when you make it fast.
Photos courtesy Dartmouth Rugby.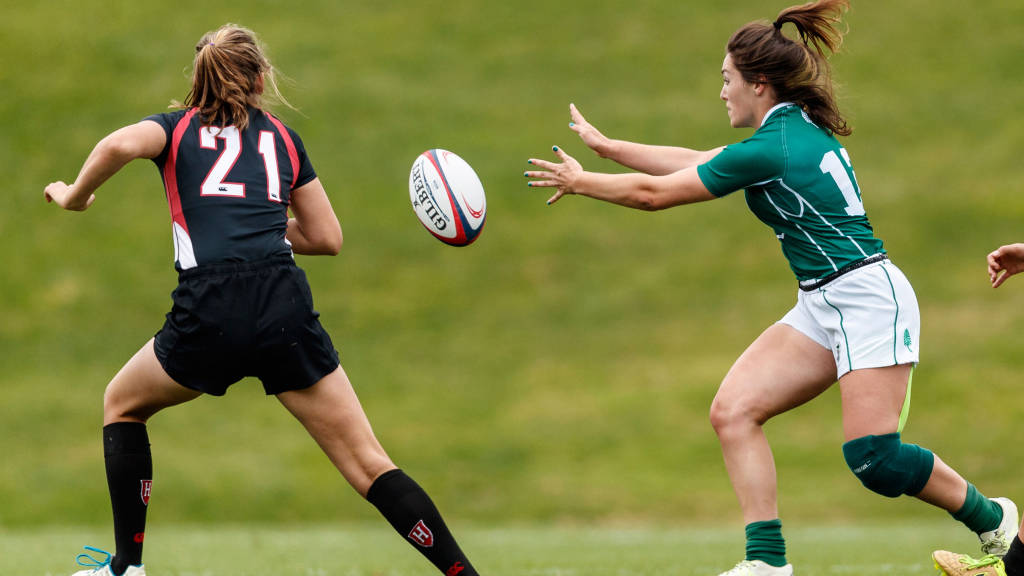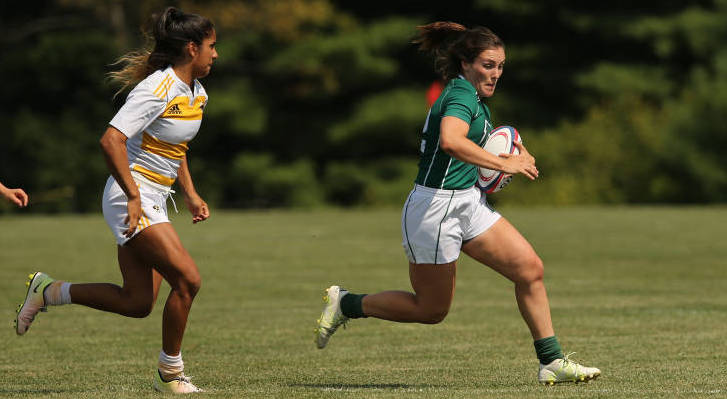 So this Dartmouth College center is a finalist for the Sorensen Award given to the top women college rugby play in the country. Sands is a try-scoring powerhouse. With quick acceleration, superb balance, and enough aggressive to make sure it always takes more than one tackler to bring her town, she succeeds with pace, a love of the sport, and plenty of desire.
She was an athlete in middle school and high school in Vermont, running track and cheerleading. But running just to run didn't excite her, and she was looking for something else. 
"Then one day I was walking through the school and I saw that the rugby this flyer for the rugby team and I saw those words - 'no experience necessary.'"
So Sands started training with the Essex HS team in Vermont. It was something other than just running, although, irony of ironies, in the cold, dark afternoons of a New England winter, all they could do in the early practices was run, run, run in the gym and around the school.
Somehow, though, this was different.
"I loved the vibe of it," said Sands. "Although the first couple of week was running all the time, From the second I stepped into the first training - the way that rugby players are and the energy they bring to everything - I loved it. They convinced me it was fun and I kept coming back."
Her first coaches, Amanda Eldridge and Gary Sturgis, found out quickly that Sands was athletic. And they helped instill a love of the game that remains to this day. She is still in contact with her old coaches, especially Eldridge. 
"She's been one of the most influential women in my live," said Sands. 
Finally the game came and Essex was ready to play.
"They've give me the ball and I would run around and they'd tell me the rules but really I had no clue what was going on," Sands explained. "We had a preseason game, my first ever game, was against South Burlington, and they had me at wing. The game started, I was thinking I was catching on. Then after ten minutes I finally got the ball and they yelled 'just run forward, just run!' And I did and I scored and I started to think 'I'm starting to get this.'"
Sands matriculated to Norwich, and studied and played there for two years. 
Her first game at Norwich, Sands was put in at fullback against Penn State. There was no easing into it, that's for sure. 
"That was scary, but I think the biggest thing for me is my willingness to take risks," said Sands. "Someone will tell me something I have to do, or a player I have to go against, I feel like, 'OK, let's do it." In high school I was more like 'you want to change positions? Can I fake an injury?' But I quickly changed that about myself. I love the challenge."
So she started to look  for another challenge, changing her academic focus and looking what whether she could play more rugby, too. Two years into her time at Norwich, Sands decided to transfer. It was a tough decision to transfer, but it was made easier when she attended the national all-star camp in 2015. There, she was on the collegiate team, but was moved up to the women's senior side. Among the coaches there was Katie Dowty, newly installed as head coach of Dartmouth.
"I heard at the camp about what these other players were doing and where they were going, and I realized I want that, too," Sands said. "I had never thought about Dartmouth. My mom brought it up but I didn't think I would get in. But she pulled the mom card and said 'just try and make me happy.' OK, whatever. That happened before the All-Star camp, and the team I ended up playing for was coached by Katie Dowty. 
"After spending that week and getting to know her coaching philosophy, I knew I wanted to be coached by her."
Sands didn't say anything about Dartmouth during camp, and neither did Dowty, but two days after, Sands sent a tentative note wondering, if, maybe, she could … transfer?  The answer was an emphatic "Yes."
"There was no doubt about her helping me to get me in, and even since I came to Dartmouth she has been the biggest motivator," said Sands. 
The positive feelings are mutual.
"Frankie has been hugely impactful for our team – on and off the field," said Dowty. "She raises the level of competition on the squad while also making everyone feel closer and more connected as unit. She is the kind of player that can turn the tide of a match, with an explosive run or a thieving poach. She's ball-hungry, aggressive, loves the game and loves her teammates – they are her family and she plays for them. Frankie will be leading the Big Green as one of our captains in 2017 and we can't wait to see how high she will set the bar."
Sands is majoring in biology and minoring in Spanish, and is also strong in math. Her ultimate goal is to be a pediatrician and it seems like knowing Spanish will be a help there, too. As far as rugby goes, she wants to play but doesn't know exactly how.
"I want to play rugby until the doctor tells me I can't anymore," she said. She is toying with the idea of playing overseas for a time, and wants to go as high as possible. She was an All American and was in the 2016 senior national team poll.
"Short-term goal is to get a cap, and then once I do that let's see what else I can do."
That should be a worrying thought for any defender.