Sorensen and Scholz Awards Given Out at Gala Event
Sorensen and Scholz Awards Given Out at Gala Event
Idia Ihensekhien and Larry Williams received their trophies on Saturday in Seattle. John Bang photo for WAC.
Saturday, June 11, the MA Sorensen and Rudy Scholz Awards were officially handed out to Idia Ihensekhien of Dartmouth and Larry Williams of West Point at a gala event at the Washington Athletic Club in Seattle.
The event also welcomed Richelle Stephens, who won the MA Sorensen Award in 2021 but, because of the COVID pandemic, did not get a dinner. Stephens spoke with MC Mike Gastineau about her experience and how she balanced motherhood, her studies, and playing at an elite level (hint, it involved her teammates competing to be a babysitter).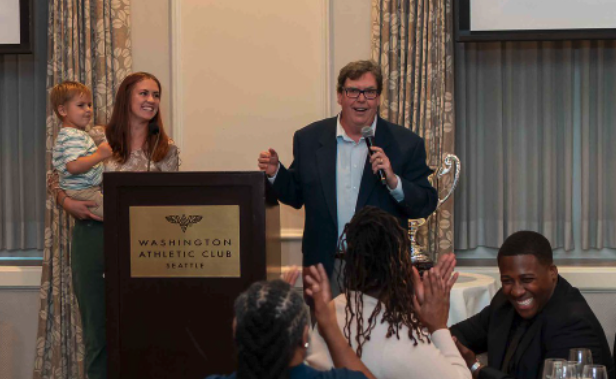 (What did Mike Gastineau say that made both Richelle Stephens and Larry Williams laugh? We don't remember. Photo John Bang for WAC.)
Also speaking were US Rugby Foundation President Brian Vizard, who spoke on how MA Sorensen is about to be inducted into the US Rugby Hall of Fame. Sorensen was there, of course, and spoke mostly about how props seem to pop up throughout key moments of the game. Sorensen herself was the nation's best tighthead prop for well over a decade, leading the USA to three World Cup finals. She pointed out that Ihensekhien, while a No. 8 now, used to be a prop, how Williams is a prop, and how, in fact, props are special. It was a touching and humorous speech—the type she is known for. We also heard from Dartmouth assistant coach and capped Eagle Stacy Bridges, who called Ihensekhien one of those players every coach wishes they had.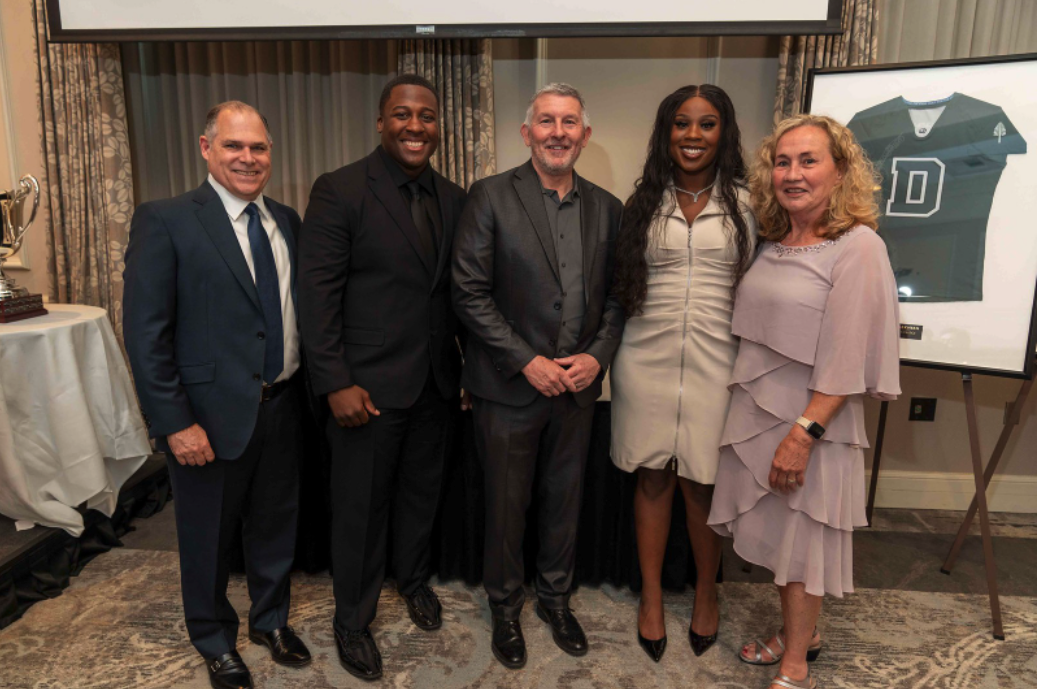 (Lef tto right: Doug Scholz, Larry Williams, Wayne Milner-WAC COO who makes it all happen, Idia Ihensekhien, MA Sorensen. Photo John Bang for WAC.)
Doug Scholz spoke also. Doug is the grandson of Rudy Scholz, who lends his name to the award for the best men's collegiate player in the country. Doug had accompanied his father, Rudy's youngest son, Dave, to the awards dinners since 2016. Dave died about 11 months ago and is sadly missed. Doug Scholz remembered the influence both Rudy and Dave had on him and the Scholz family.
GRR Editor Alex Goff, who oversees the selection of the awards, spoke briefly about how the winners are chosen, and also pointed out how the award has been able to notch some firsts over the recent years—first player of Native American descent, first Polynesian winner, first African-American winner, and, he added, the first Canadian in Ihensekhien. Goff also pointed out that the first-ever Sorensen winner, Hope Rogers, had scored a try and been named player of the game in the USA's 16-14 win over Australia that evening.
| | | |
| --- | --- | --- |
| | | |
| Richelle Stephens, her son, and MA Sorensen. Photo John Bang for WAC.  | Larry Williams and his mom. Photo John Bang for WAC.  | Idia Ihensekhien, mom, and coach. Photo John Bang for WAC.  |
The keynote speaker was Rob Holder, who graduated from West Point and coached Air Force to a national championship in 2003. Holder spoke of how rugby has inspired love and respect throughout his career, and he did it with little stories about players he'd known and coached—players who had natural talent, players who didn't have natural talent, players in trouble, and players who were unlucky.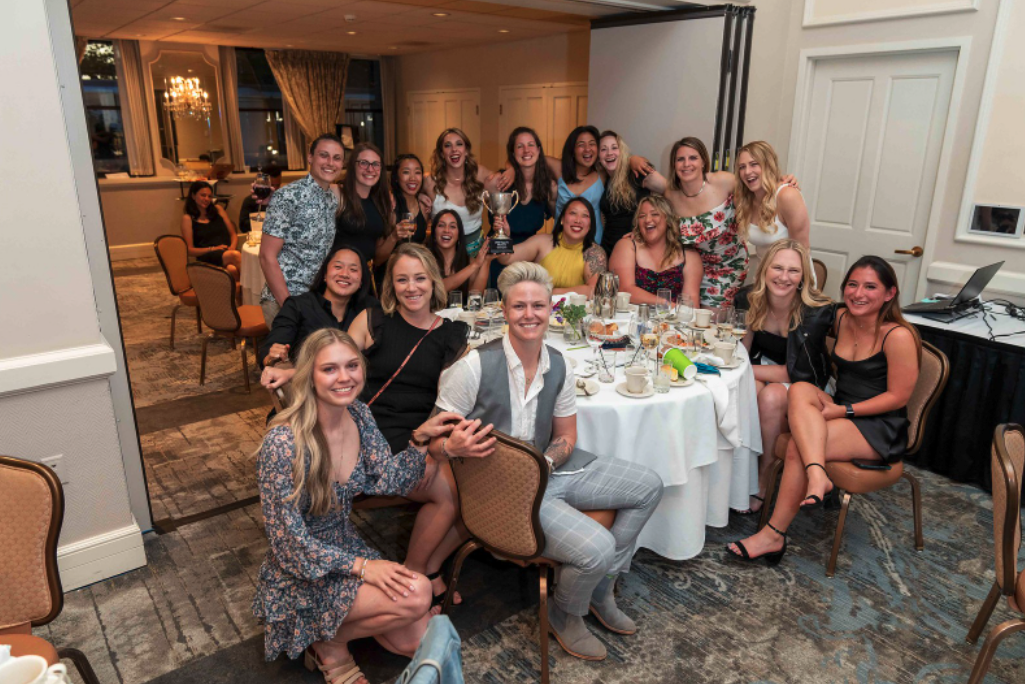 (The WAC-supported women's 7s team had won a tournament that day, and were dressed to the nines for the evening. Photo John Bang for WAC.) 
Gastineau spoke with both award-winners, and both had some very similar things to say, namely that they thanks their mom's for the support and love, even when (as with Williams), their decisions made their mom's worry. All three awardees (including Stephens) attended with their mothers.
The MA Sorensen Award for the best women's collegiate rugby player in the country, and the Rudy Scholz Award for the best men's collegiate rugby player in the country, are presented by the Washington Athletic Club of Seattle at an event every June. The event was not held in 2020 or 2021 and instead a virtual event was held. But it is back, and will continue to honor the best of the college game.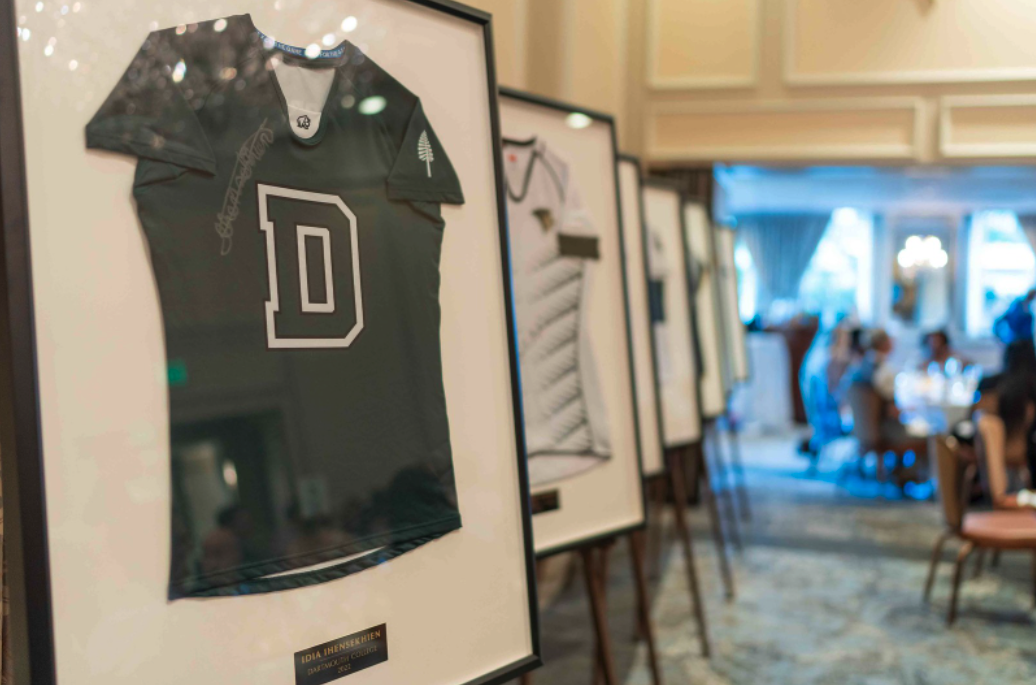 MA Sorensen Award Winners:
2016: Hope Rogers, Penn State
2017: Ilona Maher, Quinnipiac
2018: McKenzie Hawkins, Lindenwood
2019: Emily Henrich, Dartmouth
2020: Alexandria Sedrick, Life University
2021: Richell Stephens, Lindenwood
2022: Idia Ihensekhien, Dartmouth
Each winner has provided a signed team jersey. Here are the jerseys on display. Photo John Bang for WAC.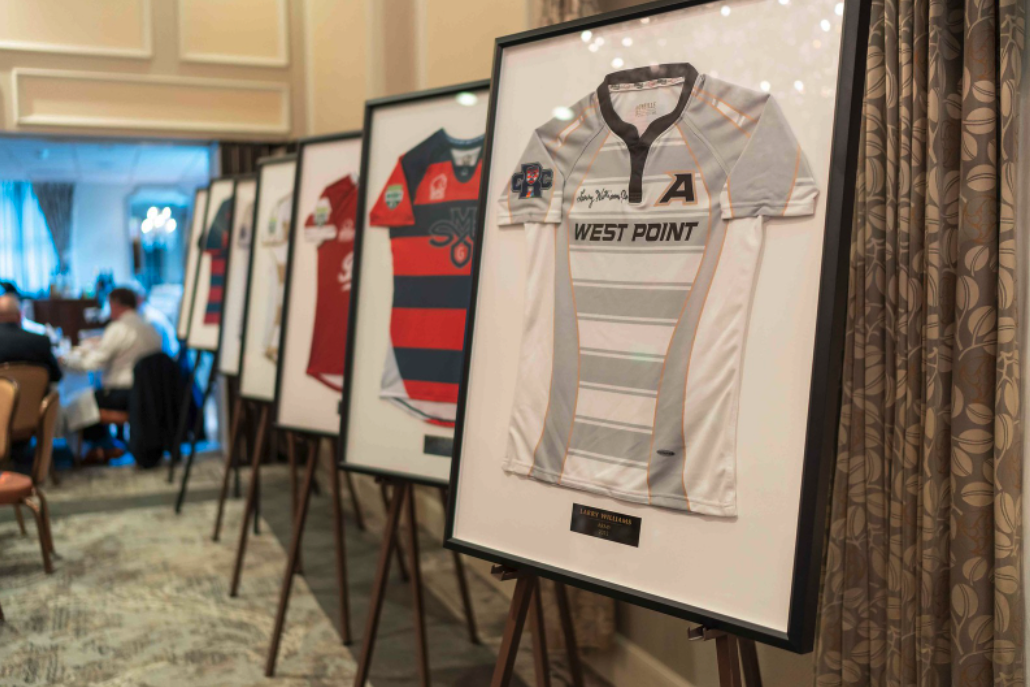 Rudy Scholz Award Winners:
2016: Dylan Audsley, Saint Mary's
2017: Bryce Campbell, Indiana
2018: Connor McNerney, Navy
2019: Harley Wheeler, Life University
2020: Payton Telea-Ilalio, Saint Mary's
2021: Emmanuel Alberts, Lindenwood
2022: Larry Williams, Army