As Shocked As Anyone: Mooneyham Ponders Being #1
As Shocked As Anyone: Mooneyham Ponders Being #1
Conner Mooneyham playing for the collegiate All Americans last summer against Canadian Universities. USA Rugby photo.
Conner Mooneyham couldn't really believe it.
Told he would be the #1 choice in the Major League Rugby collegiate draft—the first #1 pick in the history of the draft—kind of sat him down for a minute.
"I came into the draft not really knowing what was going to happen," said the Life University center/wing. "Then a couple of the high first-round pickers reached out to me, and I started to believe. I was honored more than anything."
Mooneyham said he agreed with Goff Rugby Report's guess that the first choice would be a tight five player, so to be a back and be the pick of the Dallas Jackals kind of didn't register.
"I would have gone with a tight five player," he said. "That's your foundation. You don't win scrums, you don't win lineouts, you're not going to win any games."
But, Mooneyham's highlight reel perhaps made the difference. With Life playing against top programs such as Penn State, Arkansas State, Lindenwood, Navy, and Cal, he showed his physicality and ability to break tackles against the best. Scoring the winning try in the 2019 D1A final didn't hurt, either.
"A lot of these people don't know me personally, but they were able to see what I do on that video," he said.
Scoring tries isn't the key for him, though. What sets Mooneyham apart is his work rate. When Life turned the D1A final around with a kick and chase that turned a Cal scoring opportunity into a scoring platform for Life, it was Mooneyham who was right there to chase the kick, help make the tackle, and force the penalty.
"That's what I've been doing all season long every season—chasing down kicks and making tackles and making sure that the kicks [Ryan] Rees and Duncan [Van Schalkwyk] make produce something."
Mooneyham's hard work started in Northern California, where he played for Sierra Foothills.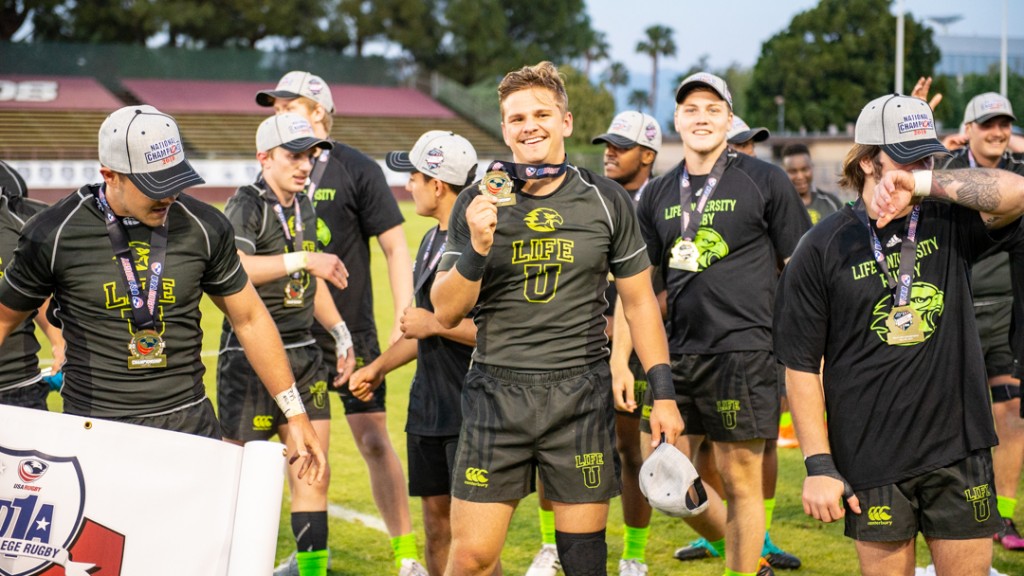 "I give a ton of credit to them; they were my first club team ever," he said. "hose players, my teammates, and my dad really helped me love the game. We were losing a lot of games, but what kept me coming back was the camaraderie. I just loved being on that team." Dad would be Doug Mooneyham, who coached Conner at Sierra Foothills and the Woodlands.
The Mooneyham family moved to the Houston area when Connor was in high school. He was trepidatious about the move, literally wondering if he'd be riding a horse to school.
"I had all the stereotypes in my head," he laughed. "But my perspective on Texas really changed."
Now having lived in California, Texas, and then Georgia (with a nice side trip to Argentina), he is a traveler who is comfortable anywhere. Still, signing with Dallas he will be a bit of a local product.
"I definitely consider myself a Texan," he said. "I love it here."
How could you not?