Rugby NY 7s Update: NY Teams Welcome Connecticut Competition
Rugby NY 7s Update: NY Teams Welcome Connecticut Competition
The Rugby New York 7s continues with the addition of a few teams from outside the state.
In the Girls Bracket, the NY All Stars (a group of girls made up of Aspetuck, Queens, Albany, and Pelham players) played Play Rugby in two games, winning both. While this seems like not much, it's something with many girls teams still trying to build back.
Rugby United NY general manager Steve Lewis shakes hands with Rugby NY President Matt Persanis after RUNY donated $1,000 to help defray costs of running the fall 7s season. RUNY also is giving away hats and T-shirts to players as awards.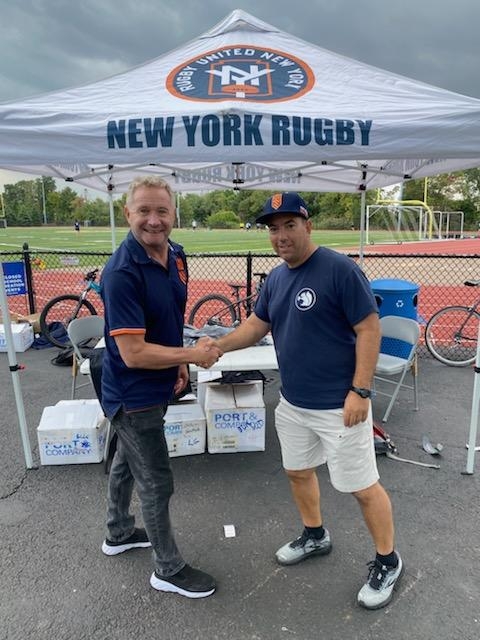 In Boys JV, Pelham JV beat the Westchester Barbarians and Albany rugby to win their second tournament in a row. Pelham leads the series with 8 points after three rounds, just one point short of the maximum.
In Boys Varsity, Connecticut's Staples HS entered the fray and beat Pelham in the final on the last play to win the latest tournament. Pelham increased its lead though in the series, however, as Pelham has been to every tournament.
The Pelham vs Staples final was a thriller from the beginning to the end, with the skill level on offense and on defense very high. With no time left Staples kicked off trailing 22-21. Some miscommunication among the Pelham players meant no one caught it and Staples raced in the gather and score to end the game.
Final finish from this past weekend for Boys Varsity:
1st. Staples
2. Pelham
3. Westchester Barbarians
4. Playrugby
5. NY Sect 1 Raiders
6. Fresh Meadows
After three of five rounds played, here are the overall Boys Varsity standings:
Pelham 14 pts
Westchester Barbarians- 7pts
Playrugby 7pts
NY Sect 1 Raiders 7pts
Staples HS 6 pts
Fresh Meadows 6pts
Brooklyn 1 pt