Ramblin Jesters Young 7s Player Of The Month: Deion Mikesell
Ramblin Jesters Young 7s Player Of The Month: Deion Mikesell
GoffRugby Report brought Deion Mikesell to fans' attention three years ago when he was still in high school. 
The special think about Mikesell was that he had played 7s almost exclusively as he had learned his rugby in the Iowa HS league, which is a 7s league.
The Ramblin' Jesters is an elite invitational sevens team in the grand tradition of the Barbarians and other compilation teams, operating out of London in the UK.  
They have won the Rosslyn Park Floodlit 7s (beating London Irish and five-time winners Harlequins en-route to the final) and the Rugby Rocks Festival in London and the Copenhagen 7s in Denmark. 
In addition, the team has also finished runner-up tp the German national team in the Nancy 7s tournament in France, and, on their first trip to the USA, took third place in the Serevi RugbyTown 7s in Glendale Colo., finishing 6-1, and losing only to the eventual winners, Denver.
The Ramblin' Jesters are keen to grow their US activity and connections and create opportunities for players on both sides of the Atlantic to play rugby to an elite level.  
The Ramblin' Jesters are pleased to sponsor this Goff Rugby Report USA Young Sevens Player of the Month Award.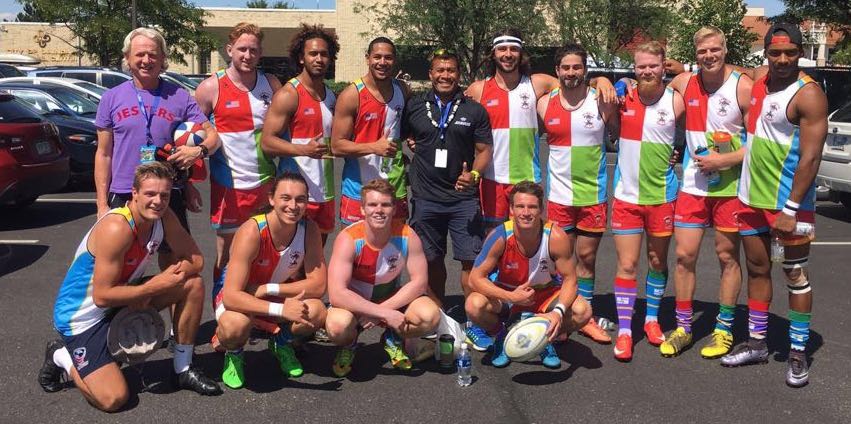 So while Mikesell's general rugby ability, and his athleticism, were not in question, how he would adjust to 15s was. We needn't have worried. Mikesell was capped in 2016 - probably a bit too early, but he scored a try against Uruguay and showed flashes of what he can do.
Since then, it's been all about Lindenwood, and there Mikesell has changed as an athlete - he's bigger, and stronger - and he's unchanged in that his team is still winning 7s games.
Lindenwood won both the USA Rugby 7s National Championships and also the CRC Invitational. There were many, many superb performances within that run, but we're going to give a nod to Mikesell because of where he comes from and how, despite being thrown into the middle of USA age-grade rugby, senior national team rugby, and major college rugby, he has neither wilted nor sat on his laurels.
Now a power-running wing who still is very quick, Deion Mikesell is the future.... and he is also ...
Deion Mikesell is our Ramblin' Jesters Young 7s Player of the Month.