Program Spotlight: Belmont Shore
Program Spotlight: Belmont Shore
Belmont Shore has 11 Youth and HS programs. Brian Jackson photo.
Finalists in the Boys U18s 7s at the LAI, a contender for the SoCal club championship, and the development program for three current Eagles, Belmont Shore is a well-regarded high school program … but there is a lot more to the program than that, a lot more.
Belmont Shore has teams starting at U8 and going on through to adult men and women. They have over 300 players in the youth and high school programs, and are growing all the time. 
"We use is use rugby to continue your education," said Ramsey Tuaua, who oversees the youth programs. "We use rugby to develop young people and get them prepared for college. We know there are really no scholarships for rugby, but if they can get some incentives and if rugby excites them, then they can finish their degree. Our motto is: 'Rugby Strong, Education Stronger.'"
HS Rugby Players—Get Noticed!
Put your player info into our Player Recruiting Data Base.
It's free, and it exposes you to college, academy, and select-side coaches and uses the power of Goff Rugby Report to get your name out there.
Starting Them Young
It starts with the young kids. Years ago the club decided to embrace a focus on youth, really started work on it about four years ago.
The growth has been astounding since then. Much credit goes to the approach of the coaches. Winning isn't really the point, not at the beginning; it's about developing skills and a love for the game, and the team.
"We start them as young as five," said Tuaua. "It depends on their size and we talk to the parents to see if they are right for it that young—can they retain enough to be able to play."
Then they start to hit the basic principles: run in lanes and run straight, how to score, and passing and catching.
 "We emphasize the basic skills in every age group," explained Tuaua. "It's those fundamentals you rely on whenever you play."
They introduce tackling at age 10, but go slow, teaching how do it properly.
"We make kids aware of tackling and how it's done right even before they start," said Tuaua. "Our 12-year-olds don't life in the lineout, but we teach it. The same with an eight-man scrum even though we play with a five-man scrum. That way they're prepared when it's new the next year. 
 "We have coaches meetings to talk about how the players are developing," he added. "We discuss how each age group is to be developed and each coach develops a player profile and gives it to the next coach. We have a profile of a player's skill, development, attention span. It makes it easier for the coaches to bring in new players."
The Person, Then The Player
"Our philosophy is that we want to produce solid, well-rounded players," said Tuaua. "That's the start of producing a solid, well-rounded team. We develop the individuals first and everything else will follow. 
"One of the reasons we're growing as a club is because parents are very please in how we coach and what they're seeing. We're making the game fun, we're teaching them how to play the game, and teaching the fundamentals. The parents are spending a buck to join the club and 
we are here to provide a service that's being paid for. It's a plus that we have a passion for the sport, but the main thing is we want to give them a proper service."
Everyone Gets Along
Long Beach is a very diverse area, with kids coming from all walks of life. While there's a heavy Polynesian influence in the team, it's much more diverse than that.
"Long Beach is a melting pot of all kinds of cultures," said Tuaua. "We've got parents driving their kids to practice in a beat-up pickup truck and in new BMWs. The relationships among the parents is pretty phenomenal. Everyone gets along, and the kids are all playing rugby. They support the program because we teach the kids to be humble and we emphasize education."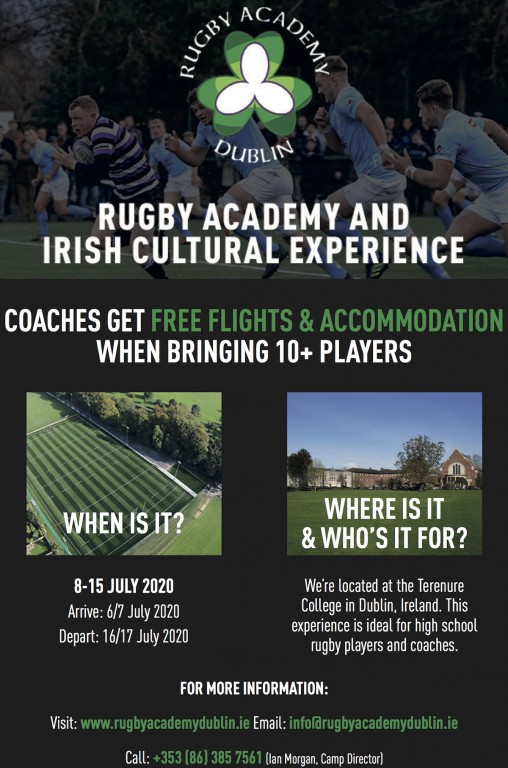 Rugby Academy Dublin is a residential summer rugby camp based in Ireland
Click on the ad image for more details, and when you sign up, please list Goff Rugby Report as your referring coach. 
Famous Names
Current Eagles Joe Taufete'e, Mike Te'o, and Marcus Tupuola all played rugby for the Belmont Shore Youth and HS programs. Other past Eagles, such as Matt Hawkins, Peter Sio, Nese Malifa, and Sinapati Uiagalelei, have played for Belmont Shore. The kids look up to them, said Tuaua.
"It's a great accomplishment if a player goes on to become a professional or international player, but it's also important that they go on to college and get their degree," said Tuaua.
The senior clubs work closely with the youth programs, and it's that spirit of cooperation that has helped build it all.
"We're a generational club," said Tuaua. "We might have three generations of Belmont Shore players and coaches on the club. The women's team has been a big influence on our growing the girls youth. And because we work together, we're financially stable, and self-sufficient."
In the end it comes down to the quality of rugby. The young players on Belmont Shore's youth teams are starting to show an understanding of the game rare on teams that are much older. The teams win, as well, but it's not because they focus on winning. By focusing on developing the young players as individuals, and by focusing on skills and understanding the game, Belmont Shore keeps the players coming back. And that is why they win.