Players Laud Army-Navy Rugby History
Players Laud Army-Navy Rugby History
Army edged Navy 27-22 last year. Colleen McCloskey photo.
There's nothing like a traditional rivalry, and few rivalries in college rugby quite like West Point versus the US Naval Academy.
Army v Navy means everything to the sports teams of both academies. It doesn't matter what sport, or when it's played, or even why, it matters a lot. Beating the other can mean the difference between a good season and a bad one, and with this the 43rd (we think) meeting between the two in 15s, it's worth noting.
The Rugby Channel will broadcast Saturday's game live (kickoff around 2:15 pm ET) for free and will be available for servicemembers around the world. www.therugbychannel.tv 
In the past several years, this has been a typically close clash. In 2012 Army scored at the death to win 33-31. Last year at Navy Army won 27-22 behind Jake Lachina's four tries. That's how this will probably go this year (the closeness, not Lachina necessarily getting four tries again).
We checked in with several of the Army and Navy players to talk about what it means for them.
Top photo Connie Hatfield, bottom photo Colleen McCloskey.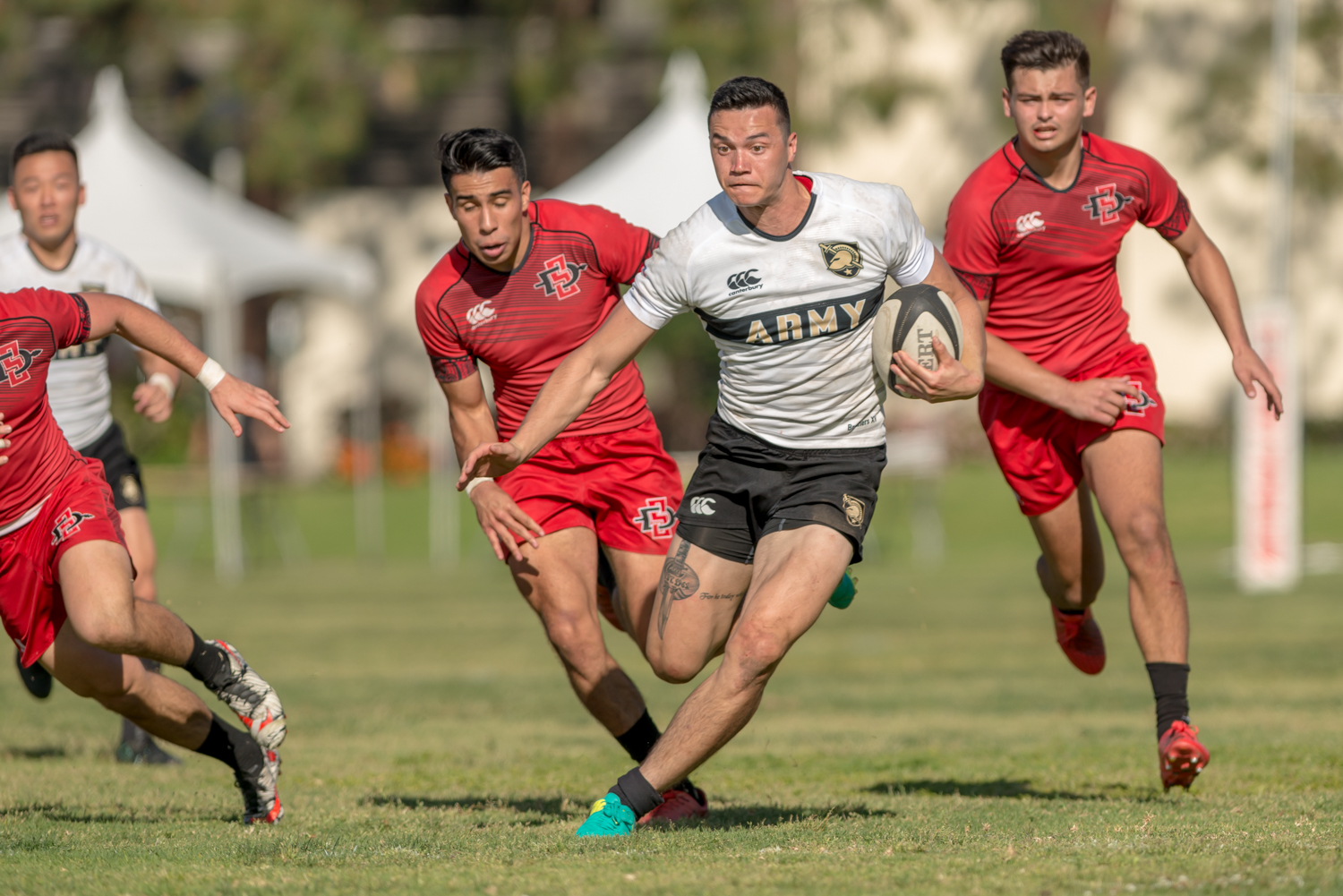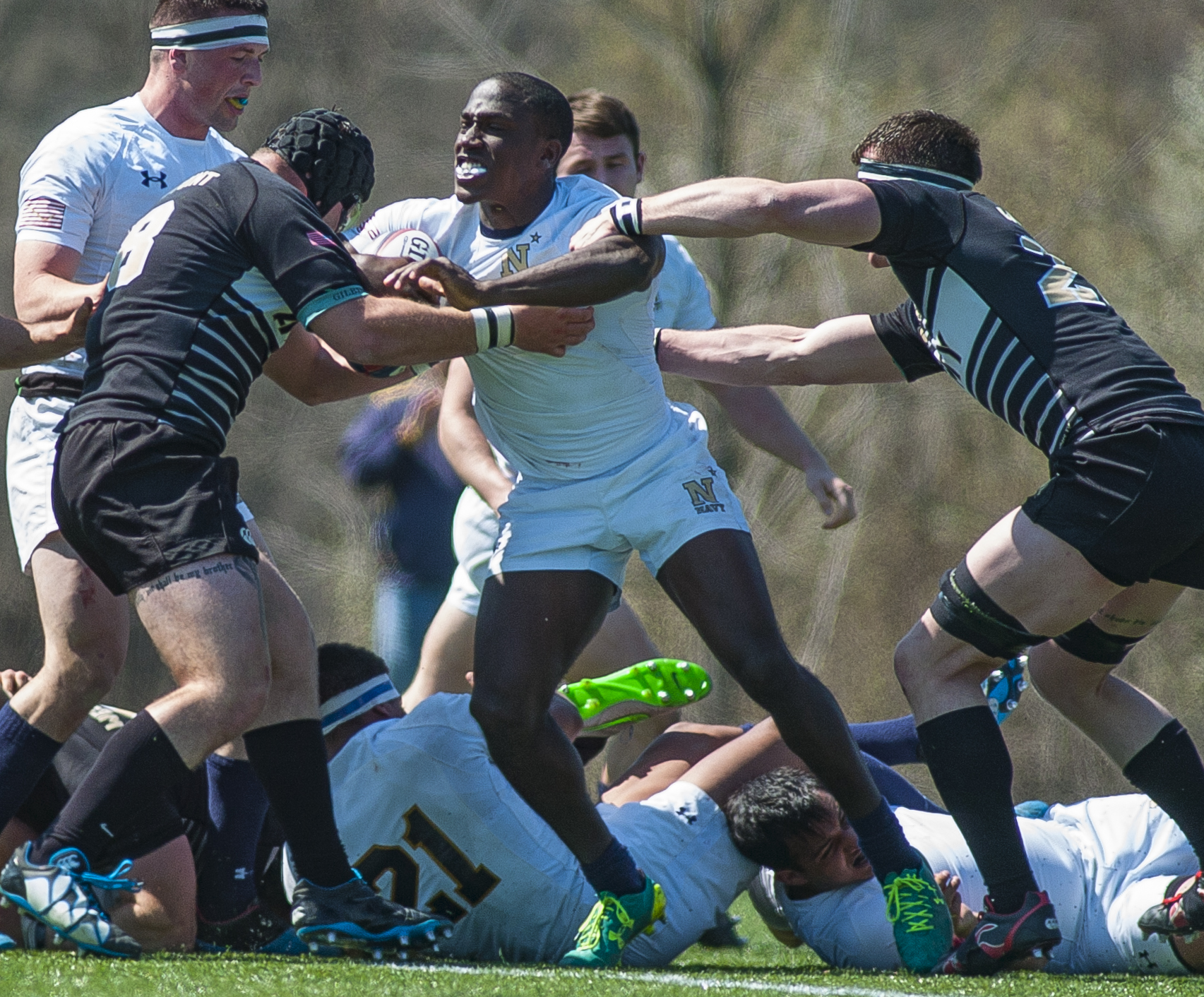 Ryan Manion, Army
"We have been working all season long to create a strong foundation for success on the pitch with the goal to peak on March 25. Our preparation for the match has always been centered on the fact that it will be a battle against Navy and therefore we have to have our best performance of the season.  Navy has always been a consistently strong and talented team, but for the coming match we are solely focused on improving our game and being the best team we can possibly be. The Army v. Navy rivalry is all about competition and tradition as both teams will be fighting for the same outcome."
Jake Martin, Navy
"I got to spend a semester at West Point in the Service Academy Exchange Program) and played for Coach Sherman there. So it's a little weird because the Army guys are also my good friends. Being out there with them against them will be fun. These are guys are the same type of people as us; they go through the same things as we do.
"As a team, we've improved a lot. We've got the young guys, sophomores and freshmen, growing into leaders. Defensively a lot of it has come from the practice plan that Coach Adam Rundle put together with Coach Flanagan. We have a really good defensive scheme and we know what we're doing and what we're supposed to be doing on the field. The style of rugby that we're learning to play is physical and also being smart. This game is a whole other level of emotion you have to manage.
The physicality is always there, but you need that player who can deal with the extra level of emotion and deal with that by playing smart rugby."
Jake Lachina, Army
To me, Army v. Navy Rugby is a lot more than just a game. It is a testament to the sacrifices that every player on that field has made to get where they are and continues to make to reach their burning desire to serve our great nation. I remember watching an Army v. Navy football hype video, and the narrator said something along the lines of 'these two services work hand in hand every day, but one day of the year, they have the opportunity to fight for bragging rights.' I may have completely butchered what the narrator said, but the idea is similar. I have the utmost respect for the Navy and all other branches, but Army v. Navy is an 80-minute fight, giving everything you can to ensure that we come out on top. I am confident that every person wearing the Army uniform will give everything they have and more. We have been working hard all year, with a goal to have a peak performance this weekend. Now the weekend is finally here, and it is time to show Navy what we've got."
Connor McNerney, Navy
"This is a special game, and the thing is we play this game only once a year, so it only four times while you're here at the Academy. It's the biggest battle we have and the most aggressive and demanding game we play. We're extremely focused. There's no no trash-talking or anything like that, but a lot of respect.
"This series matters and since we haven't won the last two years, for me, it's constantly on my mind. I'll be doing something or enjoying Spring Break and then out of nowhere thinking that we've got Army coming up."
Connor Parker, Army
"The Army/Navy rivalry has been an integral part of our lives during our time as cadets. We endeavor to beat them in all facets of life, especially on the pitch, but there is a grudging respect between our Academies and our branches. It is the understanding that while we play for different schools and will serve in different capacities in the military, we all came to the Academies to become officers and to serve. Both the Navy and the Army are integral parts of the national defense, and after we graduate we will become brothers in arms in service to the nation.
"I think we are approaching our peak performance for the season. It's been the plan all season to build up strong during the early weeks and peak for Navy and playoffs, and the boys have been putting in a lot of work to ensure that happens. We always consider Navy to be the first playoff game, and personally it is my favorite game of the year. It always promises to be a very physical game, and this year is no exception. It'll definitely be a test on Saturday, but that is what we play for.
Gardy Lebon, Navy
"We have a count at school about how many times we beat Army; it's all people talk about on every team. You won't go to a tennis match all year, but you see they're playing Army, and you'll go. Playing Army in rugby, no matter how well a team is doing that year it's a brutal, fun, competitive game. 
"We just have to play as a team. Everyone wants to make that play, everyone wants to be the star. But if we come together and do what the coaches want us to do and not get ahead of ourselves, we'll do well. We've changed a lot in practice and it's showing on the field. I know the same could be true of Army. we're two different teams from the fall and this semester."
Luke Heun, Army
"Army-Navy means more than just a rugby game, and that is why it is so important to us. We have old graduates visiting practices, sending emails and texts, and wondering how we are doing from all around the world. Guys who undoubtedly have much more important things to worry about ask us how we are doing and the game against Navy.
"It is the most exciting game of the year, not only because of the rivalry, but because of the fans and people involved from both sides. The environment is electric no matter where we play it, whether at Annapolis, West Point, or even Philadelphia for the CRCs.
"Over the past three and a half years we have gotten to know the Navy side very well. They are great men and great leaders, which makes this game that much more enjoyable and exciting to participate in. We know they will literally give anything to win, and they know we will do the same.
Kevin Kirchmer, Navy
"They're always so physical. This is a rivalry game - everything is doubled. Army has some speed on their side. Last year they inserted their fullback and hurt us and scored on the outside. Their speed is something we'll try to contain. Our forward pack is strong, our backs are good and have been getting better. The entire team has been building on the previous week's lessons.
"Every game is a test of where we are. Every game is a test of how you're developing. You can't look at how this is a rivalry game, but you know it is. You're going to have those emotions but you have to temper it with the fact that you have to play your game and do what you need to do."
Army v Navy kicks off at Anderson Rugby Complex at West Point, NY, at 2:15 pm ET on Saturday.