Player Spotlight - Calvin Gentry
Player Spotlight - Calvin Gentry
Gentry fending off some attention from Mexico. Andrew Pretorius photo.
The USA Rugby South's victory at the Rugby Americas North U19 Championship was certainly in doubt going into the final, but the players had faith.
One of those players knew exactly what had gone wrong in the second pool-play game against Trinidad & Tobago - a game the South won by one point - and was confident the Panthers could rebound.
"We went into that Trinidad game with a game plan, but they came in with a plan too," said Calvin Gentry, the Memphis-based center who was a powerful presence for the South in the final against Mexico. "We wanted to hit them real hard. Our defense was the biggest thing. But when we got close to them they kicked the ball over our heads. We had to spend all the game chasing back."
Gentry likes to mix it up in contact. Andrew Pretorius photo.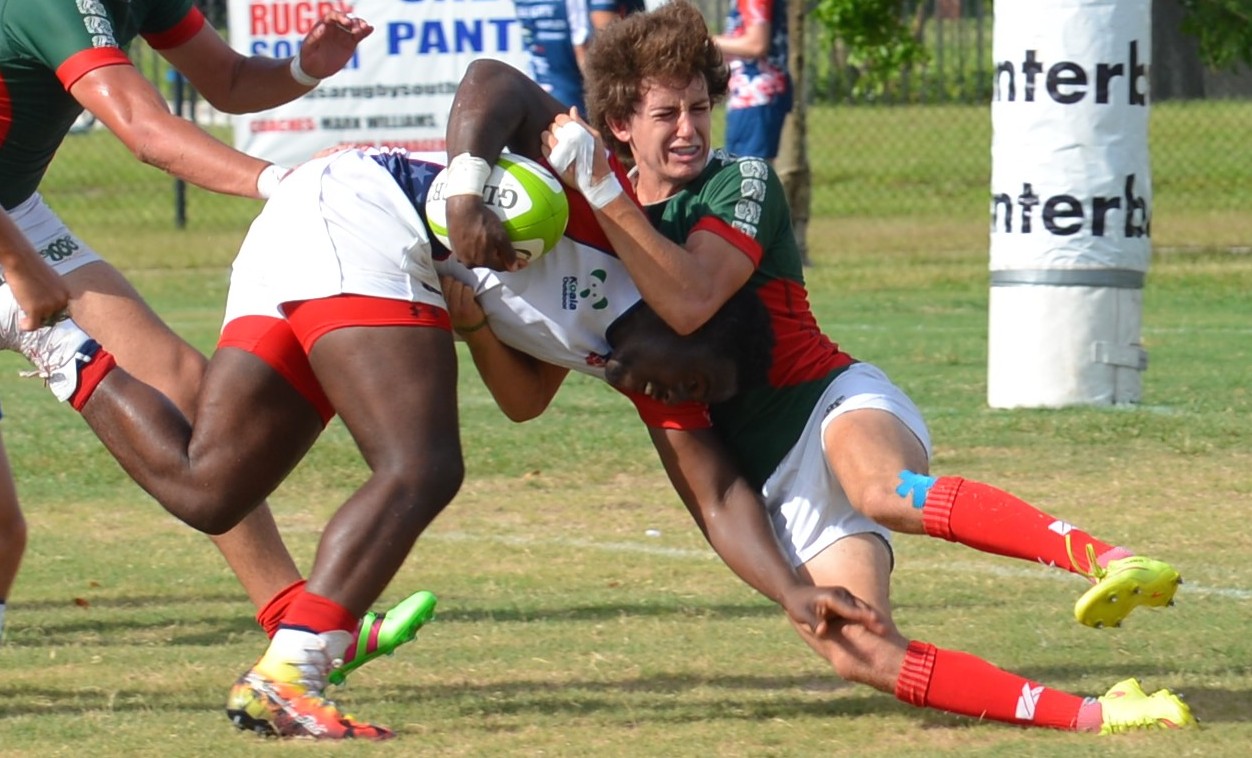 The effort started to take its toll, and Gentry wasn't too proud to say he was tired. 
"I was drained," said Gentry. "Coach Mark Williams made some changes to get us some fresh legs, and we were going to lose that game if he hand't made those changes. We won, but we knew we had work to do. In the vans we didn't say anything. We just knew that last year we got beat down by Mexico, and we were going to have to play a whole lot better."
And so they did, defeating Mexico 25-10 - thanks in part to two prime Mexican scoring opportunities going by the wayside thanks to a dropped ball and a penalty behind the play. But it was also because everyone on the South team embraced the understanding that they had to dominate the contact area, and keep the ball.
"We were looking for revenge, especially those of us who were in the tournament last year," said Gentry. "We wanted to key on their backline defensively, because those Mexico boys run really hard. But I love to make those big tackles."
Gentry and his fellow center, Andrew Rappe, both played in last year's team, and combined nicely in the final against Mexico to rattle some teeth and, in one memorable event, jar the ball loose to set up a try.
Gentry then powered ahead in the second half, got his team close to the Mexico line, and then, like a No. 8, picked the ball up and just careened up the middle to score a crucial try.
"I like to be in the middle of the action," said Gentry. "I am a center but I've got an eightman-type of body so I like to get involved. But the reason we won was because coach told us to be smart on defense and stay spread. And we did that."
For Gentry, this exposure was important for him. The Memphis Power Center Academy center has had a rough road to rugby prominence. He credited rugby with turning his life around - he will be entering Arkansas State University in the fall on scholarship - and it was the combination of the PCA (see more here), camps and clinics with ATAVUS, and the exposure with the USA South team, that got him those opportunities. 
Oh, and the fact he can flat play the cover off a rugby ball. He played for South Coach Mark Williams with the Tennessee Tri-Stars, and was encouraged to try out for the South team.
"Coach Mark was always on me to play and told me he'd make it happen and help me afford it," Gentry said. "It's been a great experience. Rugby allows me to go to different places and playing in this tournament I am representing my country. I wanted to make the All Americans and I knew that the USA South was a replica for that."
Gentry has been an athlete in several sports through high school but for the last two years it is only rugby. For an young African-American kid in Memphis, that may seem like a weird choice, but it's the right choice for him.
"People who traditionally think football, they think playing rugby's the stupidest thing. But things are starting to change. They see the things ATAVUS Football is teaching about how to tackle and how tot ankle better and safer, and people are starting to relax. Maybe there's not a whole lot of African-American guys playing, but they're learning more about it. Within ten years, USA Rugby will be like nice - we'll be all over it."
Gentry lines up a Mexico player to take him down. Andrew Pretorius photo.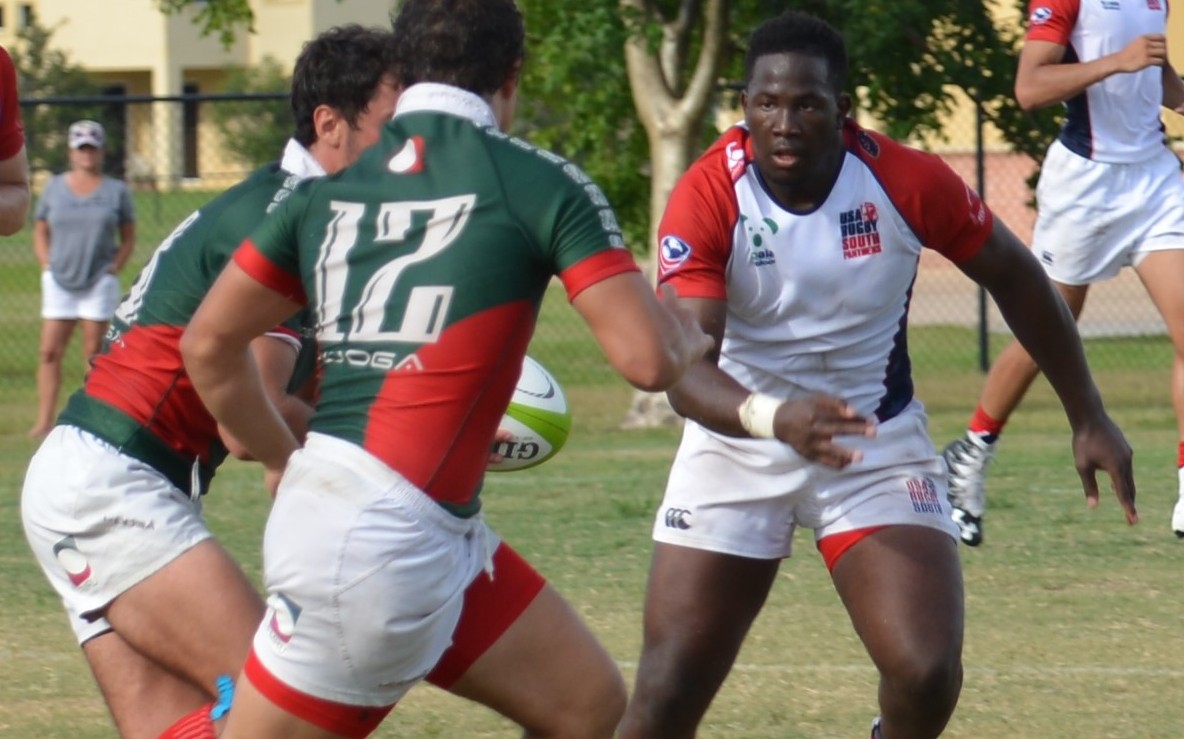 There were several heroic efforts for the South U19s in the RAN Championships. Lock/No. 8 Deshun Richardson was a ferocious tackler; Shea O'Hanlon helped bring them back against Trinidad; Grant Broeder was superb at fullback, making crucial open-field tackles; flanker Austin Parrish was monstrous on defense.
Making Sean O'Driscoll the main goalkicker was an important move for the Panthers, and Rappe partnered nicely with Gentry.
It was a diverse group - kids from all backgrounds, private and public schools, HS clubs and colleges. Somehow they came together and made it work.
But it also almost slipped away, and Gentry remembers that silent ride in the van after almost losing to Trinidad and how the players responded.
"It broke us down and built us up," he said. "We went into the next practice pretty determined and practices were great after that, because we knew what we needed to do, and we did it."
That they did.
This is our latest Eagle Impact Rugby Academy Player Spotlight - Calvin Gentry of Memphis PCA.