North Carolina Sweeps in South RCT
North Carolina Sweeps in South RCT
North Carolina swept the South RCTs, winning both the Boys Varsity and Boys JV titles.
The South RCT had only boys brackets, and North Carolina ran the table, beating Okapi 29-3 and Louisiana 50-7 in Varsity pool play, and Illinois (36-7) and ARE (27-5) in JV pool play.
That set up the semis, where NC shut out Illinois 31-0 for the Varsity team, and 7-0 over South Carolina for the JVs.
Varsity MVPs Williams (middle) and Stockton (right) with RCT South Tournament Director Colton Cariaga (left)..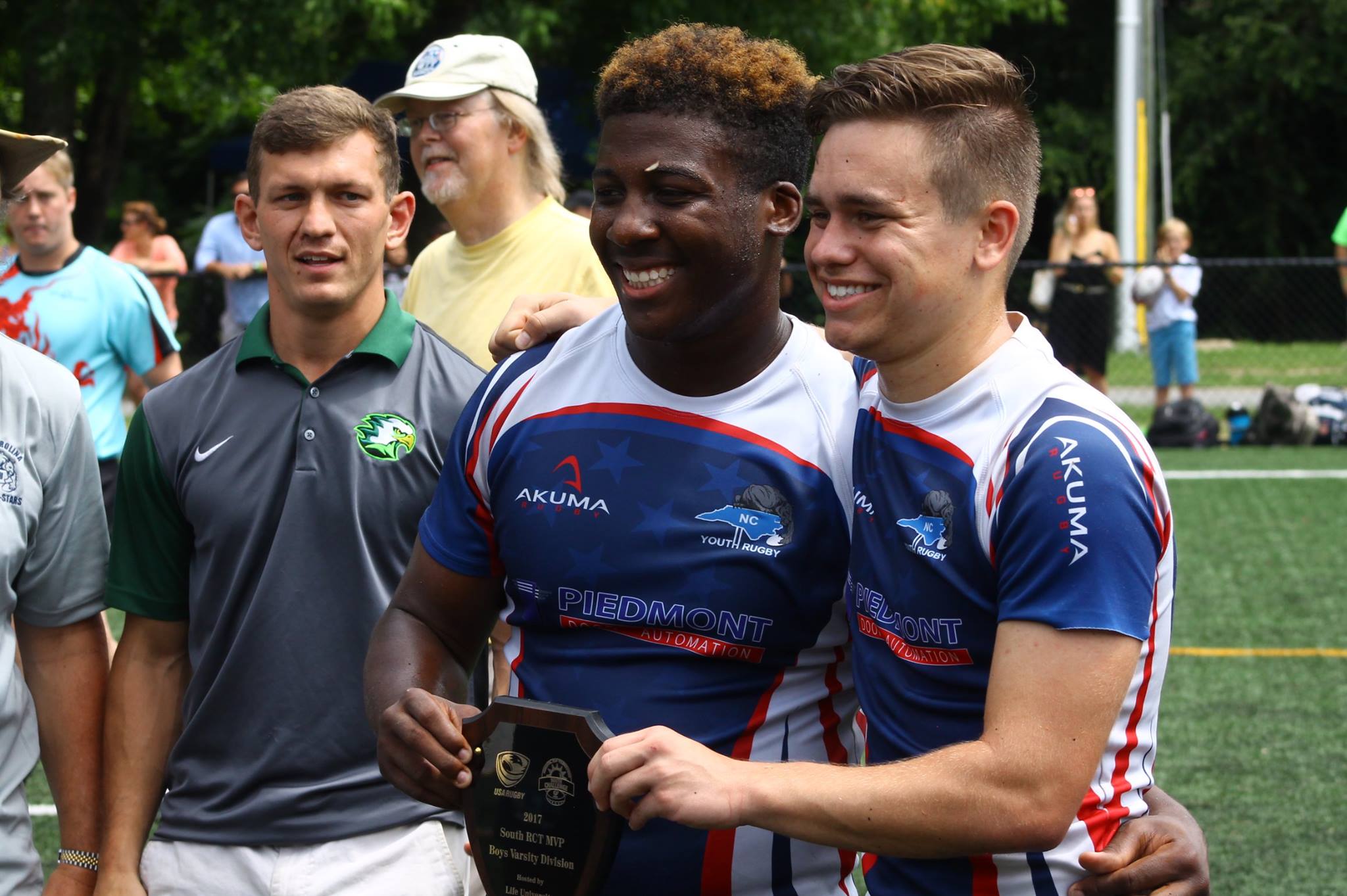 In Sunday's final, North Carolina Varsity finally met a team that could contain them, but prevailed 14-5 over Tennessee regardless. The JVs beat the Florida Elite Dragons 25-7. The Mid-Charlotte middle school team won their round robin, bating Tennessee and Mid Georgia without giving up a point.
"The key was that we started in January," said North Carolina Head Coach Frank McKinney. "We scout players and we send out personal invitations to players."
 Players had three tryout sessions available to them, one split for different parts of the state, and two in central locations. In addition, coaches were asked to scout, with single-school coaches (who normally play on Friday) scouting club teams on Saturday, and club coaches scouting single-school players on Friday. No one was scouting their own team.
The tryout system pared the programs down to about 26 players for each team (give or take), and it worked.
"Our emphasis on developing youth rugby is paying off," added NCYRU Secretary Erik Saxon. "Virtually all of our JV starters, for example, started playing in middle school, some in elementary school. This is the 3rd year running our middle school team has won the RCT.  Those players all move up and take their expectation to win and rugby IQ with them.
"Rugby really is a big family in North Carolina," continued Saxon. "Coaches, parents, and players all have known each other and worked towards the common goal of better and better rugby for years.  You can't fake that."
McKinney was very pleased with the skill level of his players and the tactical awareness. This was epitomized in their game plan.
"We worked to kick for territory and defend and force turnovers," he said. "It worked really well because the players understood what they needed to do, and we had some really good kickers."
Varsity scrumhalf Tom Stockton and JV flyhalf Jack Williams were the ons charged with finding space and distance with their kicks, and they were very good at it. In a tight Varsity Final, it was a Stockton box kick that set up a crucial try.
"With that, we also have a great coaching staff and buy-in from teams," said McKinney. "We got coaches from the single-school champions, the single-school runners up, the multi-school runners-up, and UNC-Charlotte. It made a huge difference for us."
Players who stood out included No. 8 and captain Reid Brandt, who led from the front and continued to make the kinds of plays that break open games. Stockton and prop Larry Williams were Varsity co-MVPs, while center Matthew Start, wing Phil Patterson, and flankers Adam Phifer and Akilae Snorden were also very strong.
For the JVs, Jack Williams was the tournament MVP and we worked nicely with center Ethyn Baker. In the pack, flanker Gavin Cunningham captained the outfit and formed an effective loose forward paring with Mason Middleston. Props Chase Lamarche and Charlie McPherson were forces up front.