North Bay Caps Off HS 7s Summer
North Bay Caps Off HS 7s Summer
North Bay Captain Bobby Zvitkovitz was elusive and dangerous whenever he had the ball in hand.
In the final sevens tournament in the Mid-Atlantic Region the Maryland Exiles finally got the result they have been looking for against North Bay winning 27-14 in the final.  North Bay has been the top team in summer sevens this year with Head Coach Marty Maurice leading his team to first place finishes at Cowpie Sevens, Philly Cheese Steak Sevens and Splash Sevens.
The venue at UMBC was perfect and drew 12 teams that ranged from private MIAA Catholic High Schools to multi-school clubs. 
The Maryland Exiles, who draw from public schools in Montgomery County, had a bumpy road to the finals defeating Calvert Hall and West Carroll in close games and losing to North Bay in their bracket. In their semifinal game with Howard County, the Exiles squeaked by 21-14.
Meanwhile North Bay, who draw from public schools in Harford County dispatched all of their bracket competition Calvert Hall, West Carroll and Exiles.  In their semifinal match vs. Loyola-Blakefield, North Bay won a convincing 19-0 decision.
The final was a story of contrasting styles, with North Bay moving the ball through the hands and stretching the Exiles defense.  Meanwhile, the Exiles played a more physical brand of rugby punching the ball through the middle of the field and looking to offload to their strike runners.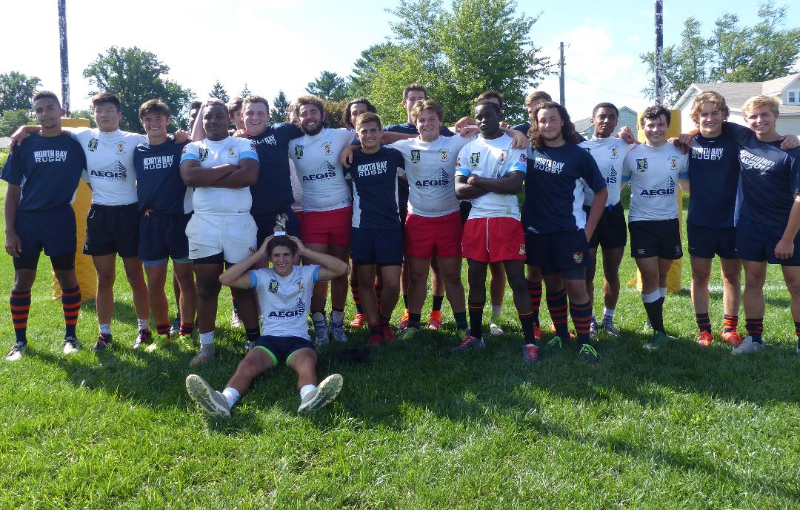 The Exiles struck first with tries from Boris Ngouabe, Dawson MacKay, and EJ Freeman.  Quinn Freeman was able to slot two conversion kicks for the Exiles.  North Bay came storming back with tries from Bobby Zvitkovitz and Justin Brownell.  Zvitkovitz was able to convert two as well.  
In the second half, the Exiles were able to close out the game with tries from Keagan O'Connell and Dawson MacKay for his second of the game.  Final Score: Maryland Exiles 29 -- North Bay 14.
The post-match festivities included an example of the sportsmanship and camaraderie unique to the sport of rugby.  Both teams took pictures with each other and traded stories of the game.  Exiles Sevens Head Coach Mark Cohen complemented the North Bay team on their character, commitment and another chapter in the two clubs friendly rivalry.  "These two teams always bring out the best in each other, and they look forward to playing in big games."