NIRA Semifinal Weekend Is Here
NIRA Semifinal Weekend Is Here
Harvard and Dartmouth won't play this week, but maybe soon. Rory Goff photo.
The NIRA playoffs are upon us, with Finals Weekend at West Point set for November 20-21.
Here's how it's all looking:
DI Semis
Dartmouth finished the regular season 7-0 and will be the #1 seed. Paced by an experienced and aggressive backline, and a pack that produced a somewhat surprising shove in the scrum against Harvard, the Big Green is probably favored against Brown.
The Bears secured the final playoff spot after last week's 34-10 defeat of Mount St. Mary's. 
"It was a tough game – we had a lot of people playing some new positions but we still came out on top," said Emme Ohnmacht '25. "We are super excited to move forward into the semifinals. We are really going to focus this week and tie up some loose ends heading into Dartmouth."
Mahdia Parker scored two tries and Morgan Cunningham, Akilah Cathey, Zoe Belge, and Delaney Dill all touched down once. This has been an emotional finish to the fall for Brown after their Head Coach, Hall-of-Famer Kathy Flores, died just a few weeks ago.
"We are very proud to be heading into a Division I semifinal next weekend," said Christine Newcomb. "Our success is just another nod to the incredible vision that Kathy had for Brown Rugby. We are honored to be representing her and our legacy with our accomplishments this season."
Dartmouth beat Brown 47-5 two weeks ago.
Harvard finished 6-1 for the #2 seed and will be looking to repeat their 22-7 victory over Army from October 30. In that game freshman PK Vincze scored two tries, following on from her two-try performance in a close loss to Dartmouth the week before. Senior wing Emma Kearney accomplished the same feat.
Harvard's backline is dynamic and able to score from anywhere on the field, and that's true in part because their forwards get on their horses to make sure they can recycle and continue the attack. 
Army has at times allowed teams to get away from them early and can't afford to do that against Harvard. Last week, in a non-league warmup, Army beat Penn State 30-10 with No. 8 Julia Riekena once again ferocious on attack. Charisma Henry in the midfield will have to be on her best form against a very strong Harvard center pairing of Vincze and Brogan Mior.
DII Semi
West Chester went 3-0 in a difficult fall for the DII league as some programs found it difficult to re-ignite after the COVID shutdowns. West Chester's 25-17 defeat of Queens on October 30, paced by tries from Autumn Czaplicki, Anne Kelokolio, and Lauren Madalian, meant that the Rams will get a bye straight to the November 21 final. 
So with the loss, 2-1 Queens (11-1 overall), who have recorded non-conference wins over Navy, Penn State, and Northern Iowa, will take on 1-2 AIC. The YellowJackets, after their 36-5 loss to Queens on October 16 went on a run of non-conference games to prepare themselves for this semifinal, shutting our UMass, New Haven, and Coast Guard, before losing to the Beantown women's club in a game that probably went a long way to getting them in a more physical mindset.
Ivana Kripati of AIC keeps scoring tries.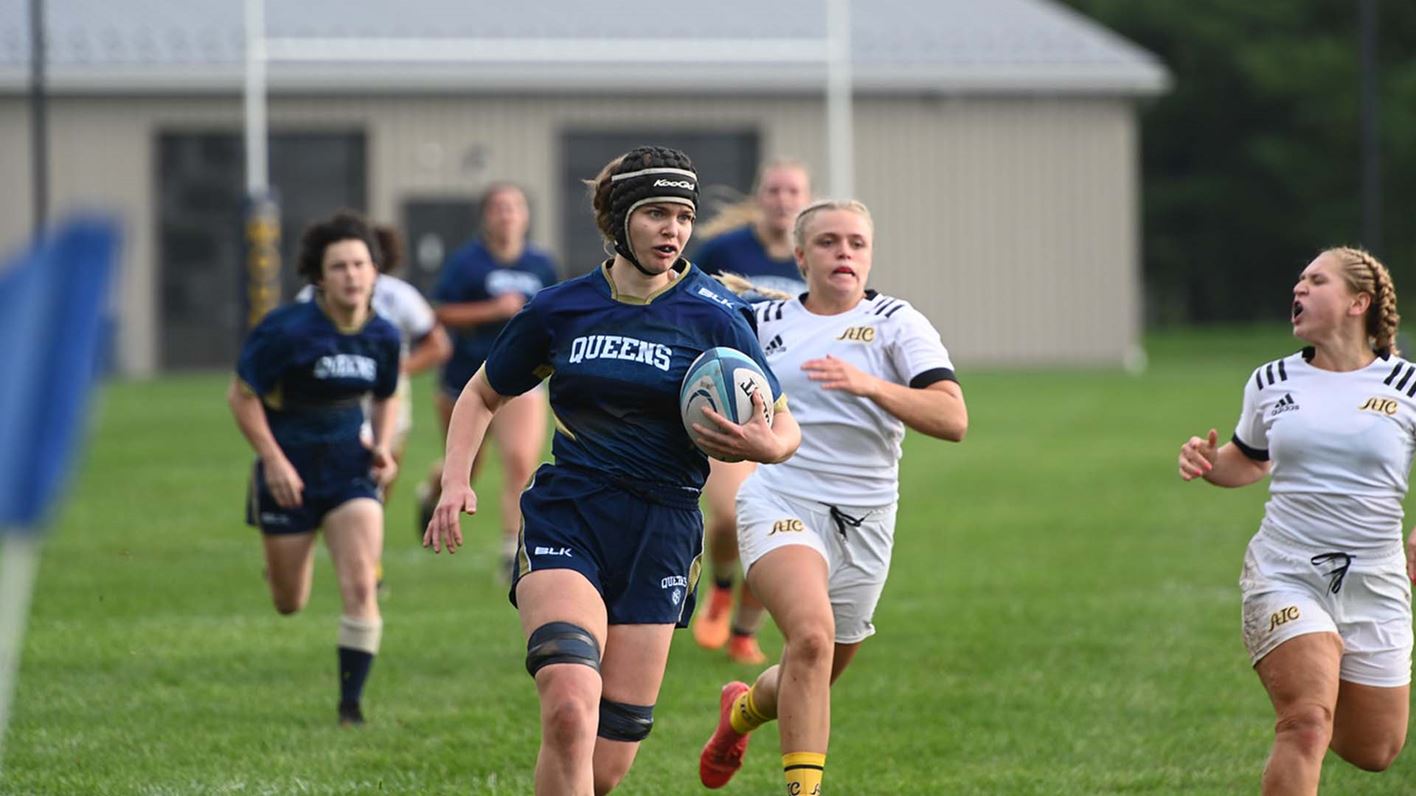 (Photo Queens Athletics)
The winner of Saturday's semi then will face West Chester in the final.
DIII Semis
Bowdoin has been the dominant figure in NIRA DIII and will host Colby-Sawyer in their semi. Under longtime Head Coach MaryBeth Mathews, Bowdoin is on a nine-game winning streak, and this fall only one team, Vassar in a non-conference game, has been able to get closer than 29 points in a game.
Captain Ashley Autrey is a defensive leader. 
The next closest team was New England, which hosts Norwich in a repeat of a game from October 30, which UNE won 29-14  behind tries from Meghan Smith, Alyssa Ehrenfried, Mackenzie Burke, Brianna Dargin, and Chloe Duchene