NEC Wins Their Pool at LVI
HS Rugby Players—Get Noticed!
Put your player info into our Player Recruiting Data Base. It's free, and it exposes you to college, academy, and select-side coaches and uses the power of Goff Rugby Report to get your name out there.
NEC Wins Their Pool at LVI
(David Barpal photos.) New England College is into the Men's College 7s CRC Qualifier quarterfinals at the Las Vegas Invitational, and it was tough sledding to get there.
NEC beat Grand Canyon 19-12 in the opening game of the day, and had to slog it out against Utah State 26-12 as well. They also beat Colorado State-Pueblo 54-0.
"We've got some good, smart, shifty guys with good rugby IQ," said NEC Head Coach Tal Bayer. "We're not the biggest but we've got skills."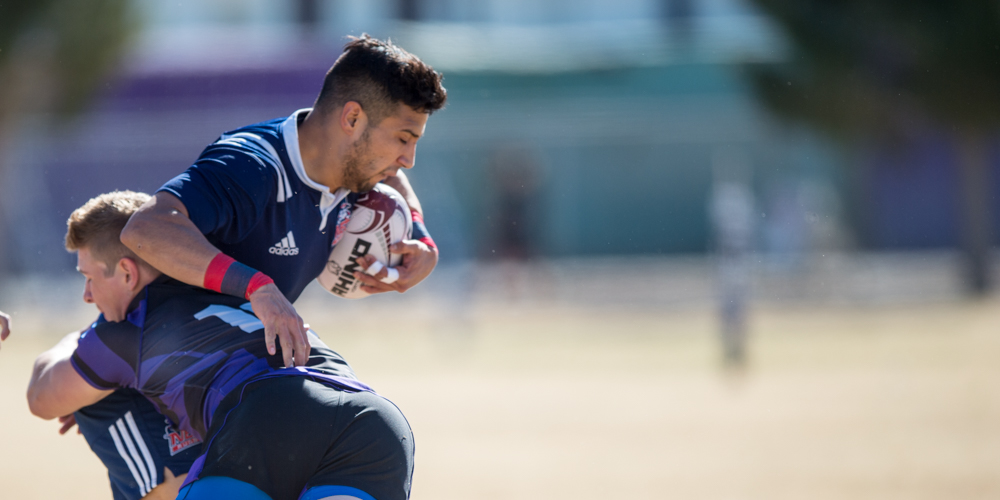 NEC had been outside to train maybe three days this winter, and Bayer said playing in the dry desert air of Las Vegas was very different for them. 
"Our guys played really well as a unit; it just took us a while to find our chemistry," said Bayer. "Grand Canyon were big, strong guys who came right at us, and our guys, our defense bent but we did not break."
After that, they got to stretch their legs against a CSU-Pueblo team that is there for the experience, but isn't as strong. Bayer subbed in freely and the players were able to relax a little. Tat set them up for the Utah State game which, Bayer said, was "in some ways our toughest game. They're very threatening, big strong ballcarriers, but our guys did their jobs."
There were some standouts. Nic Van Ness is a back in 15s who converted to a prop in 7s and bust through the line repeatedly. Andrew Ramsden showed really good vision and played well in setting up his teammates. Bryant Etuka is a big, strong player who, said Bayer, has needed some time to realize he is an imposing threat. He scored six tries on the day.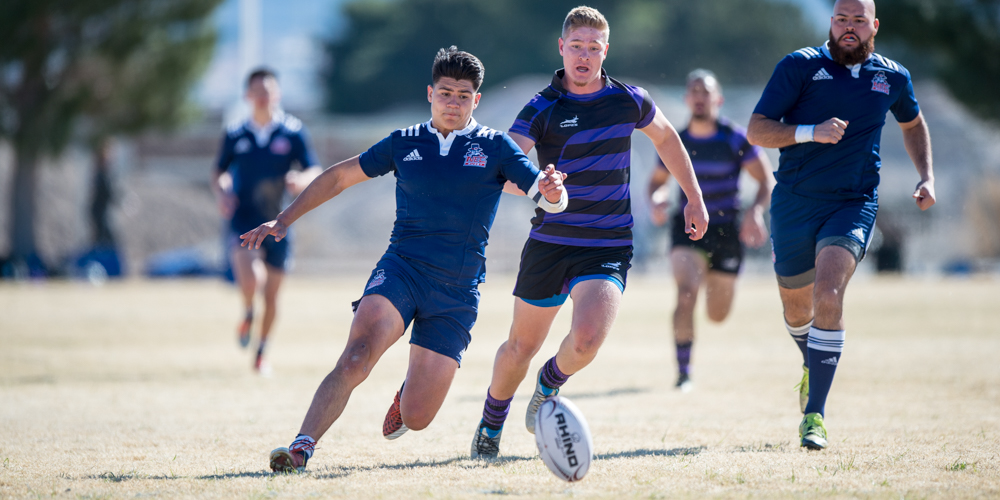 NEC is a former NSCRO 7s champ, and is hoping to get back to the CRC as a DI team. But they will have some challenges on Friday, and will have to get through Notre Dame College and one of the Lindenwoods to get to Saturday's final.