Men DI College Gamebreakers Oct 18-19
Men DI College Gamebreakers Oct 18-19
Shane Barry on the attack for UCLA. David Barpal photo.
We've got some big tacklers, hard-hitting front-rowers, and try-scorers from this weekend.
Wesley Pan, Hunter Reuter, Virginia Tech
Pan started at scrumhalf for Virginia Tech and led the attack while converting all of the Hokies' first three tries. Pan left the game injured, and coming off the bench was Reuter, who slotted in very nicely and helped Va Tech finish off the game. He even scored a try.
Carlton Mende, North Carolina State
The NC State wing ran in five tries as the Wolfpack beat Maryland 51-31.
Chandler Owens, Kansas (pictured, GTH Images)

The Jayhawks flyhalf, who was a standout at the Kansas City Junior Blues, soared over for an early try and scored another as he led the KU offense in a 34-0 shutout of Iowa. 
Brendan Buckley, Iona
Another Gamebreaker off the bench. Buckley's older brother, Iona's captain and starting scrumhalf, left the game injured in Saturday's meeting with Notre Dame. Aidan stepped in to take over and helped spark Iona to a 45-14 victory.
Jack Brennan, Chris Johnson, Jared Smallwood, Fordham
The Rams front row played a powerful game in tight and all three scored tries in a close 36-32 defeat of Fairfield. 
Shane Barry, UCLA (pictured at top, David Barpal photo)
The central attacking playmaker for the Bruins, Barry led UCLA to the West Coast 7s title. His passing and use of his teammates was superb. He was also the tournament MVP.
Darren Chan, Northeastern
Chan has excelled throughout the backline for the Huskies, but he is especially good at scrumhalf and his leadership and goalkicking saw Northeastern to a 48-21 victory over Tufts.
Dallas Elliston, Navy
The US Naval Academy tighthead prop made ten tackles and assisted on five more while missing none as Navy shut out Clemson 55-0.
Vince Carso, Ohio State (pictured with ball, Allison Bradfield photo)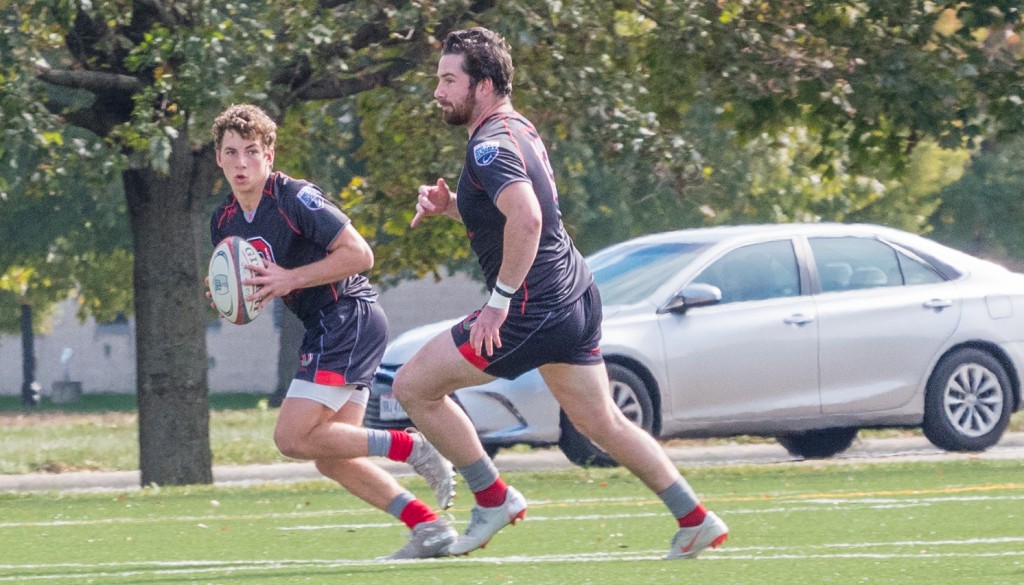 Carso scored two tries as the Buckeyes beat Illinois 38-17. Carso has emerged as a momentum-changer for Ohio State. He now leads the Big Ten with eight tries.
Russell Lemaster, Indiana
The freshman No. 8 was a star for the Royal Irish HS program and while he scored three tries against Michigan State, it has been his constant presence as a ground-gainer and clearout man in the rucks that has been useful for IU.
DaQuan Perry, Kutztown
The Bears beat Notre Dame College 47-22 and the hardworking flanker scored two tries and kept up his form as a ball hawk for KU.
Collin Grosse, Army
The Black Knights No. 8 led his team to a much-needed victory in the Rugby East, 43-19 over St. Bonaventure.
Jack Miller, Colorado
The Buffalo flanker was key in a defensive effort that shut our Air Force 20-0, and he came back from a blood sub to score a try.
Austin Hessling, Davenport
The Brighton HS product out of Michigan has been part of the Davenport backbone for some time and he did a lot of the dirty work making some hard yards, winning ball, and playing defense as Davenport put an admittedly depleted Penn State team to the sword 49-17.
Juwan Johnson, Oregon State
The Mira Costa product once again led from the front as the No. 8 scored and caused Washington all sorts of problems in a 27-7 Oregon State victory.
Gaelen Kelly, St. Joseph's
Kelly was a terror for the Hawks, scoring three tries in the second half and, more importantly, playing excellent defense as St. Joe's beat rivals West Chester.