MAVRC-Maryland - Good Counsel, Georgetown and More
MAVRC-Maryland - Good Counsel, Georgetown and More
Georgetown and Good Counsel played a tough game.
As the playoffs approach in the Maryland area, Good Counsel has made many take notice with a strong weekend.
The Olney, Md.-based high school beat rivals Georgetown Prep 24-19 last week, and followed that up with a 2-1 weekend at the Jesuit Classic. GC lost to St. Thomas Aquinas, but beat Clayton and a highly-ranked Union County.
Add to that earlier wins over St. Johns and Loyola Blakefield, and a close loss (29-10) to defending MAVRC and national champions Gonzaga, and you've to plenty of evidence that Good Counsel is a solid team.
Georgetown Prep came into the match against Good Counsel on a three-game winning streak since returning from their Ireland tour, having outscored their opponents 229-3.
But they had a different situation in playing a very physical Good Counsel team. Good Counsel got off to a fast start thanks to strong play from their flyhalf Matt Scuderi. Good Counsel also matched Prep's physical forward-first play through strong performances from their front row combination of Jalen Lea, Aaron Jarvie and Alex Balladares. This combination made it 17-7 at halftime.
The second half saw the tables shift with Prep on the front foot for most of it. Strong performances from flanker Jake Hagy, center Thomas Gates, and wing Grey Mazich combined with teammates for long possessions. Prep pinned Good Counsel in their end and blocked a kick leading to an apparent try that was disallowed by the ref. An old foe reappeared for Prep as they went on to commit two turnovers inside 10 meters from scoring as was the case earlier in the year. They overcame and appeared to score the game-winning try with only a minute remaining, after a burrowing run from sophomore Ultan Horrigan, however it was again called back. The time expired with a knock-on and Good Counsel moved into second place in MAVRC.
With Good Counsel playing the Jesuit Classic, Georgetown Prep rebounded with a win over Landon.
In the rain and mud It took Prep a little while to find their rhythm with the new players, but eventually got going to a 30-5 victory.
Sophomores Michael Butler and Patrick Dolan received their first A-side starts, at No. 8 and wing, respectively, but it was strong play from flanker Jake Hagy and sophomore fullback Ultan Horrigan combining with senior wing Grey Mazich that led the way on the scoreboard.
Hagy, Horrigan, and Hagy again scored for a 17-5 halftime lead. A smart kicking game helped exert some pressure on Landon and a penalty from flyhalf Matthew Zaudtke and a third try from Hagy made it 25-5, and Drew Black finished it off.
Next up for Prep is top ranked Gonzaga. Good Counsel faces the Gonzaga Black side and then DeMatha.
Good Counsel hooker Aaron Jarvie looks to offload against Aquinas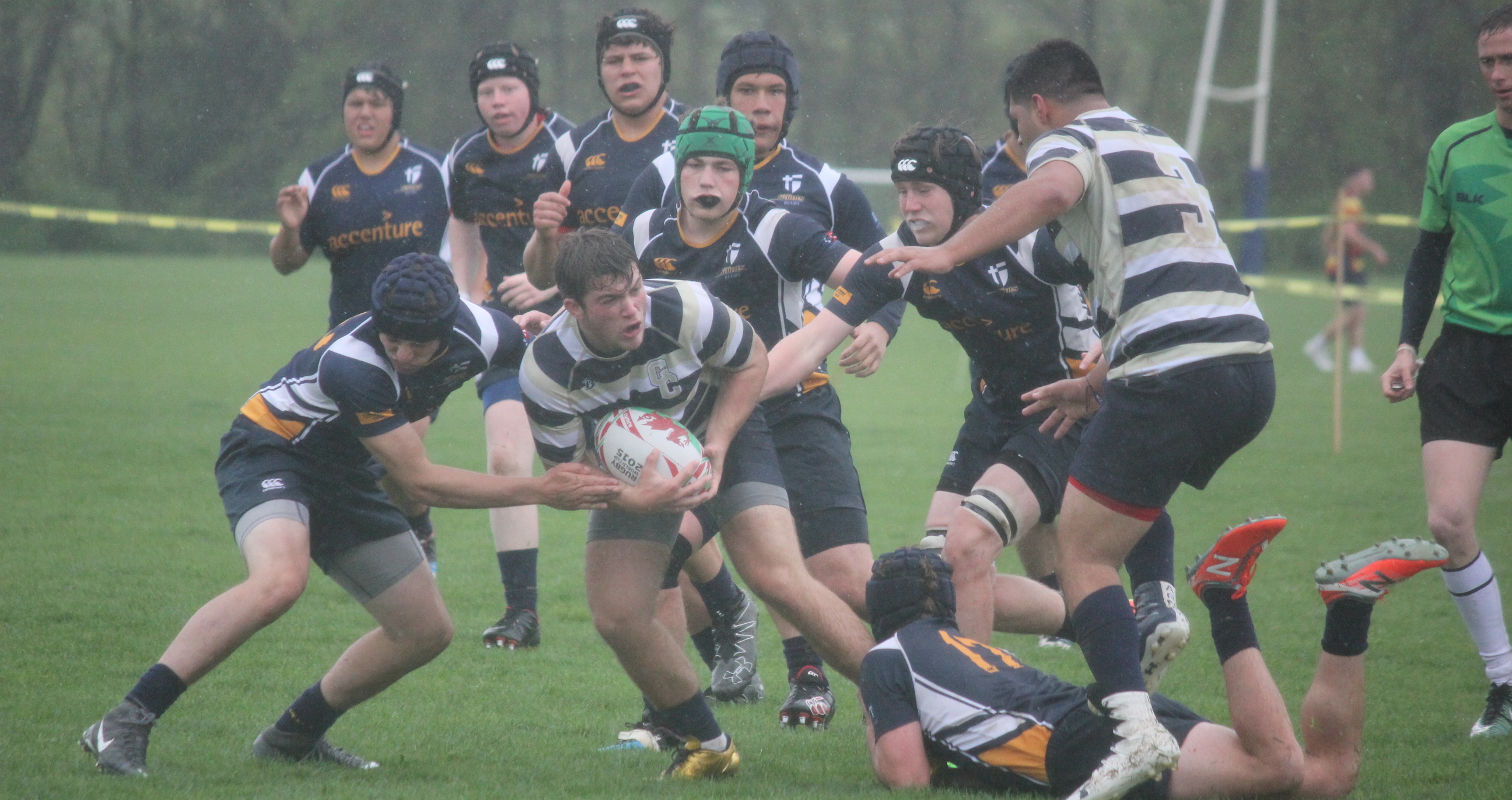 "We had a slow start to the season but playing tougher opposition has made us much better," said Good Counsel Head Coach James Aitken. "Gonzaga gave us our annual lesson on how to play rugby, totally dominating us in the set pieces. The physicality of the Gonzaga and Georgetown Prep matches gave our guys a sense of what they needed to give at the Jesuit Classic to have a positive weekend."
Aitken said Counsel's line speed has improved. For him, their loss against St. Thomas Aquinas showed they could hang with the top teams.
"More importantly, the comraderie between the two squads was fantastic," he added. "Seeing opposing props work on binds after the match was magic to watch. A classy outfit and all credit to Tim Kluempers and his coaching squad."
Flyhalf Matt Scuderi has been making breaks and kicking goals all year. New player Brady Daniel is a wrecking ball at flanker, but missed the Jesuit Classic du to a wrestling commitment. Jalen Lea has outstanding at prop, espeically on defense, while hooker Aaron Jarvie and captain Ryan Briggs are tireless, unselfish workhorses in the pack.
In the Maryland HS club league, the playoffs are just about here. Bethesda is #1 at 6-0, North Bay is 5-1 and #2. Maryland Exiles is 3-2 and #3, with West Carroll at 3-3 and #4. Those four will play off in the semis.
Georgetown v Landon in the rain.