Matyas Story Outlines Vets' Rugby Hopes
Matyas Story Outlines Vets' Rugby Hopes
USA Rugby may well have to seriously re-think their college eligibility rules as the Let Vets Play College Rugby movement continues to grow.
Veterans are upset at the current USA Rugby rule that says your collegiate eligibility starts when you graduate from high school. From that time, athletes have five years to play rugby. If a player misses school for any reason, he or she can apply for an extra year - they can do this twice, thus giving you as many as seven years to play five.
But this isn't enough, say veterans. Even if the program worked, most military personnel would get only three years (four years in the service, one year playing rugby, and then two waiver years), however, say vets, it doesn't work that way.
"I only played two years out of my five," said University of Arizona student Andrew Matyas, a veteran of the United States Navy. "I was discharged out of military in mid-season," and so he couldn't start rugby until the next year. "I submitted a request for an extra year, but that was denied."
Matyas, now 26, was 22 when he was discharged. Still a student at Arizona, he plays with the Tucson Magpies men's team. That, in fact, is the rugby solution put forth by USA Rugby representatives when asked about this rule - you want to play rugby? play with a club,
But, said Matyas, it's not always a workable or desirable solution.
"I grew up in Tucson and I know the Magpies club so it's OK for me," he said. "But club rugby is not at the same level as college rugby. The Magpies don't train six days a week. They're not playing against Cal and St. Mary's. A lot of college guys aren't from the towns where they go to school, and asking them to try to hook up with a club in town is tough on them. For me, playing for Tucson means I am representing my city, but other guys it's not to same. They want to represent their school. So do I."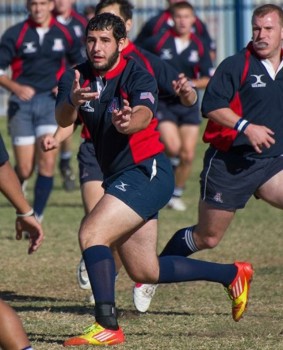 Transportation is another issue. Matyas doesn't have a car, and rides his bike to practice. But for many college students even that's not workable. Club teams don't necessarily train or play anywhere near a college campus. Safety or time issues mean students can't get to training and back and still study and do everything else they need to do.
The reason behind the rule is to produce a de facto age limit on college rugby players. The though behind the rule is that older players are too tough to play against. But Matyas says that idea falls flat.
"It seems kind of outrageous in a game where small guys routinely play against really big guys at any age," he said. "I don't think you can make a correlation between age and physical abilities."
The rule as it stands basically makes it impossible for a student-athlete over the age of 26 to play college rugby. But why, say critics, is it OK for a 26-year-old to play against an 18-year-old freshman, but not for a 27-year-old?
For Matyas, it's simple. He served his country in the US Navy for four years, "and now I just want to play for my school."
Let Vets Pay College Rugby is a movement to try to get USA Rugby to allow military veterans to regain their entire college eligibility. They have a
Facebook page here
.