A Look at the Men's Olympic Rugby Team
A Look at the Men's Olympic Rugby Team
Ben Pinkelman looks to pass, with Garrett Bender in support. David Barpal photo.
So the USA Olympic squad has been picked, and if you missed it, here it is:
Perry Baker - Wing
Danny Barrett - Prop
Garrett Bender - Prop
Andrew Durutalo - Prop/Hooker
Nate Ebner - Prop/Hooker/Center (?)
Madison Hughes - Halfback and Sweeper
Carlin Isles - Wing
Folau Niua - Halfback
Ben Pinkelman - Prop/Hooker
Zack Test - Hooker/Center
Maka Unufe - Center/Wing/Prop/Hooker
Chris Wyles - Center/Flyhalf/Prop (?)
Let's look more closely at these guys.
Top to bottom: Baker, Barrett, Bender, Durutalo, Ebner, Hughes, Isles, Niua, Pinkelman, Test, Unufe, Wyles, Friday. All photos David Barpal.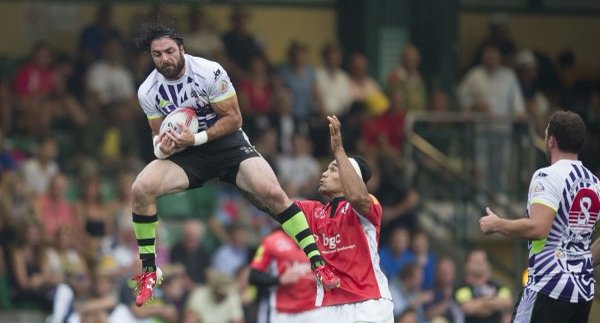 Perry Baker 
Lots of people have stories about how Baker got started as a rugby player. But the truth is, the long-legged wing got his star way back in the mid-2000s as a teenager playing for the Daytona Beach men's club. Under 7s-mad coach Brian Richardson, he was their go-to man on the restart and on the wing. 
You think he's skinny now, you should have seen him then. His twitter moniker Speedstick11 really fit. Baker didn't play a lot in Daytona - only when needed - but he did show up for the 2006 Club Championships
Have a look at this preview of the 2006 tournament. You'll also notice a few other prominent names, including one guy who is going to Rio with Baker.
Reporter's Note: Baker is a great interview. He's smart, and has that lazy (in a good way) way of talking. You can change subjects on him and he just rolls with it.
Scouting Report: Baker showed during Carlin Isles's absence that he can play a full 14 minutes. He is fast and scores tries, true, but what got him on that World Series Dream Team was his overall play, especially on defense. Fun stat - up until a few years ago, the record for most tries all-time by a USA player in the Sevens World Series was 47. Baker scored 48 in one season.
Danny Barrett 
Kind of a wild man coming out of high school, Barrett is still a wild man. He was an instrumental player for Cal - his Coach Jack Clark once said of him that you better not be off getting a hot dog while he's on the field, because you'll miss something special. That proved to be the case again and again as Barrett would pull big plays out of nowhere - be it for Cal, the USA Selects, the Eagles 15s team, or the 7s team. He's known for knocking tacklers down and that's why he's on the team.
Reporter's Note: Danny Barrett is a lot of fun to interview because he is direct and honest - and fun. Once in Las Vegas he had to delay speaking to me in order to pose for a fan photo. I told him I had been in position to photo-bomb the shot, and he said "ah, you totally should have!" He seems to be having fun all the time.
Scouting Report: Rugby 7s is a very physical game, and you need someone to dominate the point of contact. Barrett does that.
Garrett Bender
A product of the Southside HS program in Minnesota, Bender joined the USA 7s program under Alex Magleby while he was still quite young. He was injured during that time, and, it seemed, fell out of favor. But as often happens, some coaching changes and a little time can make a world of difference. 
Reporter's Note: Bender is a quiet, no-nonsense kind of worker on the team. He does a lot on the field, and generally lets that speak for him.
Scouting Report: He changed from a big, kind of lumbering presence to a guy who can hit, win rucks, and poach ball. He reads the field well, and in the end this was a fascinating pick, because there were other players really gunning for the job. He had to really impress to get on the squad.
Andrew Durutalo
Durutalo qualifies for the USA by virtue of being born in the United States. He was put on the 7s team by Al Caravelli in the 2010-11 season. He continued to develop there before getting his first 15s cap in 2012. He needed some time to learn that a) he couldn't dictate the point of contact all the time, and b) if he wanted to dictate terms, he needed to be stronger and faster. It took a while - he got into trouble with a training incident at his then-home club - but somewhere around 2014 he became something of a different player - stronger, faster, smarter. The result was a rise in his status with the 7s team, and also the 15s Eagles, leading to a Super Rugby contract.
Reporter's Note: Durutalo is very intelligent, but doesn't like to talk too much. It seems like he was kind of humbled by poor decisions early in his time with the Eagles, but has grown since then. Mike Friday said he wanted the 2015 Andrew Durutalo to come back to camp, and apparently he has.
Scouting Report: Andrew Durutalo steals ball. He can run, he controls contact well enough to offload out of contact. He can tackle. But the biggest skill he brings to the team is the ability to steal the ball in the ruck and create a scoring opportunity - Like this One. 
Nate Ebner
Nate Ebner played HS rugby in Ohio and was a fullback for the USA U19 team. He played at a senior select level as a teenager and was a star for Ohio State University. You know the story by now. He walked on at OSU football looking to get a scholarship and pay for tuition. Got one, and played so well he's been playing for the New England Patriots . The Pats gave him a leave to try out for the Olympic team, and he made it.
Reporter's Note: Ebner loves rugby. It's his first sporting love and he's never been shy about saying so. He is a fairly quiet, get the business done, kind of a guy, and in fact it was his professional approach to the rugby task at hand that Mike Friday really liked. The big question, of course, was could picking Ebner be a PR move, because football fans and reporters would pay more attention to rugby. Friday said in our RuggaMatrix America podcast that he felt no such pressure, and if Ebner made the team it would be on merit alone.
Scouting Report: Ebner is a big body, a powerful hitter, and has a pretty good turn of pace. You get the feeling he was faster when he was just a rugby player. Football put size on him, and the last few months he's been working on building that fitness and pace back into the mix. 
Madison Hughes
Hughes's mom is American, which is why he qualifies for this team. He went to HS in the UK, but was on the HS All Americans and then the USA U20 team. He's played for every national team except the senior 15s, and many say he's going to be there, next. A graduate of Dartmouth, where he was still a student when he was named USA 7s team captain, he has also captained every team he's played for. 
Reporter's Note: Be ready to take notes when you ask Hughes a question because the answers come thick and fast. He speaks very quickly and very intelligently on the game. He is as skilled as any when it comes to inserting team concepts into his comments. 
Scouting Report: Many say he's a natural leader, and that seemed to be even more the case this year as he became more vocal during halftime chats during the World Series season. As a player he is the team's (and World Series) leading scorer and leading tackler. He had a wonderful sidestep and excellent acceleration, and knows when to use them, and when to let others take the glory. 
Carlin Isles
It's been four years now. Some still think of Isles as being new, but he's not, really. He came to notice when Alex Magleby put him on the USA Falcons team at the Serevi RugbyTown 7s. He was super-green then, but boy was he fast. Thrown onto the circuit while still learning the game, Isles showed that despite not really knowing the game, and being quite small, he could turn a game around. He sparked ongoing calls to put him on the field more, and Magleby, followed by Matt Hawkins, both resisted that temptation. In the end, Isles basically left the program for a short time because he was scoring at a world-class strike rate while playing less than half the time.
When Mike Friday took over, Isles got more game time, but has battled with Perry Baker for the wing spot. As Friday said, he knows one thing about them - they don't work well on the field together.
Isles did flirt with making the USA track team - something that in the end probably hurt his playing time with the USA rugby team. But he's going to Rio, and he deserves to.
Reporter's Note: Overseas reporters aren't sure how to handle it when Isles credits God with his success. They are comfortable with the Fijians and Samoans evoking a higher power, but when an American does it, they kind of get weird. Well, it's something you hear from a lot of sprinters, for some reason. Isles is an open book. He says what he feels. When he's upset, you know it. When he's joyful, you know that, too. He's cocky - you've got to ben when you're 5-7 in international rugby - but in a good way. 
Scouting Report: One-on-one there are few better in the world. We tell players not to run sideways across the field, because you'll get caught and tackled. Isles breaks that rule repeatedly and it works for him, because his speed, elusiveness, and acceleration are that good. He's also developed more physical strength and his tackling has greatly improved.
Folau Niua
Got his start on the mean streets of East Palo Alto, and played around the Bay Area, including with SFGG. It was when he was with SFGG that people started mentioning this quiet, talented flyhalf who could kick from both feet equally well. He is a smooth, smart playmaker who worked his way slowly into the USA team - slowly in part because he battled with injuries. Thought of as a flyhalf, he is actually quite large and physically strong, can handle the rucks, and punishes ball carriers.
Reporter's Note: Folau is a pretty quiet guy. He is friendly, easy-going, and likes to let his play speak for itself.
Scouting Report. Friday has basically picked two halfbacks - Hughes and Niua - so the job of getting the offense to move sits squarely in Niua's hands. He's perfectly capable of it, because he's learned to use all of his team's weapons, and loves playing that way.
Ben Pinkelman
Played HS rugby at Cherry Creek in Colorado, and then went to Colorado State University. While at CSU (where he was still a student this past year), he played for the Denver Barbarians senior men's team, and often emerged as one of the best players on that team. He is not intimidated by older players or players with supposedly more experience. Tall and lanky, he is actually stronger than you might think.
Reporter's Note: Pinkelman is a very funny guy and picks up on a joke quickly. We hope NBC gets to talk to him because they will like what they see.
Scouting Report: Restarts, winning the battle over the breakdown, and working the offloads out of the tackle. He can do all that, and if he does, he'll be helping the team win,
Zack Test
Test played HS rugby for Peninsula Green and starred for the USA U19s and U20s on a team that included Nate Ebner, Shawn Pittman, and Scott LaValla. He made his USA 7s debut at 19 and played regular for the team starting then. Test battled through some of the good early times playing alongside the likes of Chris Wyles, Kevin Swiryn, and Matt Hawkins. And he hung in there through the tough times, sometimes being the go-to guy when they just didn't seem to have anyone else to put games away. He learned on the field, in the toughest testing ground possible, and emerged strong as a result.
Reporter's Note: There are two Zack Tests - the face of the team for years who does the big interviews - and the more vulnerable, thoughtful one. Sometimes you get to see both. Not expected to carry the entire load, Test has allowed himself to be imperfect, which is a good thing.
Scouting Report: Test was at the forefront of making restarts a focus of first-phase possession for all national teams. He helped change the game there, and then moved on to be an exciting open-field runner. What were perceived to be weaknesses - his rucking, his passing - have become great strengths. He can play pretty much every position on the field, and play it well, and his experience is unmatched.
Fun stat - when Test made his USA 7s team debut the record for most tries in World Series tournaments by an Eagle was 47. He has since more than tripled that number to 143. No player has done more on a long-term basis to keep this program moving forward.
Maka Unufe
Unufe came to the national consciousness  at the 2011 HS Nationals when he scored two startling tries for United in a losing effort against Highland. His long stride and strength were obvious. Within six months he was on the USA 7s team playing in the Pan-Am Games. While the USA didn't play especially well in that tournament - they won Bronze - Unufe led the tournament in tries. He battled for playing time, and a place on the team, and it seemed like other players were preferred by Matt Hawkins. But when Friday took over, Unufe seemed to find a new lease on his rugby life.
Reporter's Note: Unufe is smart and constantly questions himself. That can be a useful skill, because it means you don't get complacent. But is also means you can get a bit down on yourself. Anyway, here's a look at how he looks at himself.
Scouting Report: Maka Unufe has a wonderful turn of pace. He passes well, and supports well. He's very unselfish. Unufe was in a contest with Martin Iosefo for a center spot. Guess he won the fight, although we could have seen both on the squad. 
Chris Wyles
Wyles was languishing near, but not really in, the England setup in 2006 when he decided to make a change. He called Al Caravelli with the USA 7s team, pointed out that he'd been born in the United States, and maybe he could re-energize his rugby career with the Eagles. The rest is history. Wyles made the 7s team and eventually captained the Eagles during a resurgence in their fortunes. He made the USA 15s team, and when the Eagles fullback went down injured, said "I played a bit of fullback" and took over that position for the next eight season. Ask him and he'll tell you that USA Rugby revitalized a career that sees its zenith right now - he captained the USA at the Rugby World Cup, won the League and Europe double with Saracens, and now will play in the Olympics. In a world where players who were trained and played overseas have been somewhat reluctant Eagles, Wyles has been loyal and a credit to the jersey.
Reporter's Note: Wyles is a pretty funny guy, and loves a joke (he accepted a couple of non-flattering nicknames with equanimity), but he hates to lose … haaaaates to lose. Hates it. So he's not much fun to talk to after a loss. He still owes me a table tennis match. I still think I can beat him.
Scouting Report: As a 15s player Wyles was once called the Swiss Army Knife of Saracens, in that he played 12-15 equally well. He won't be a wing or a sweeper for the USA 7s team, but he still has some versatility of skills. Mike Friday's decision to take only two dedicated halfbacks might mean that Wyles steps in as a first receiver at times. He could slot in as a forward, and his ability to read the game means that he could exploit little mistakes, read the situation, and set up someone like, oh, I don't know, Carlin Isles, for a game-sealing try.
(Some more thoughts on Wyles here)
Overall Team Thoughts
The first thing that struck me was (as I mentioned at least twice) was that Mike Friday is taking just two dedicated halfbacks, when he usually went with three during the World Series season. If I am surprised by any decision, it might be that Nate Augspurger has been left off the squad.
The second surprise is that neither Martin Iosefo nor Thretton Palamo made the team. Both are exciting midfield runners, and Iosefo made a World Series tournament dream team. I kind of expected there to be one more guy as a hard-running back, but not to be.
And that's because Friday went bigger for this tournament. Barrett, Bender, Test, and Pinkelman might have been sufficient for a past tournament, but add in Durutalo and Ebner, and you've got six powerful forwards. In the backs, Friday has gone with three guys who are generally considered dedicated centers or wings in Isles, Baker, and Unufe. So his additional outside backs are basically tweeners - Test and Wyles, guys who have been to a few rodeos before, and can pretty much play anywhere.
During the World Series, Friday went with at least three halfbacks in every tournament but one (Las Vegas), but he has steadily morphed from fielding a team of tweeners - tall guys who can run and also play prop - to big guys - tall, powerfully-built guys who aren't breakaway runners. It's a very slight difference, but one where he went from one guy I'd characterize as a big body, and five guys who I'd call tweeners, for Dubai, out to four big bodies and two tweeners in London.
Friday varied his fast guys, usually three, but sometimes two (when Isles or Unufe were unavailable). For Rio, it's five big guys, two halfbacks, three fast guys, and two tweeners. Admittedly, the characterizations are somewhat fluid and you could argue the mix has been pretty much the same all season but changing how we pigeonhole players. But I still think this team has more bulk, more physicality, and more power than the USA teams from most of the World Series season.