Jesuit NOLA, Bayou to Louisiana Final
Jesuit NOLA, Bayou to Louisiana Final
Jesuit v Brother Martin. Case Ellis photo.
The Jesuit New Orleans Blues Jays won big and the Bayou Hurricanes won bigger in the Louisiana Rugby semifinals, setting up a much-anticipated final in two weeks.
Jesuit of New Orleans defeated Brother Martin 34-5 in one semifinal. The teams had played earlier, with Jesuit winning a close one 19-10. But this time, it was all Blue Jays.
Top photo, Cardenas for Bayou Hurricanes. The remainder, Jesuit v Brother Martin (Case Ellis photos)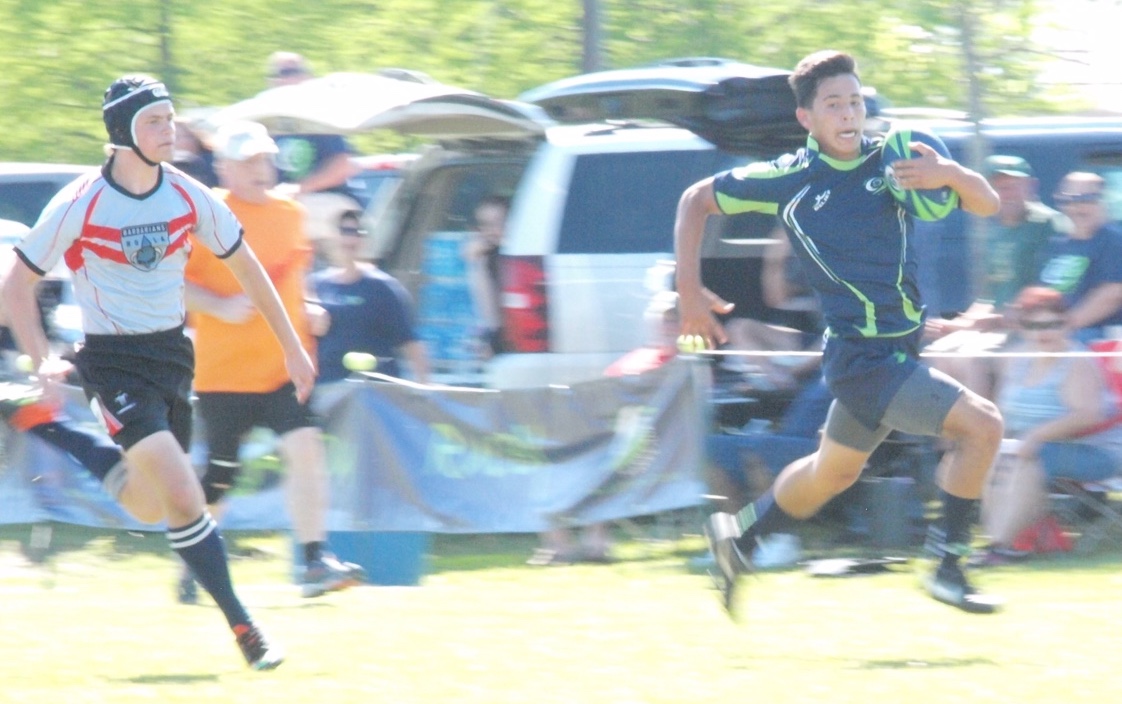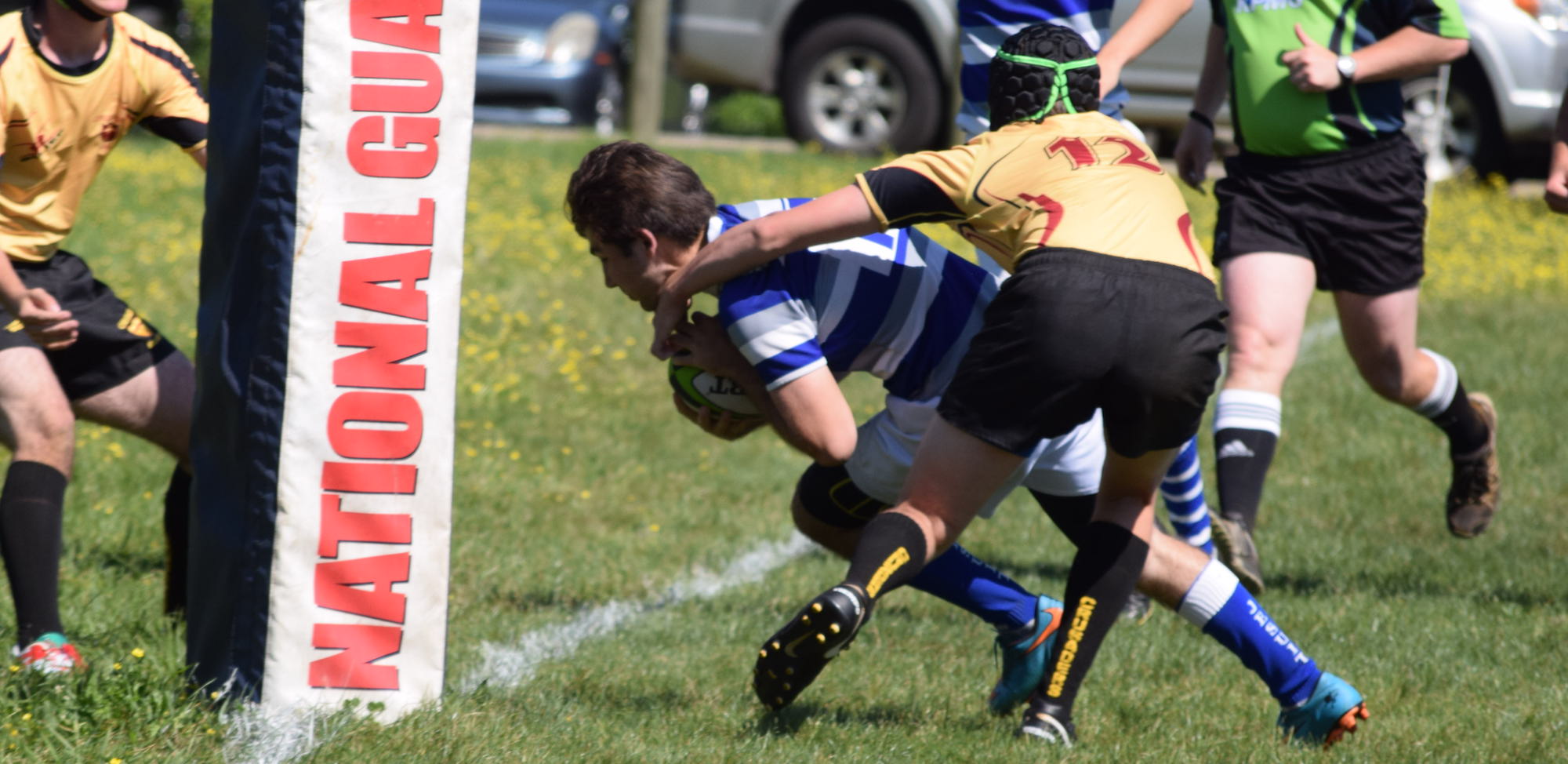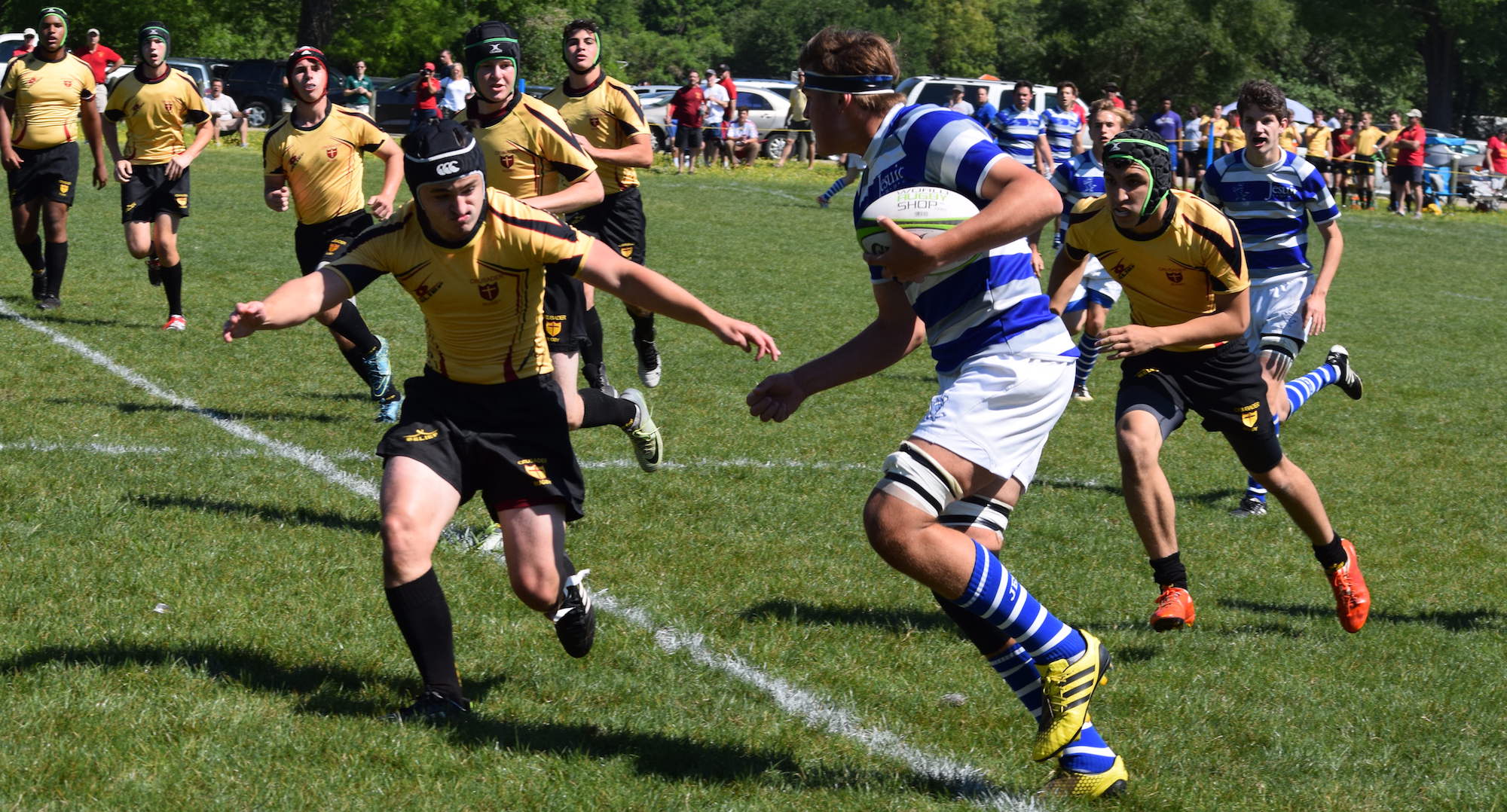 Early penalties saw Jesuit denied scoring opportunities despite holding the lion's share of territory and possession in the first 15 minutes. However, Jesuit's consistent pressure finally paid off when Brother Martin attempted to kick to clear out of their own in-goal. The kick was low and off the mark, landing in the arms of Jesuit outside center Patrick Brou, who scampered 10 meters for a centered try. Conversion good. Several minutes later, hard charging tighthead prop Nick Gauthe took a forward crashball over Brother Martin's tryline for Jesuit's second try. Conversion good. Later in the half, a Brother Martin player attempted an Italy defense (no opposition to the ruck, and therefore no ruck) but failed to realize a ruck had formed behind him, which caught him a solid four meters offside. Jesuit fullback Jack Gab knocked the penalty kick through the posts, to give Jesuit a sturdy but not insurmountable 17-0 lead going into halftime.
The second half started much like the first, with Jesuit controlling possession and territory. However, halftime adjustments for Brother Martin allowed the Crusaders to find their form. A series of strong runs following a Jesuit penalty found Brother Martin loosehead prop charging over Jesuit's goalline, earning Brother Martin its first score of the match. Try unconverted. Jesuit rebounded quickly and poached possession from Brother Martin. A powerful driving maul off a lineout set Jesuit up with a series of phases that carried them near Brother Martin's tryline. Another offside penalty against the Crusaders gave Jesuit another shot at goal, which was again converted by Gab. Jesuit up 20-5.
The heat of the day began to take its toll on both squads, who were deep into their reserves by midway through the second period. The Jesuit reserve bench continued to attack Brother Martin with gusto. A wide and fast attack off a Jesuit lineout found Jesuit center Gab running a sharp switch line that punched into the Crusader's defense. Jesuit scrumhalf Josh Cashio played the ensuing ball with alacrity to a charging Frank Sclafani (sophomore, outside center), who found a gap for Jesuit's third try of the match. Conversion by Gab good. With five minutes remaining, Sclafani (now moved to flyhalf) attacked the line and passed crisply to Jesuit captain and wing Nate Beach (moved to inside center) who sped for a 50-meter run to deep within Brother Martin's 22. A mishandled offload ended the sequence, and gave Brother Martin a chance to clear from a scrum. Brother Martin, however, was unable to find space to clear the ball, and instead shipped it wide, where under tremendous pressure, they were penalized for not releasing.
Jesuit elected to kick to touch to set up a lineout, set up the maul, and got a penalty when Brother Martin was in from the side. Jesuit hooker Noah Tobin tapped quickly and was over for the match's final try. With Gab having been subbed, Tobin converted his own try, and that ended it 34-5.
Jesuit Head Coach Adam Massey complimented Brother Martin, who fought hard to th final whistle. Meanwhile he addd that the Blue Jays showed some significant improvements.
The Hurricanes, meanwhile, had not played the NOLA Barbarians due to flu within the Barbarians team. So this was the first meeting, and the Hurricanes blew the doors off the game to the tune of 73-5. Sophomore Gabriel Cardenas was again influential. No. 8 TJ Folse scored within the first minute, and then tries from prop Kieran Webb, scrumhalf Alvin Delaune, fullback Gabriel Cardenas, outside center Zavier Triplett (twice), and flanker Amouche Collins followed, with Cardenas going 5-7 on conversions. The Barbarians would sneak one in the corner which was unconverted in the final minute of the first half for a 45-5 scoreline at the break.
The second half would see no substitutes for the Bayou Hurricanes, however they would reshuffle the backline and moved Cardenas from wing toflyhalf, with Josh Sazama moving to fullback from the #10 spot. Kenny Ferrera moving to wing from fullback. The new set proved to be lethal with the new flyhalf, the inside center James Williams, and the outside center Zavier Triplett along with Folse all scoring tries during the half, with Cardenas converting all four. Unfortunately the Hurricanes would have to play short a man during the second part of the half due to a dump tackle and subsequent red card for their hard-nosed inside center James Williams. Even so, the Hurricanes were in control.
Cardenas was named player of the game, and now Bayou looks to face Jesuit on April 22.