Ignatius Impresses With Wins Over Penn, West Shore
Ignatius Impresses With Wins Over Penn, West Shore
St. Ignatius logged impressive victories over Penn HS and West Shore this weekend.
In a three-team preseason meeting in the Cleveland area, Ignatius won on Saturday and Sunday, with Penn volunteerring to play two games on the day.
On the first game of the day, St. Ignatius was paced by three tries from Nick Zolkoff, It was a tight game with a lone Zolkoff try being the scoring through the first 35 minutes or so, until Penn kicked a penalty to make it 5-3 at the break.
"It was very dissatisfying for us," said Ignatius Head Coach Dan Arbeznik. "We missed a couple of opportunities. Our penalty count was egregiously against us - and not unfairly. Our kids we committing stupid penalties. We weren't playing within ourselves."
Brenda Whalen photo.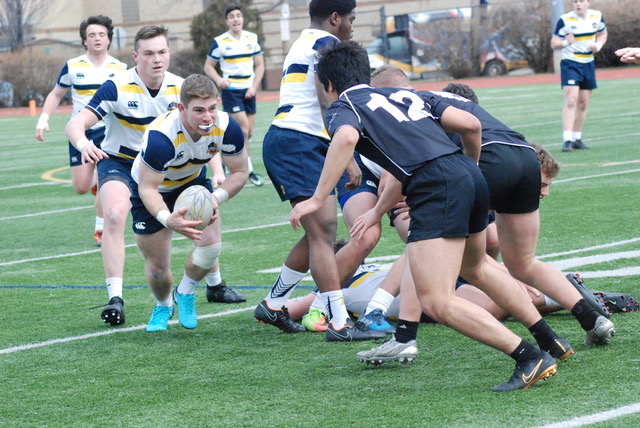 In the second half, Penn failed to secure the kickoff, and Alex Schum nabbed the ball and raced to paydirt. Declan Boldy's conversion made it 12-3 for Ignatius.
"That play changed the momentum for us," said Penn HS Head Coach Bart Bottorff. 
Schum's try may have made a difference, but his bigger contribution was on defense. With Jivan Meguerditchian, lock Juan Pen, and fullback Alex Chura, Ignatius defended well against Penn and pulled away as they scored another try from Zolkoff. Boldy's conversion made it 19-3. The teams traded tries to end it 26-10.
Penn turned around three hours later to face West Shore. it was a tough game, with Penn a little tired, but the Indiana team managed to hold West Shore scoreless, and scored three tries to win 15-0.
"While not pretty, it was a good bounce back for us against a fresh side," said Bottorff.
"We settled down and played our own game instead of trying too much," said Zolikoff. "We started reading the defense and getting used to what they were doing, and adjusting to how they were attacking us."
On Sunday, Ignatius beat West Shore 71-14.
Al Fuchs photo.