Gonzaga over Fort Hunt in Jesuit Classic
Gonzaga over Fort Hunt in Jesuit Classic
Gonzaga in blue, Fort Hunt in stripes. Colleen McCloskey photo.
Gonzaga HS defeated Fort Hunt 10-3 to win a somewhat rain-soaked Jesuit Classic Sunday.
With rain limiting some of the games, not all of the brackets were played to a conclusion, however the cup bracket was.
Gonzaga and Loudoun/Prince William had also entered 2nd sides in the varsity bracket in the tournament, and those two teams did not play on Sunday to ensure other varsity teams could play. Several of the JV and freshman games on Sunday were not played, however Raleigh went on to win both of those brackets.
In the Varsity Bracket, 16 teams played on Saturday in a knockout/consolation format.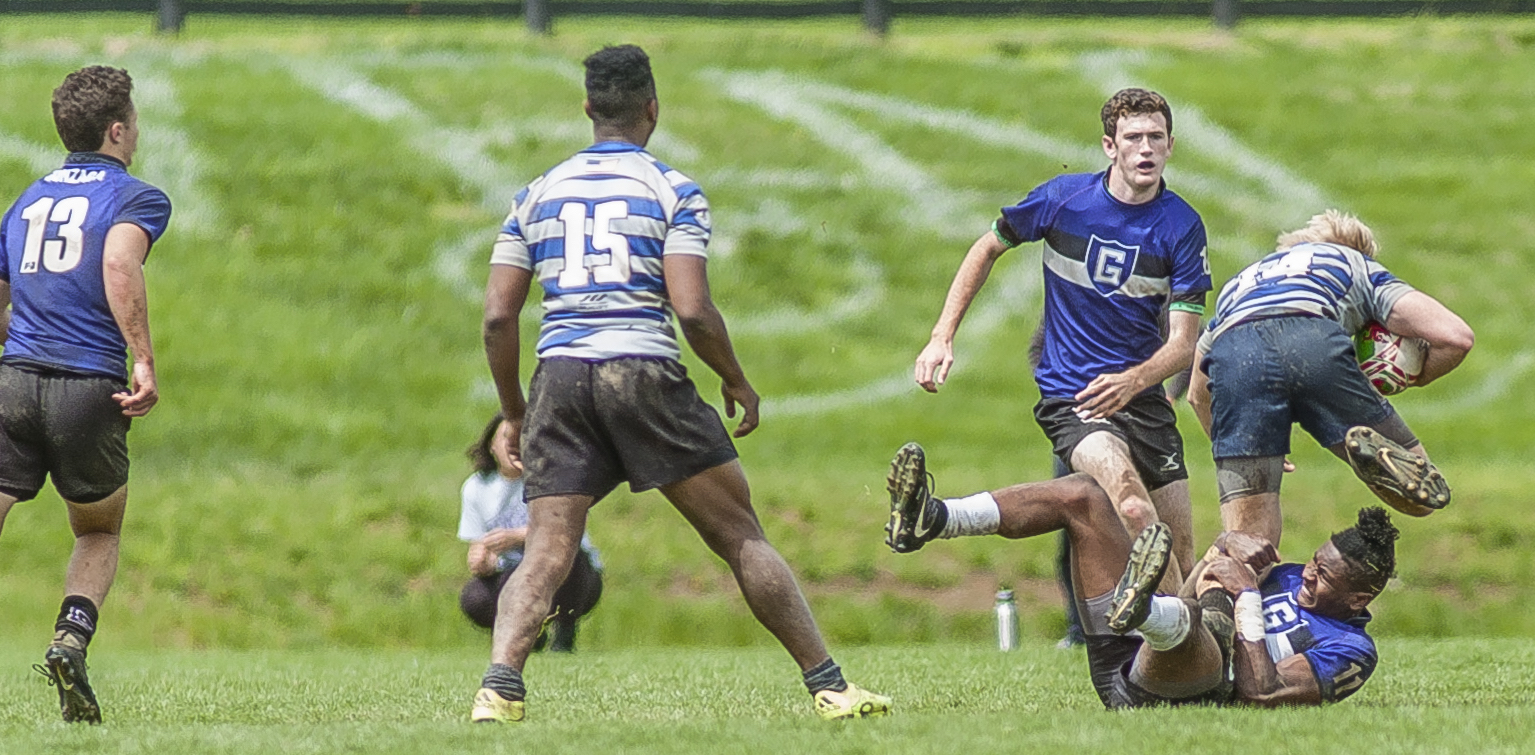 In the first round, Gonzaga beat Loudoun/Prince William II 53-0, Fort Hunt beat Clayton 59-0, Myers Park beat Loyola Blakefield 24-0, St. Thomas Aquinas downed Good Counsel 15-0, Loudoun/Prince William shut out Union County 19-0, West End beat Bishop Hendricken 25-7, and Greenwich defeated Gonzaga Black.
In the big upset of the day, West Shore edged Charlotte Catholic 8-7. West Shore Head Coach Sean Robinson said his team has suffered through some big losses early in the season, but they have helped West Shore learn something along the way. 
The addition of some new talent and the leadership of veterans Colby Rigg and Alex Schlager have helped them turn things around somewhat.
So on to the quarterfinals. There, Gonzaga took care of Myers Park 53-5, while Fort Hunt had to work for it against Aquinas, 12-3. West End, which seems poised once more for a late-season run, beat West Shore 15-10 in what is developing into a nice rivalry, and Greenwich took care of Loudoun/Prince William.
Meanwhile, Good Counsel, and Charlotte Catholic won in the consolation bracket, and Good Counsel would end up beating Union County to win the consolation bracket.
On Sunday, Greenwich and Fort Hunt played it close until the final six minutes when Fort Hunt, led by the playmaking ability of HS All American scrumhalf Connor McManus, scored two late ones to put it away 33-15.
Photos Colleen McCloskey

| | |
| --- | --- |
| | |
Gonzaga beat West End 24-12, and while that was a relatively close score, crucially, Gonzaga was able to rest a large number of their senior players. While Fort Hunt kept their front-line guys on the field through the semi, Gonzaga was rested and ready for the final.
In the end, the final wasn't pretty, Both teams left scoring opportunities unclaimed. Fort Hunt knocked on near the tryline a few times, while Gonzaga was primed to score, including right at full time, but were held out. Gonzaga won 10-3.
McManus was inspirational for Fort Hunt, while Gonzaga's back row continued to play some excellent rugby. Lock Jack DuFour was very solid for Gonzaga as they worked the lineout-and-drive nicely.
Overall, it was a tournament as advertised - challenging, and a chance for top-ranked teams to show what they can do. Aquinas out of Kansas continued their good run of form. Charlotte Catholic rebounded well enough from the early loss, while the team that made a big splash was Good Counsel.
"This tournament is tough," said Gonzaga Head Coach Peter Baggetta. "Our depth helped us and that's what you're going to need if you want to do well at nationals."