Gamebreakers - DI College Men
Gamebreakers - DI College Men
Anthony Salaber. ABFlyer photo.
We've been wanting to do a Gamebreakers column for college players for a few weeks now, and somehow the week always seems to end before we can do it.
Well, this time, we've made it a priority. The selections are based on performances throughout the past couple of weeks.
Anthony Salaber
The younger brother of one Cal player and the son of another, Salaber was a HS All American and national champion at Dixon HS, and has emerged as a leader on offense and defense at center for Cal in their wins over UCLA and St. Mary's.
Mo Katz
The all-everything James Madison back, he was the MVP of the Capital 7s.
Steven Branham
Last year's GRR HS Player of the Year, Branham has been excellent at hooker for Arizona in wins over Arizona State and Colorado.
Lorenzo Thomas and Deion Mikesell
Two Lindenwood freshmen, they made their debuts for the USA during the Americas Rugby Championship, and both scored tries in their first games for the Eagles.
Mikesell in training with the USA. Colleen McCloskey photo.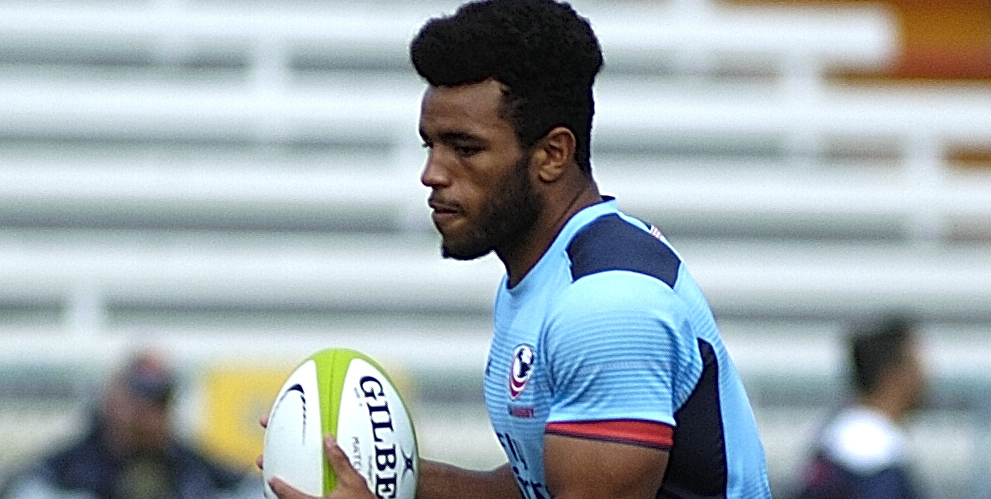 Luke Ellis
Scored the game-winning try, in overtime, in the final of the Big XII 7s to secure the conference 7s title for West Virginia.
Aladdin Schirmer
The Central Washington 5th-year player scored a try on debut for the USA national team, and scored another last week against Uruguay.
Zack Stolz
The Boise State captain has led his team to the cusp of a playoff spot in the NCRC.
Christian Brower
The LSU prop is an emotional leader and lynchpin for the Tigers as they 
Christian Brower. Travis Prior photo.
Robert "Zinzan" Elan-Puttick
An experienced and intelligent flyhalf for Arkansas State, Elan-Puttick missed all of last year with an injury, and is back playing superbly, and led the Red Wolves in a shutout win over Davenport.
Cody Melphy
The sophomore Life University back seems to score key tries on a regular basis, and he did so in two big Mid-South wins over Lindenwood and Davenport.
Chad Gough
Led Utah to a somewhat surprising win in the Las Vegas Invitational men's college 7s, qualifying the Utes for a spot in the CRC 7s invitational.
CJ Burke
The Naval Academy prop was central to Navy's excellent scrum effort in beating Penn State.
Alex Rees
The Arkansas scrumhalf has been scoring tries and kicking goals and leading the offense as the Razorbacks lead in the Hear of America.
Dimitry Veremeenko
The USC center scored scored two tries in USC's stirring comeback to beat Grand Canyon.
Jake Heene
The Cal Poly No. 8 scored three tries for Cal Poly in their win over UCSB.
Kevin Schofield
The BYU wing scored three tries in the Cougars' win over Central Washington, this following up on his key try in the win over St. Mary's.