Expect a Cold Reception in World Cup Qualifiers
Expect a Cold Reception in World Cup Qualifiers
USA star Cam Dolan has been in superb form for years. Here he shows that against Canada in July, 2019. David Barpal photo.
Somewhat lost in the weirdness that is this world and how we shoehorn rugby into it is the fact that the USA and Canada will be meeting twice in September for Rugby World Cup Qualifiers.
The qualifiers for the Americans have changed, but, then, what's new? They always change. This time, the change is related to, what else, COVID. With anticipated problems related to travel, there's no all-Americans competition with teams from North American and South America playing. But still teams from both sides of the equator deserve a chance, especially given the fact that Uruguay beat both the USA and Canada in the 2019 Americas Rugby Championship.
USA vs Canada RWC Qualifier Set for Glendale. Tickets on Sale
So Here's How it Works
USA plays Canada twice, September 4 in St. John's, Nfld. and September 11 in Glendale, Colo. The winner of that series (on aggregate points) gets the chance to play the top team from South America. That team we already know, as Uruguay beat Chile 15-10 and Brazil 36-13 to advance.
So USA or Canada plays a two-game series with Uruguay to decide who is Americas 1. The loser of the USA v Canada series will play Chile, who beat Brazil 23-13 (in a bit of a shocker, actually) to become South America 2. Whoever wins that series then plays the loser of the Americas 1 series (Uruguay vs winner of USA v Canada) to decide Americas 2. 
And the team that loses that last series gets one more shot, going to the Final Qualification Tournament to get the last spot.
(Note that Argentina already secured a RWC spot by finishing in the top three in the RWC 2019 pool.)
Got it? So the USA (to be Eagle-centric) has at least four, and as many as nine games to play their way into the 2023 Rugby World Cup.
Column: Were the England and Ireland Games Worth It?
Note: After this USA-v-Canada series the USA will play either Uruguay or Chile in a two-game series in October. The date for the US home game is October 2, in Glendale.
Fun Fact
The Americas team is often right in the middle of the the Final Qualification Tournament (previously dubbed the Repechage), which is a meeting of the almost-qualified teams. Canada qualified that way for 2019 and Uruguay qualified through the repechage for RWC 2015. Uruguay lost the final series to Romania in 2011, and were eliminated by Portugal in the final of one of two repechage playoffs in 2007. The USA qualified for RWC 2003 by beating Spain in a two-game series in the Repechage.
A Done Deal?
It's not a done deal, for sure. While the only real-game evidence we have is from two-and-a-half years ago, it's worth pointing out that the USA lost to Uruguay, at home, and only beat Canada a week later thanks to a last-second try. The Eagles beat Canada again a few months later 47-19, but then played once more and it was only 20-15. On paper, at the moment, Canada, USA, and Uruguay all look pretty close.
Every year we need the USA 15s teams, men and women, to play those challenging matches, and to lose, in order to ingrain within the very bones of the players and coaches what it takes to beat such an opponent. 
---
Support GRR. Help us cover production costs by becoming a Patron. Go here to find out more>>
---
History is, Umm ... Complicated
The last time the USA played Canada in a World Cup Qualifier in St. John's the Canadians won 56-7. Ouch. Still the Eagles have performed relatively well of late on Canadian soil, even in the Maritimes, beating Canada 42-17 in Halifax, Nova Scotia in 2018 (player of the game AJ MacGinty, notably).  Overall, the USA lost their first ten test matches in the Great White North, then went 4-12 from from 1995-2013. In the last six visits, the Eagles are 5-0-1 north of the border.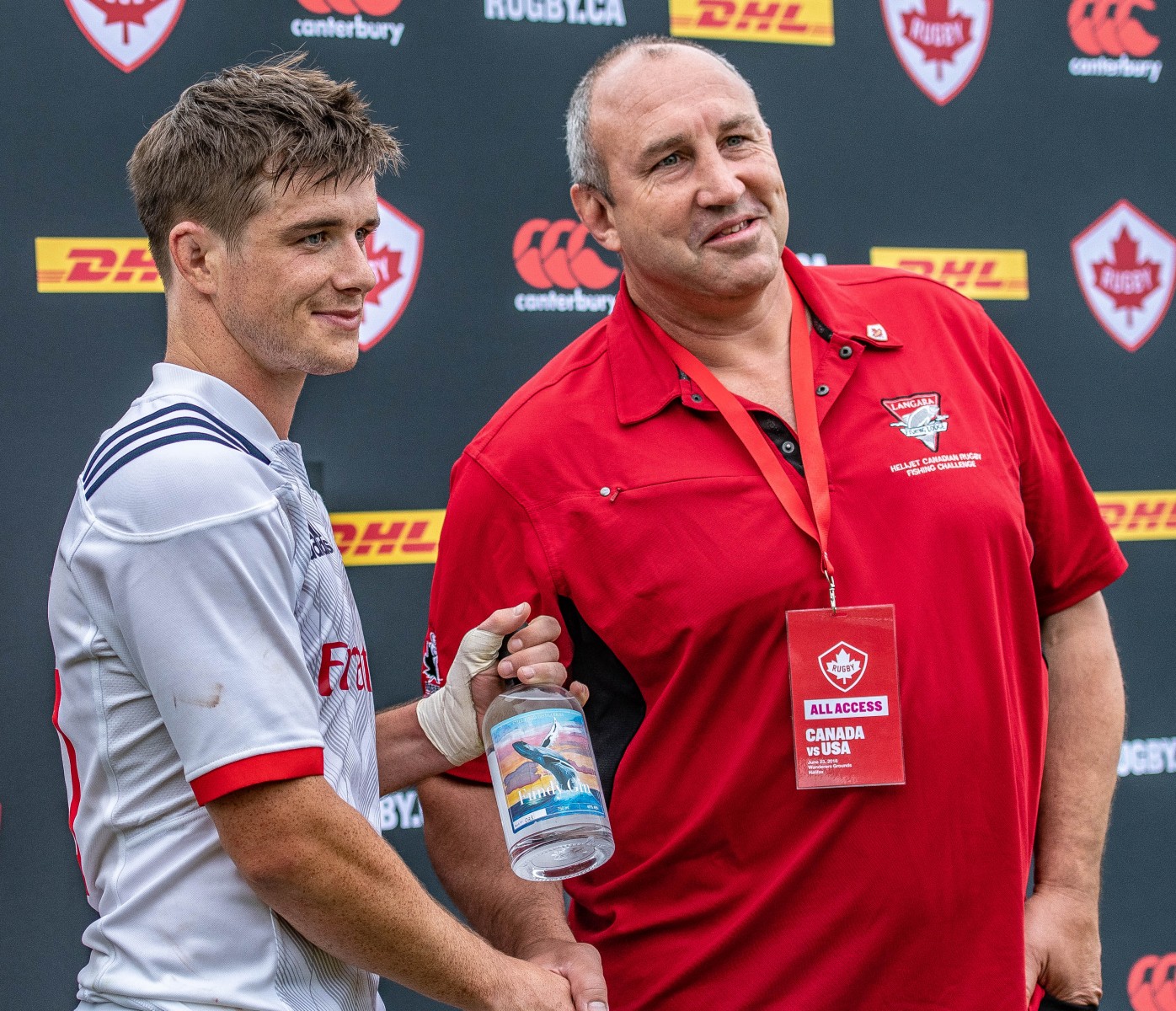 You know when you're Canada's greatest all-time player and you have to give the USA's AJ MacGinty a bottle of local gin because he's player of the game in a match where the Eagles scored 40 on you home team? You get to force the smile Al Charon is forcing right now. Photo Colleen McCloskey.
We Mentioned Him Already
AJ MacGinty's performances for the USA against Canada are hugely important, and his health (he's in the squad for September) could be crucial. MacGinty kicked four penalty goals and the last-second, game-winning drop goal in Burnaby, BC in 2017. He was, as we mentioned, the Man of the Match in the win in 2018, and orchestrated an impressive display July 27 in Glendale (47-19). In his six games against Canada, the Sale Sharks flyhalf is 5-0-1, has scored exactly 13 points per game, and has helped his team score about 34 points per game. 
Tellingly, in 2019 when the USA edged Canada 30-25 and 20-15, MacGinty was not in the lineup.
Can the Eagles Put This to Bed?
What Head Coach Gary Gold wants is what the USA was able to secure the last two World Cup cycles, and that is early qualification. To do that the USA needs to win this coming series against Canada, and then win a series against Uruguay. They are quite capable of this, but need to take care of somethings, such as:
Avoid stupid penalties
Not get caught up in "oh we're losing" when you have 160 minutes of rugby to play
Unleash a somewhat more exciting and unpredictable offense
Execute on attacking lineouts and scrums
Fall out of love with the box kick
Get quicker, dynamic ball out of the breakdown
Take care of some of that, Uruguay and Canada can't hang with the USA. Slow the game down and give them penalty chance (or kill your own chances with penalties) and you're in for a battle.
Of course, with Canada, you're always in for a battle.