ECRC Clincher Ends in Tie, AIC Wins Conf.
ECRC Clincher Ends in Tie, AIC Wins Conf.
In the clash of the weekend to decide the ECRC, Boston College and American International College ended tied, 29-29, to leave both teams unbeaten in the conference.
In the end, AIC won the conference due to more bonus points over the course of the season, finishing 6-0-1, with 32 standings points, while BC was 6-0-1, with 31.
BC Head Coach said he was very disappointed in part because his Eagles squad ended the season with more points scored, and fewer points allowed, than AIC. 
"My assistant coach, Kareem Afifi, and I are obviously heartbroken about the outcome of our league," said Conway. "I really want it to be noted that I am extremely proud of my team's camaraderie and effort that they've shown all season long. Especially today … they fought back from 21 points down to tie the game 29-all. In my eyes we were the real victors today."
And indeed BC did fight back from a 29-8 deficit to tie the game. 
That's the season for BC.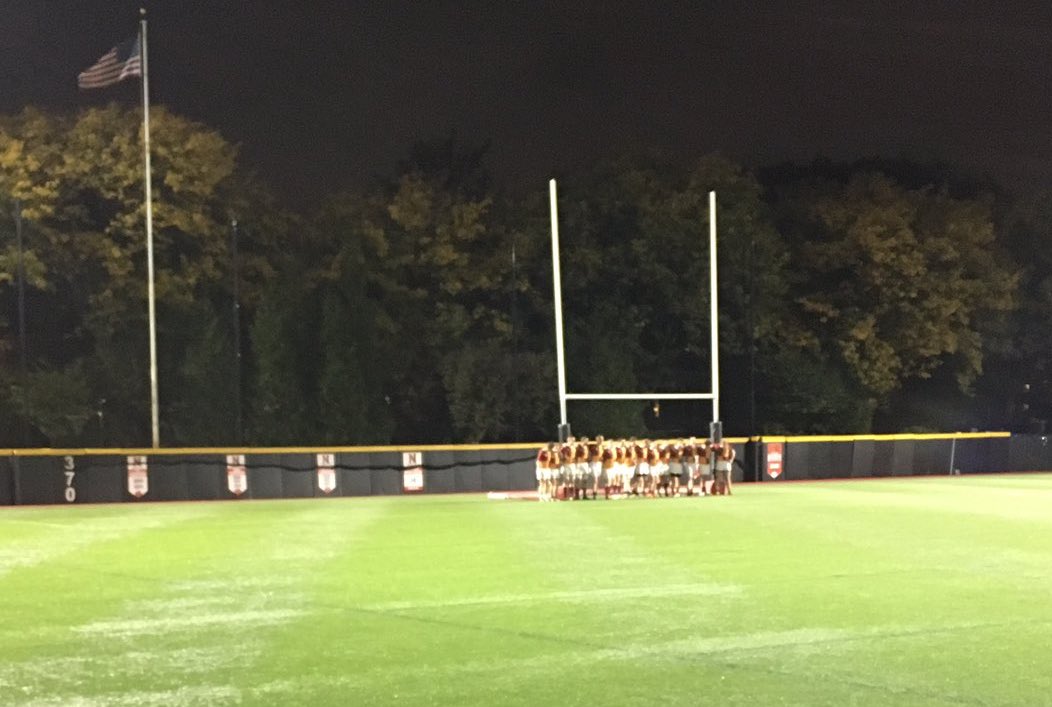 "We felt like the game was going in the right direction but we conceded a penalty nearly every two minutes in the second half, leading to a severe lack of possession," said AIC Head Coach Rob Guiry. The penalties weren't all the same type. "Offsides, high tackles, hands in, it wasn't one thing that brought us down, but more a mindset. We played with a lot of heart and desire, but not often with our heads."
Guiry said the final penalty count was 26-7 in BC's favor. 
AIC fullback Michele Magistrali opened the scoring with an early penalty goal. But BC fullback Duncan Wood replied with a try and a 5-3 BC lead. But AIC responded quickly. No. 8 Matty Jones went over, and while Wood slotted a penalty to make it 10-8, after that the Yellow Jackets had the run of the scoring. Royaal Jones raced over, and then the other wing, Christian Adams, did the same. Magistrali converted the second try and AIC led 22-8 at the break.
In the second half, AIC  expended their lead when Marquis Williams scored. Magistrali converted to make it 29-8. 
But BC responded in the latter stages of the game. With AIC's Jones in the sin bin, BC backs captain Danny Schatzman went over and then No. 8 Nick Savage scored, as well. The teams battled through the last 20 minutes with AIC holding on to a 29-22 lead. But as time wound down, wing Frank Ruzicka was set free and he raced in for the try. Wood slotted the difficult conversion to ensure the tie.
"All credit to Boston College for firing out and playing hard," said Guiry. "It was very clear they were hungry."
Schatzman said the game was meaningful in part because many seniors, who had joined the BC rugby team back when Conway first started coaching, were playing their final home 15s game.
"We were down 21 points and we looked at each other and said, this is our last game on this field - we're not going to go out like this," said Schatzman. "We cleaned it up, starting winning the rucks, and were able to come back. AIC is a great team. We have a lot of respect for them. But we didn't want to lose."
The game was played in front of a huge crowd at BC, and was the culmination of a big step forward by the program, which lost by 43 to AIC a year ago. Lock Tim Burke epitomized the team's effort, stealing key lineout ball and playing with aggression and heart.
In the end, the difference for the season was that BC was held to only three tries against UMass. Had they scored a fourth try in that game, they would be conference champs. Instead, AIC retains the conference title.
AIC 29
Tries: M. Jones, R. Jones, Adams, Williams
Convs: Magistrali 3
Pens: Magistrali 
Boston College 29
Tries: Wood, Schatzman, Savage, Ruzicka
Convs: Wood 3
Pens: Wood