East Rises as Kentucky, Tennessee win in SCRC
East Rises as Kentucky, Tennessee win in SCRC
Kentucky won the battle with Alabama. Photo by Dave and Cassie Redden.
Tennessee and Kentucky won two important crossover games in the SCRC, as the East Division Vols and Wildcats defeated West Division rivals Florida and Alabama.
Those losses were the first of the conference season for the Gators and Tide rugby teams. Kentucky put in some outstanding defensive pressure on a very good Alabama team.
Tennessee on the charge against Florida. Ann Leatherwood photo.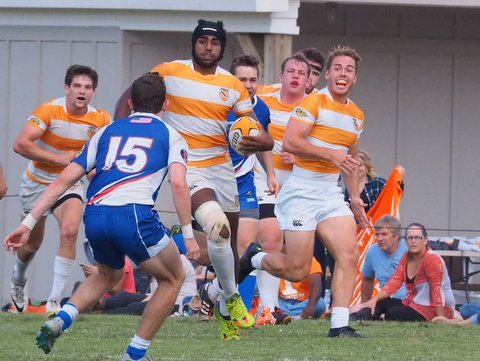 Center CJ Leadingham scored 16 of his team's points while on D the Wildcats never really let Alabama get any momentum.
Meanwhile, Tennessee put in one of their strongest performances of the fall. 
"We had moments where we lost our energy, but it's Florida so we were up for the game," said Tennessee Coach Marty Bradley. "I am happy with how the boys players and for the most part we did what we wanted to do. The guys are very focused on winning the Southeastern Conference."
Captain and lock Jack Donlon was outstanding on the day, scored a try and was active in all aspects. His second row mate, Kerry Roberts, scored Tennessee's first try and the team's last. 
"This was a good day for us," added Bradley. "[Florida Coach] Ken Simmons is someone I've known for a long time - he played at Tennessee - and this was Parents Weekend so we had a big crowd and it was good to show what we can do."
So with that, Tennessee moves to 2-0, as does Kentucky. South Carolina's game with Vanderbilt was canceled, so the Gamecocks remain 2-0. Florida and Alabama drop to 2-1.
Latest standings.
| | | | | | | | |
| --- | --- | --- | --- | --- | --- | --- | --- |
| SCRC East | W | L | T | Pf | Pa | Pd | Pts |
| Tennessee | 2 | 0 | 0 | 126 | 17 | 109 | 8 |
| South Carolina | 2 | 0 | 0 | 104 | 15 | 89 | 8 |
| Kentucky | 2 | 0 | 0 | 62 | 12 | 50 | 8 |
| Georgia | 1 | 2 | 0 | 38 | 80 | -42 | 4 |
| Vanderbilt | 0 | 3 | 0 | 9 | 191 | -182 | 0 |
|   |   |   |   |   |   |   |   |
| SCRC West | W | L | T | Pf | Pa | Pd | Pts |
| Alabama | 2 | 1 | 0 | 146 | 21 | 125 | 8 |
| Florida | 2 | 1 | 0 | 109 | 89 | 20 | 8 |
| Ole Miss | 0 | 1 | 0 | 17 | 60 | -43 | 0 |
| Auburn | 0 | 1 | 0 | 0 | 48 | -48 | 0 |
| Mississippi State | 0 | 2 | 0 | 28 | 106 | -78 | 0 |