Eagle Notes - Why They Won, Why it Was Close
Eagle Notes - Why They Won, Why it Was Close
Blaine Scully is pretty happy with that try. Bryce Campbell and JP Eloff come to celebrate. Colleen McCloskey photo.
It of course wasn't pretty, but rarely is a game against Uruguay pretty.
But the USA came out with a win against Los Teros, and remember, they did it with a starting flyhalf who had never been capped, and a total of six players getting their first Eagle experience. The total caps for the starting 15 was 180, which is not a lot at all, and when you consider that Todd Clever and Blaine Scully had 102 of them, it showed how inexperienced they were. Even accounting for the international 7s games Zach test and Nate Augspurger have played, it was a very, very green team.
Photos Colleen McCloskey.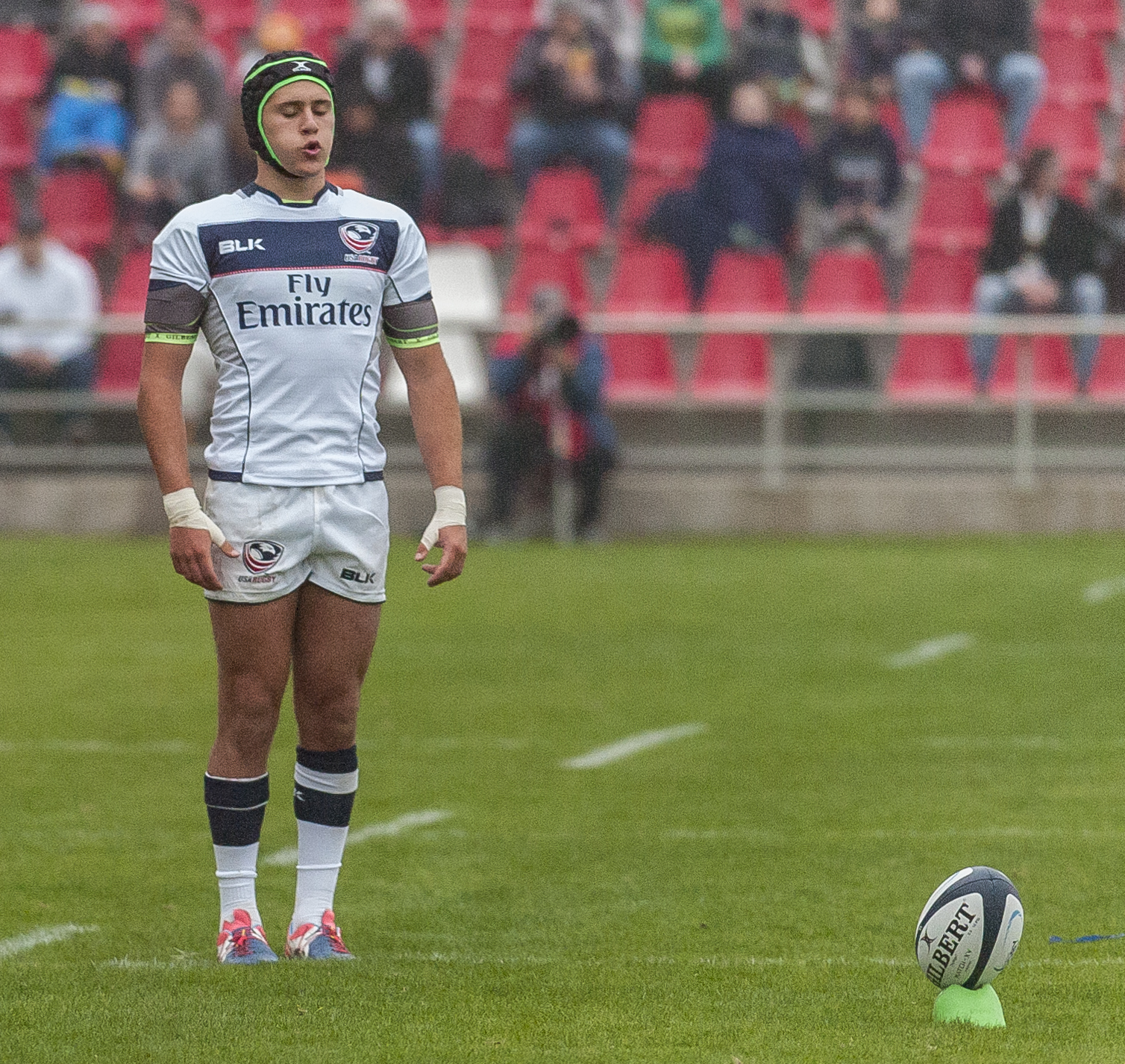 All cool ... Cima contemplates the image of his kick going over the bar.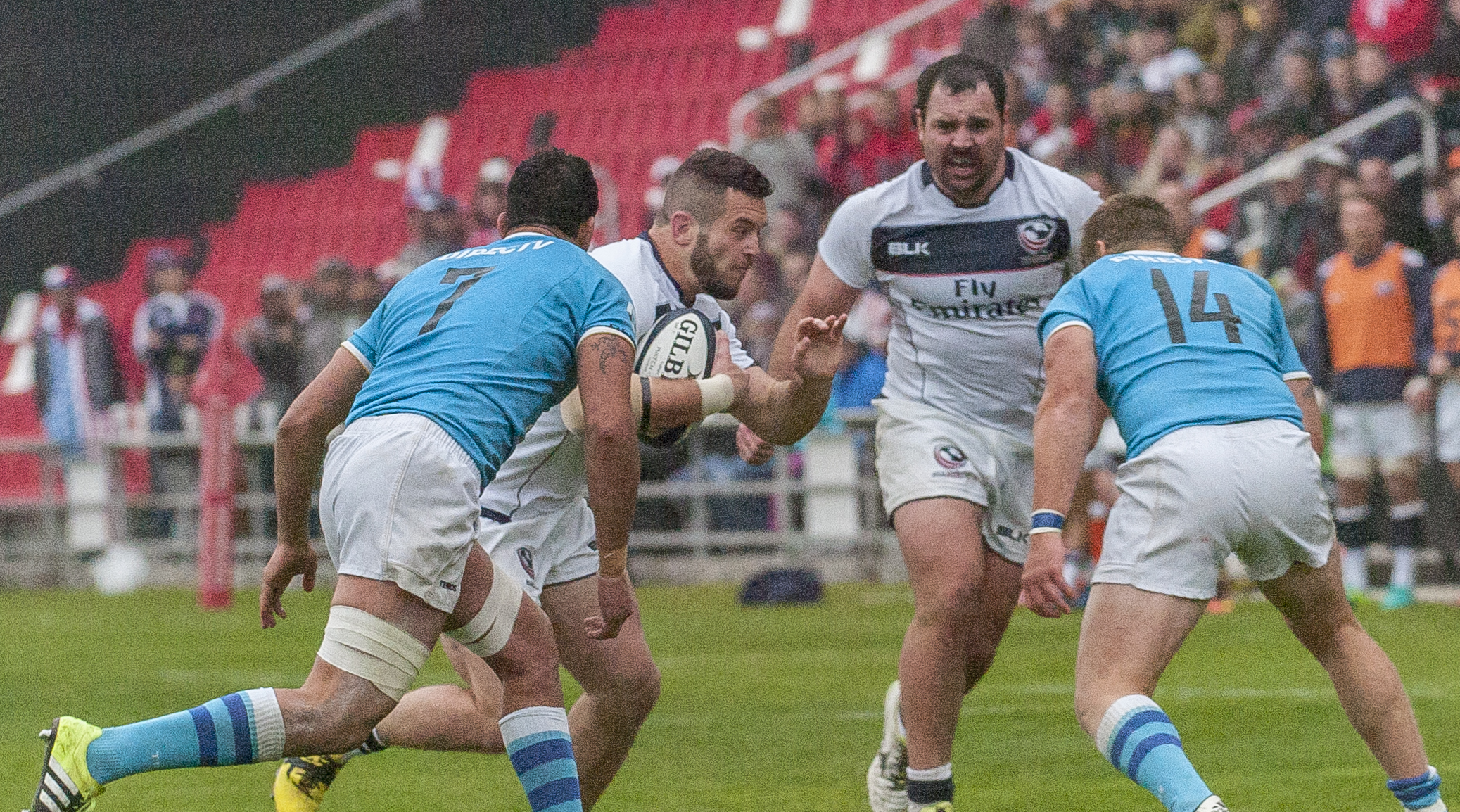 New cap Peter Malcolm with the ball and relative veteran Chris Baumann there to help.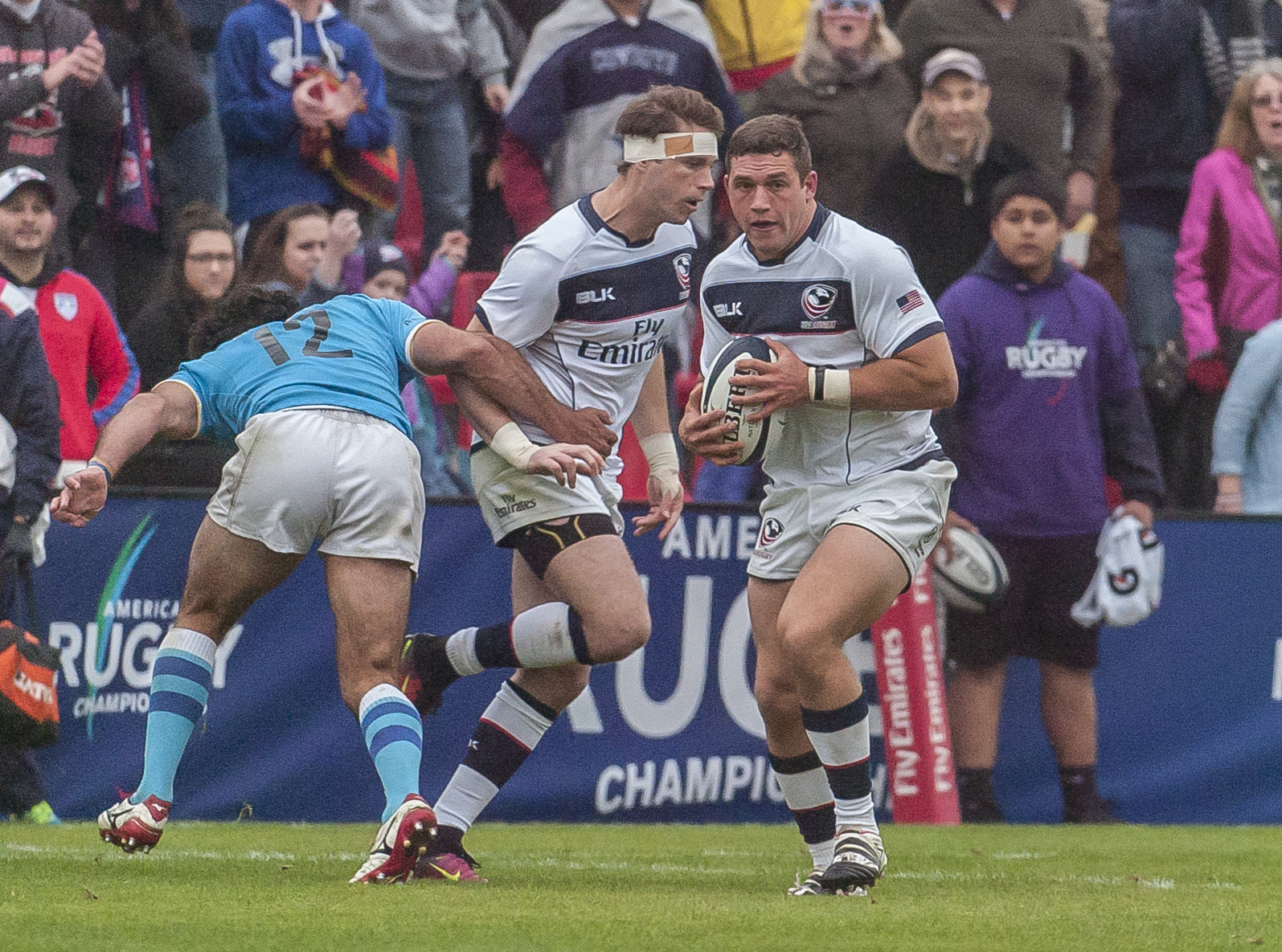 Bryce Campbell scored a try and looked like he'd been there forever.  
So, why did they win? Well, John Mitchell and his coaches paid attention.
They knew that getting caught in some coffin corner scrum battle was going to kill them. So the players did what I suggested they should do and made sure they caught the ball first, playing a slightly lower-risk game in order to avoid the scrums.
Mitchell selected for the scrum, and Chris Baumann and Tony Purpura did a really, really nice job of staying out of penalty trouble and giving the scrum some stability. The result was that with Purpura's strength not wilting, Uruguay's props ended up angling in too far, and they got penalized for boring in. They also got penalized for foot-up by the hooker (the hooker is not supposed to lift his foot before the ball is put in), which is usually an indication that the hooker is either uncomfortable, or he is not confident his pack can shove over the ball tow in the scrum.
It was an inspired bit of selection to bring Purpura back after seven years. He could hardly have played better. And the second row helped a little, too. Nate Brakeley is a powerful pusher, and Nick Civetta has changed over the years from a thin lineout guy to an all-around monster. Just keep those tackles low Nick!
In the backline, there were few really true attacking opportunities, especially early on, but that's to be expected. What they did, however, was make their chances work. They scored three tries (one was called back for a penalty, but it wasn't the backs' fault … I am counting it when judging their performance). They seemed to work together, and even handled Zack Test's unfortunate injury. 
But the smartest move of all was against in selections, and it was twofold. First off, AJ MacGinty was available for only one game. Putting him in at flyhalf was not advisable given that you'd just be shifting things around again. That was the Eagles' problem in the ARC last year. But at the same time, what do you do? Put MacGinty at scrumhalf or fullback? Sure, that's fine ... but ...
Meanwhile, Mitchell, who has a history of selecting young players and asking them to front up, was ready to make a big move with Ben Cima at flyhalf. 
That move made sense because Cima, while not playing professionally and only just out of the U20 program, has shown time and again that he knows what he's doing. Cima won a HS national championship on a touchline conversion at the end of the game. He won a USA v Canada U20 game with a penalty goal from 50 meters. He repeatedly showed he can handle life with the big boys - just look at this performance against Canada A.
So the first question was answered with the second issue - start Cima at flyhalf, and put MacGinty in at #12. Your inside center doesn't have to be a battering ram. He can be a secondary flyhalf (this is what inside centers were for decades, and why old-school New Zealanders call the positions 1st five-eighth and 2nd five-eighth). MacGinty, as an elusive runner who sees the field nicely and isn't exactly scrawny, would be the emotional safety net, another guy who can kick, and a calming voice in Cima's ear.  And then you could see Cima take care of businesses.
It worked. It worked brilliantly. Cima made a few mistakes (a kick out on the full when the ball had been tapped back into the 22 was the biggest). He kept the USA in the game when they weren't coming close to scoring tries, and then MacGinty created the opening try that put the USA ahead.
Also in the backs, Blaine Scully had about as good a game as he's had, serving as captain, making some big players, and basically telling Uruguay that they wouldn't be scoring any tries out wide on the day.
And one more note on the backs. Will Magie, the former USA U20 captain - he captained the 2012 tam that won the World Rugby Trophy, a program that included Madison Hughes, Mike Te'o, Nick Boyer, Tom Bliss, Henry Hall, Angus MacLellan, Aladdin Schirmer, and Cameron Falcon. Magie was, like Nick Civetta at lock, patient and bided his time, got stronger and more mature, and looked every bit the part on Saturday. His kick to the corner for Scully's try was a thing of perfection.
So, with all that positivity, why did they almost lose? Well, part of it was that referee Chris Assmus doesn't pay attention to everything. He did a good job in many areas, but decided that Uruguayans flopping on their stomach over the ball in the ruck was something he could live with. This has been going on for years, so why are we surprised? The Eagle forwards worked pretty hard to loosen that ball, but the open play they needed to break the game open didn't happen because of how Assmus called the rucks.
And then there were the other penalties - the penalties in the ruck for changing binding (basically, once you're locked in as a maul defender, you can't let go and swim through the mail to grab the ball). Assmus was a bit pedantic in his calling of this because if the ball is right there, you should be allowed to grab for it - that was the USA forwards' argument.
(By the way, Bryce Campbell's second try, called back for in from the side, was the right call. USA players were offside in a couple of areas.)
And finally, there were the high tackles. Twice unintentional but avoidable high tackles put the Eagles in trouble right at the end of the game. Had they lost, it would have been because of those.
The new laws basically say "target the head or neck, or act so recklessly you are going to hurt someone, and it's a red card; be kind of reckless or kind of dangerous and it's a yellow, and if you slip up to the neck by accident, it's still a penalty."
Referees have been told to be strict on this, and they've been consistent. I like it, but it's tough for players who have been taught for years that the odd around around the top of the shoulders is OK, but isn't anymore. The Eagles just have to watch this.
Next up for the USA is Brazil at Dell Diamond in Austin, Texas on Saturday. Brazil upset the USA last year because the Eagles did not heed the warnings that the scrum, lack of fitness, and penalties out of frustration will sink them. Brazil is getting better, for sure, and bat Chile in Sao Paulo this past weekend 17-3. They defend really well, and they can kick points, for sure. The Eagles can do this, too, and at home they should win. Just don't forget all those lessons.