Eagle Men Consistent, But Need Separation
Eagle Men Consistent, But Need Separation
Kevon Williams with his game face on. Mike Lee KLC Fotos for World Rugby.
Despite being one of the most consistently good team in the World Series, and now 2nd in the standings, the USA Men's 7s team is by no means in a secure position.
This is because, as we've said a few times before, the top nine teams are all within shouting distance of each other. Think on the idea that if New Zealand slips and loses in the quarterfinals and then in the Plate semis (it could happen), and Australia wins in Sydney, the Wallabies would jump from 7th to 1st. If the Eagles repeat their worst finish of the season, 6th, in Sydney, they might only slip one or two places, but fully five teams could be within a point of them in the standings.
It's a bit wild.
A graph showing how drastically some teams' performances have been in the World Series and how the USA's performances (red line) have been quite consistent.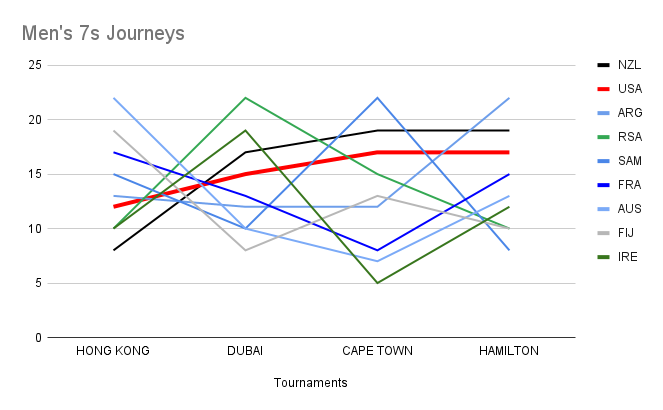 So has being #2 in the World Series resulted in an easy pool? Well, not really. Spain is tenacious. Ireland is stronger now than they were in Cape Town. Samoa has won a tournament. There are no easy outs here and the USA team has to keep their consistency.
How do they do that? Being together on defense but also being ferocious. Being quick and smart of the ball—Stephen Tomasin, Aaron Cummings, and Joe Schroeder are all good there. They need to continue to improve on their restarts. And they can keep using their wealth of pace and power with David Still, Malachi Esdale, Perry Baker, Kevon Williams, and Ben Broselle. 
All games are on Peacock:
USA vs Spain 10:44PM ET Thursday (tonight)
USA vs Samoa 5:22PM ET Friday
USA vs Ireland 11:05PM ET Friday
USA roster for Sydney: 1. Aaron Cummings; 2. Ben Broselle; 3. David Still; 4. Maceo Brown; 5. Joe Schroeder; 6. Kevon Williams (C); 7. Naima Fuala'au; 8. Malacchi Esdale; 9. Stephen Tomasin; 10. Faitala Talapusi; 11. Perry Baker; 14. Marcus Tupuola; 15. Gavan D'Amore; 16. Adam Channel