Dodson Headlines Post-Draft College Signings In MLR
Dodson Headlines Post-Draft College Signings In MLR
Dodson was a big presence for Grand Canyon. J. Dalton Photography.
The period right after the Major League Rugby draft has not been a mad dash to sign undrafted players, but there have been a few key moves.
Teams didn't rush too quickly to nab collegiate undrafted free agents for a number of reasons: they had relatively settled rosters anyway; with the Colorado Raptors leaving MLR, there were some players available from that team; financial commitments during the COVID-19 shutdown that all sports teams have to be careful making commitments that are difficult to live up to.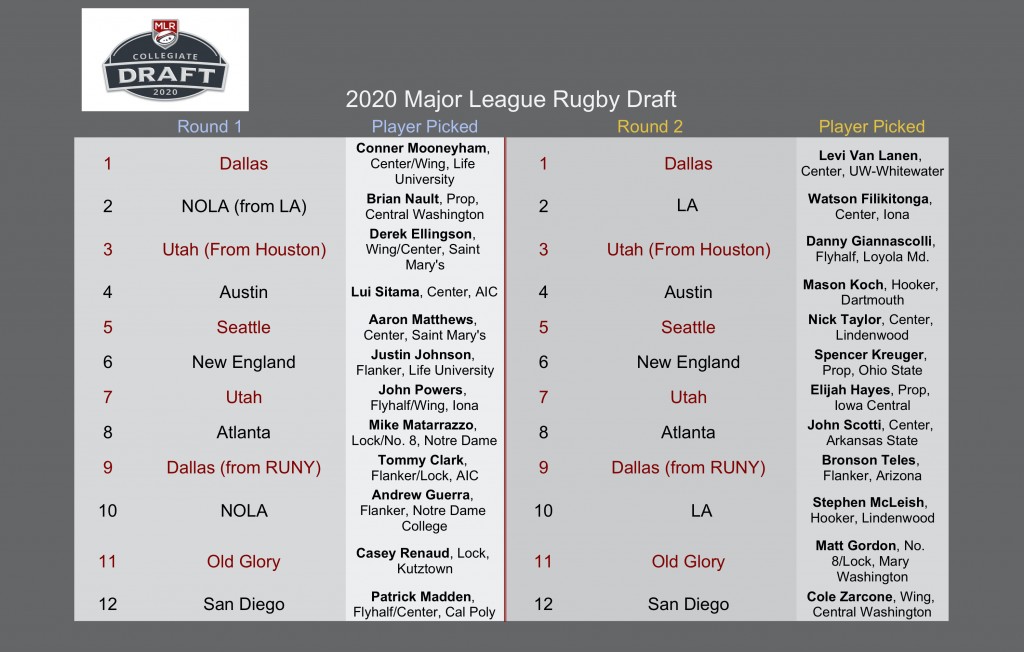 Nevertheless, we did see RUNY sign Iona star Connor Buckley right after the draft was over.
Now The Post-Draft Rush Starts
And right after than, the New England Free Jacks nabbed Saint Mary's back Tom Brusati.
Free Jacks sign Tom Brusati as a free agent for the 2021 season

Tom graduates from @smcgaels with a degree in Business Administration and honed his skills as a scrum half.

Read more about Tom's journey at https://t.co/nKkIAk9oKc #LetsRide #togetherweride pic.twitter.com/HHHHenH6HU

— New England Free Jacks (@NEFreeJacks) June 18, 2020
The Free Jacks then augmented their draft with the signing of University of Colorado openside Jack Miller. A Boston local—he went to Brookline High School—Miller was CU's best player and a high work-rate ball hawk in the #7 jersey.
Welcome Home Jack

Jack joins the Free Jacks as a free agent for the 2021 season. @CURugby graduate, @USARugby U-19, U20, @ECYRFC & @brooklinehigh alum, we are excited to see Jack back in Boston.

Read more about Jacks journey at https://t.co/nKkIAk9oKc#TogetherWeRide pic.twitter.com/rEbHS8XUY1

— New England Free Jacks (@NEFreeJacks) June 19, 2020
The Miller signing highlights an issue with all of these signings—what comes first, the signing, or the move? teams can't expect players to move for the prospect of a part-time salary on a professional rugby team. More likely would be that a player picks his location based on a job offer and perhaps what rugby he can play at the level he wants to play at. Then, if MLR opportunity comes knocking, he can capitalize.
But sometimes it works out. A player can tell a team he's moving to a specific market, and then the signing happens.
Obviously Miller was thinking about returning to the city where he spent his teen years, and the Free Jacks were looking for a young flanker.
But perhaps the biggest news came just before the 4th of July Weekend, when Cam Dodson signed with Austin. Dodson had been pegged as a potential #1 pick, but a rumor (that was incorrect) that he was ineligible for the draft hurt his chances. Also what hurt the Grand Canyon University standout is that he's English, and thus would fill a foreigner roster spot.
The Gilgronis reasoned, however, that a hardworking, intelligent 6-7 lock was worth the foreigner spot.  
Austin family, please welcome Cam Dodson! 6'7" 245lbs lock out of @gcurugby.

Coach Harris says, "He's a specimen, a very exciting prospect."

>> https://t.co/BQE7hmMhtH pic.twitter.com/MLhzydKaSB

— Austin Gilgronis (@Gilgronis) July 2, 2020
They were right. He is worth it.