DIA Quarterfinals Latest
St. Mary's v SDSU. Michael Geib photo.
We're down to four in the DIA playoffs as Saint Mary's, BYU, Arizona, and Life all won.
Of those four games, Life v Lindenwood was easily the closest, although Indiana put up a a fight against BYU.
Top photo by Michael Geib, the bottom three by David Barpal. All photos Saint Mary's v San Diego State.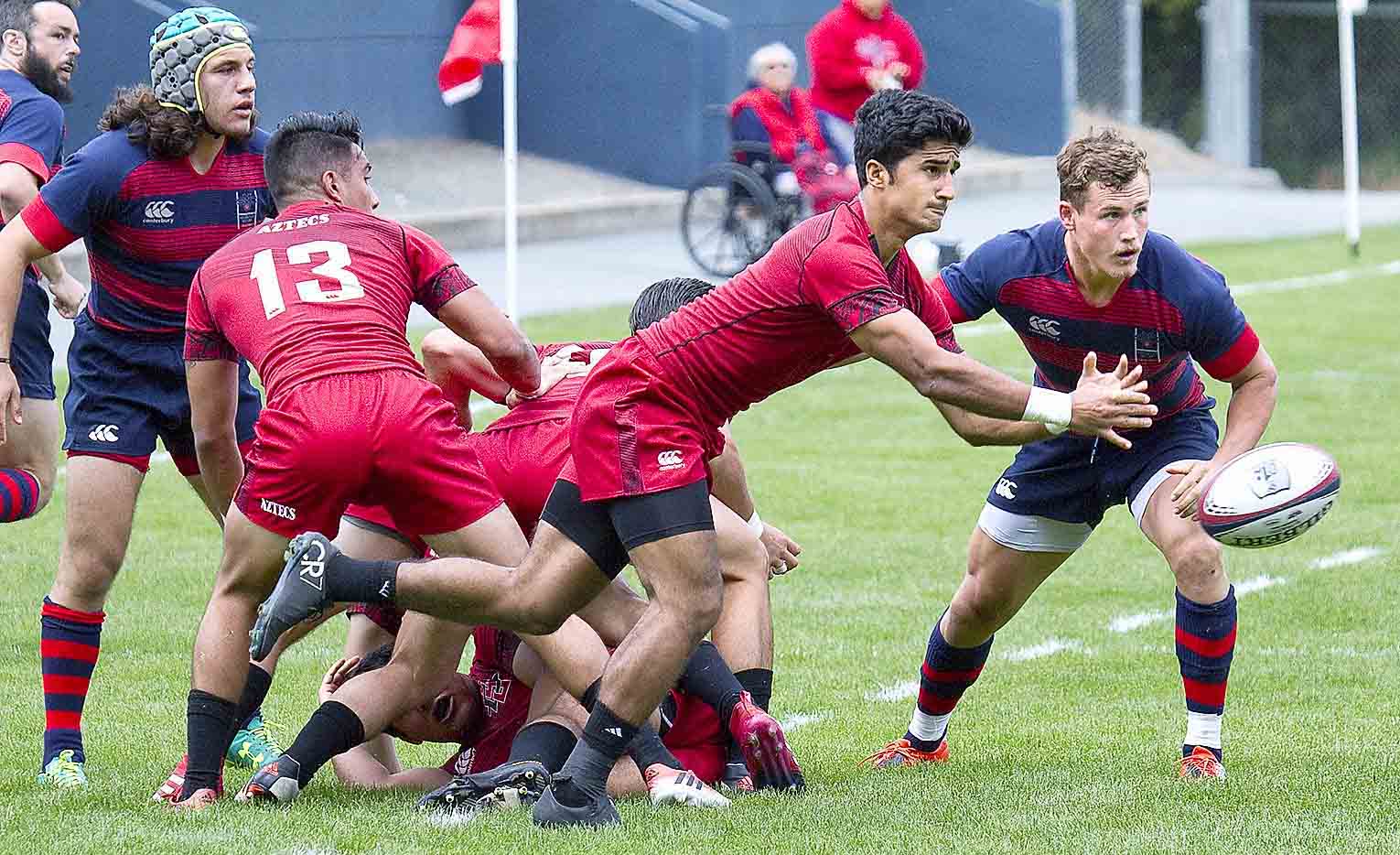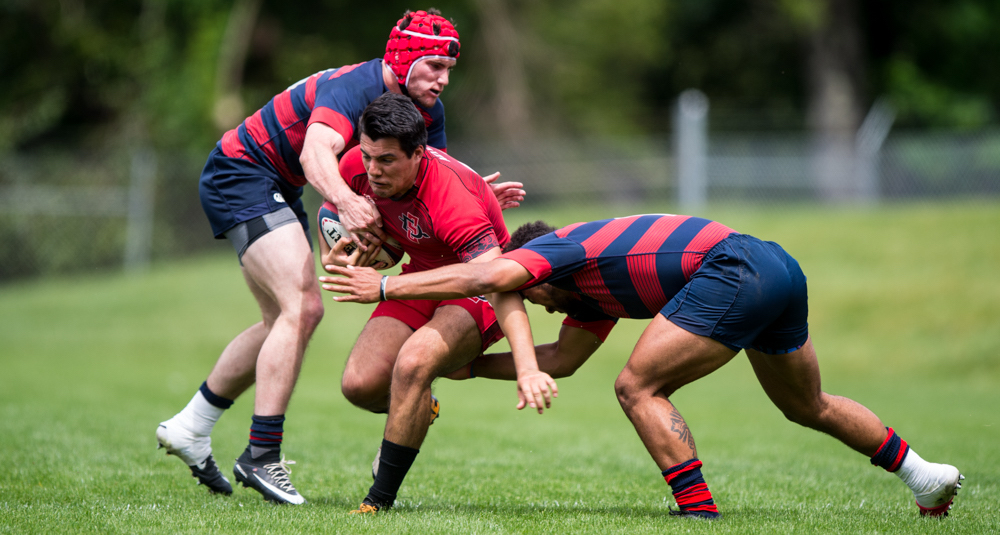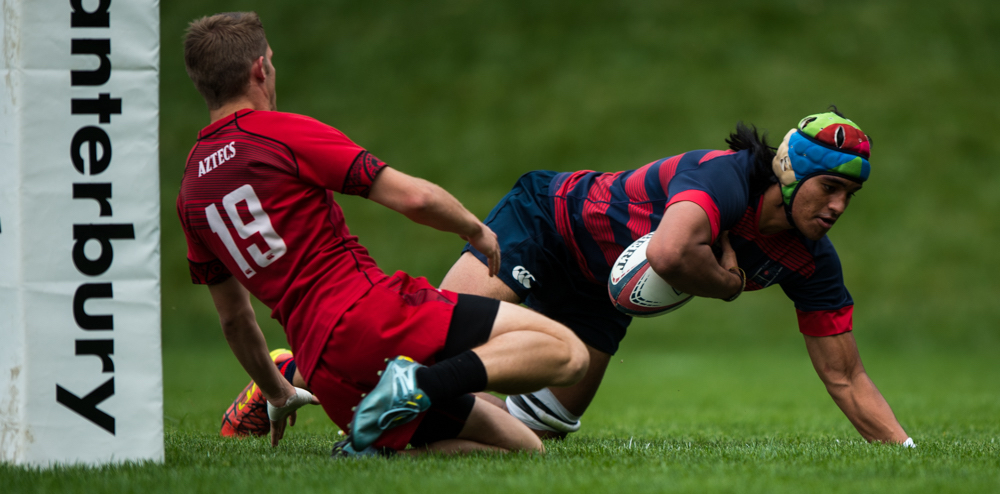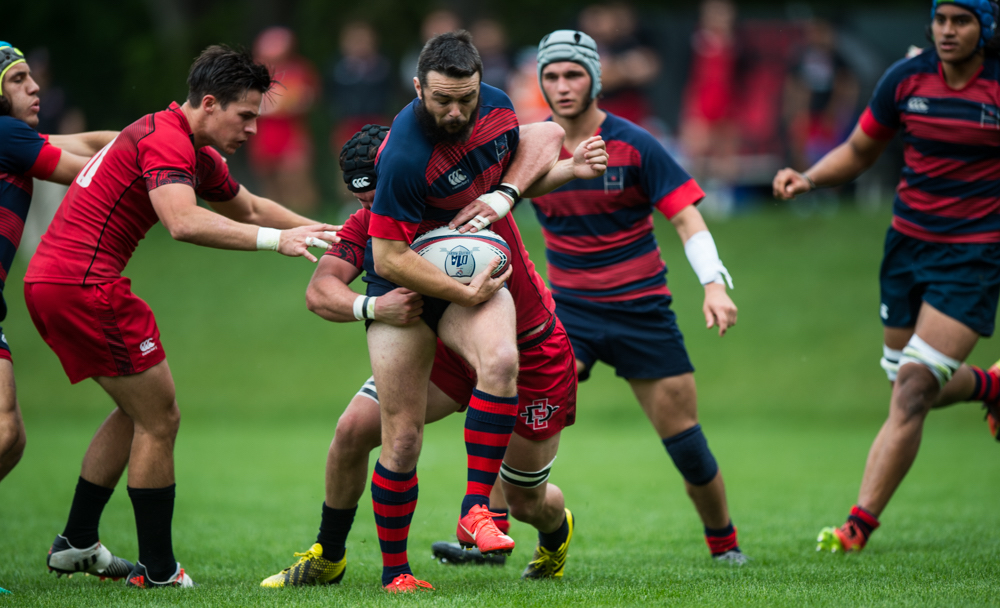 Saint Mary's slammed San Diego State 72-5. Early tries from Holden Yungert, Mike Wallace, Vili Helu, and Aaron Matthews staked Saint Mary's to a 26-0 lead. And it only grew from there. The Saint Mary's ability to execute under pressure, and put opposing defenses under pressure, saw them pound the scoreboard.
The Gaels move the ball quickly, and that's based in their ability to win ball cleanly and quickly from the rucks. 
Henry Hall and Helu capped off the first-half scoring, with the almost automatic Dylan Audsley converting four to make it 38-0.
Little changed in the second half. Yungert started the Gaels off, and after an Audsley penalty, Ethan Waller, Helu (for his third), and Tommy Wallace all touched down. SD State managed a try during that period, but Ronan Murphy finished it off for the Gaels. Audsley converted three of those tries for 17 points on his own, and a 72-5 win for Saint Mary's.
The Gaels will host Arizona, which put Baylor to the sword 48-5. The Wildcats were moving early and showed once again their more clinical play following that league loss to Utah. 
"We didn't play well," said Baylor Head Coach Mason Hering. "But hat's off to them, they were the better team."
Arizona Head Coach Sean Duffy said he thought his team was imprecise in the first half and missed some chances, but their defense was what made it 22-0 at the break. Kyle Rogers was excellent and scored two while setting up some more. Prop Steven Branham emerged as a major factor, scored a try, and was a force in loose play. Locks Sean Coleman and Bronson Teles worked well together to make things happen.
"We still need to improve in some areas, but we're headed in the right direction," said Duffy.
BYU ran out to a 24-0 lead against Indiana, and while IU rebounded to put in two in the middle period of the game, the Cougars eventually controlled things 46-17.
It was a tough result for the Big Ten champs Indiana, but considering BYU beat Colorado State by 90 and Central Washington 55-12, it was a competitive scoreline. BYU was just too balanced.
And in Georgia, Life University overcame a shaky second half during which Lindenwood put a scare into them to win 37-20. 
Tries from wing Harley Wheeler and hooker Brian Muntanga staked Life to a 12-0 lead early. A long-range penalty goal from Lindenwood flyhalf Nick Feakes put the Lions on the scoreboard. But a yellow card to Lindenwood flanker Brandon Chalker hurt them, as Life got a try from Cody Melphy to make it 19-3. Feakes replied with a penalty goal, but lock Alexander MacDonald's try just before the stroke of halftime put Life in control … at least it seemed that way.
Life scored through flanker Jamie Berrisford just on the other side of halftime for a 31-6 lead, but Lindenwood fixed their lineouts and started to force Life into penalties. Hooker Jeremy Leber picked up from close in, and Feakes capped off a break from Mickey Bateman and Lindenwood was within two tries at 34-20. But Melphy finished it off with a penalty goal.
"I am proud of how we played in the second half," said Lindenwood Head Coach Josh Macy. "Had we been able to do that all game, we likely could have gotten a better result. When we are back at this next year, our likelihood of success will grow with our ability to execute early and often."
So in the semis, Saint Mary's will host Arizona, and Life will host BYU. The winners will face off May 6 in the final.