Dark Horses Loom in Men's CRC
Dark Horses Loom in Men's CRC
Air Force last competed in 7s in Las Vegas February 2019. David Barpal photo.
The Men's CRC 7s tournament has to have Lindenwood and Life as their favorites.
Both of these programs have performed very well on the national stage in 7s; Life was runner-up in the old CRC three times and the USA Rugby 7s championships once. They also won USA Rugby's 7s championship in 2011.
Lindenwood won USA Rugby's tournament four times and the CRC twice. So, yes, you could say they are favored. After that, Army and Davenport have byes in the first round and would have to be considered the next level of favored teams.
To play the maymadness7s.com bracket challenge click here
So who could sneak in and cause these teams problems? Here are a few teams to things about.
Western Michigan
WMU finished 2nd in the DIAA 7s championships in 2019 and they are an athletic, physical team that recorded some good results in 15s in an abbreviated spring season. They can play, and are not nice to play against. Head Coach Mark Allen said he felt the team was fortunate because only two colleges (WMU and Davenport) in Michigan got to play any rugby. His team's three wins, a lot to Bowling Green (with whom they split), and 7s scrimmages against Davenport and Notre Dame College made it so "we were definitely exposed to what we needed to work on."
It's a senior-heavy team, five on the 7s squad, with Joey Backe leading the way as captain and one of their very best players.
Mount St. Mary's
The Mount is a very good 7s program with a history—an NSCRO 7s title and two other top four appearances. Their roster is full of experienced players who started off 2020 strong before the season was cut short. Head Coach Jay Myles has added in a few younger guys who have probably played only minimal rugby for the Mount until now.
Cuyler McCorkindale is a very good player for them.
McKendree
The new varsity program has probably played more 7s than any other team this spring. And they did log a win over Lindenwood (and lost two). Head Coach Joe Lippert has found a way to get his players time, which is what they've needed.
"We've been focused on consistently doing simple things right, and fitness," Lippert told GRR. "I believe our starting lineup and first subs off the bench can compete with anyone. Staying healthy through the tournament and maximizing our recovery will be important. We have speed and want to move the ball into space."
Watch out for Ayemere Oiyemhonlan, a physical prop who has some pace and some good rugby skills. Sam Griffey is versatile and very good on the restarts. Trevor Gillen is an excellent tackler and has good all-around skills. Peyton Siepert is another player who can play almost anywhere and had a very good work rate. Andre Greenup is a wing who is raw but has pace.
It's a good combination, and Lippert has put them in a good place to succeed.
Air Force
Ah yes, Air Force, the team that seems to have so many of the pieces to perform at 7s but lets it slip through their fingers. This team, like many, has not played a lot and in fact they haven't plays 7s against an opponent since Las Vegas in 2020. They have been training, but this weekend is graduation and some younger players have to leave for summer duties. 
The attitude, said Head Coach Denny Merideth, is solid and that can count for a lot. The Air Force players willbe fit and his hard, and that counts for a lot too.
"Our spirit and enthusiasm are exceptional," said Merideth.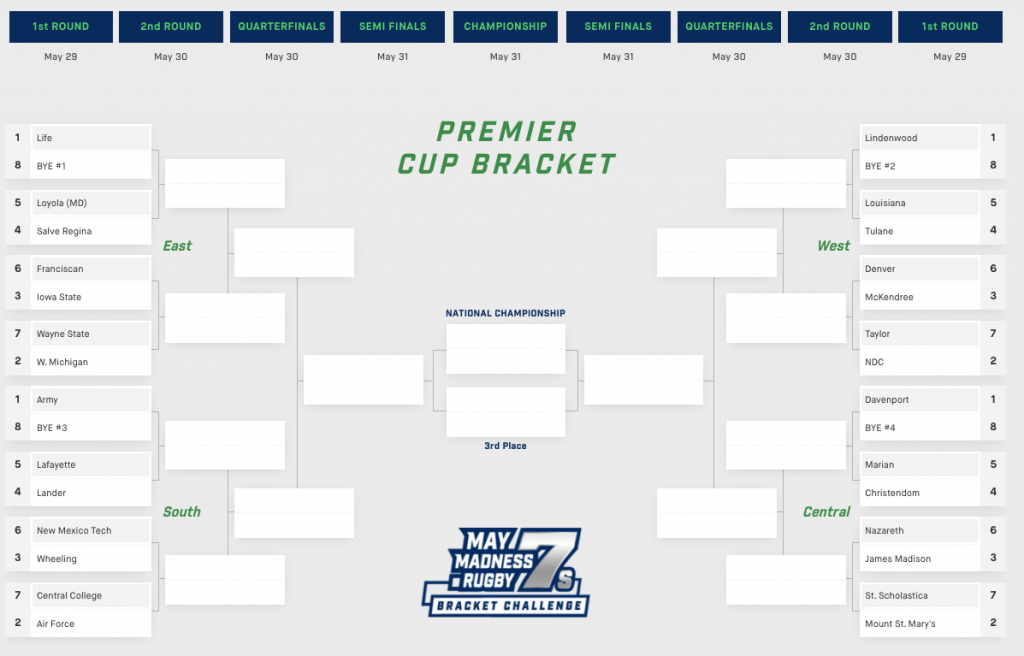 The CRC will be shown live on The Rugby Channel and also on the USA 7s Facebook Page.