Chesapeake Conference Starts Season
Chesapeake Conference Starts Season
JMU v Towson. Colleen McCloskey photo.
The brand-new Chesapeake Rugby Conference opened up for business this weekend with three games.
Mount Saint Mary's, the defending National Small College Rugby Organization champions, started off strong with a 45-24 defeat of Georgetown. Head Coach Jay Myles said the work of his team's forward pack made the difference, and they showed it with two nicely-executed pushover tries. Flyhalf Tyler Myles ran the offense nicely and freshman Brandon Johnson showed well in his debut as MSM scored seven tries.
JMU played well in traffic. Colleen McCloskey photo.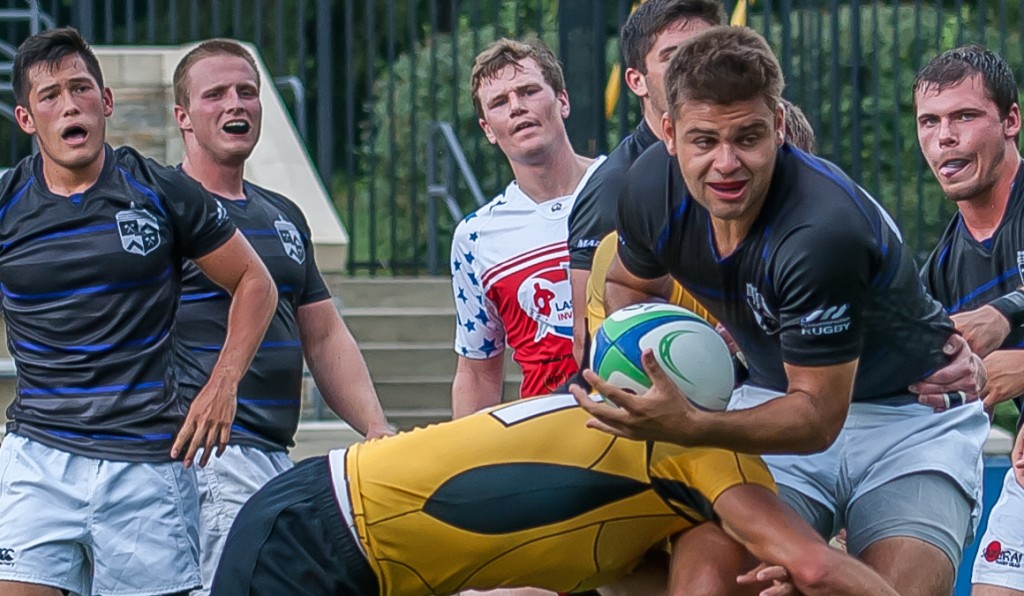 Virginia defeated Salisbury 30-27 in a tight game that was a big one for the former ACRL team, defeating, as they did, a perennial top-four DII team. Salisbury's pack needs some work but they battled to a 27-18 lead with only a few minutes to go, and gave up two tries to lose to the Cavs.
James Madison looked very impressive in a 33-7 defeat of another top DII team from 2015, Towson, in 100-degree conditions.
Towson lost access to their regular rugby field and so the game was played on a football field that lacked the normal width. So neither team could use their backs to the extent they wanted, and Madison was very successful in running their forwards up the middle.
"Our forwards recycle the ball really well," said JMU Head Coach Mark Lambourne. "And that created gaps."
Michael Barry scored in the corner after some good ball movement from the pack. Then Ryan Maguire in another movement started by the forwards and finished by the backs. Some defensive pressure from JMU set up another try and a 21-0 halftime lead.
Towson scored quickly after the break on a weakside move off a scrum. But JMU came back with Mo Katz going in at the corner, and a try from a Towson lineout miscue.   
"It was a solid first game for us in tough conditions," said Lambourne.