Cedar Falls, SE Polk Tussle for Top in Iowa Girls Fall 7s
Cedar Falls, SE Polk Tussle for Top in Iowa Girls Fall 7s
Cedar Rapids players find some space.
Cedar Falls secured the #1 seed in the Iowa Girls Fall 7s after finishing off a 9-1 run in the regular season.
The key game on Monday's tournament was between Cedar Falls and SE Polk. Both of those teams had opened Monday's play with shutouts, Cedar Falls 39-0 over CR Washington and SE Polk 26-0 over DM Roosevelt. That put them both at 8-1 for the season. Cedar Falls' only loss had, in fact, been to SE Polk the week before 24-7. SE Polk's only loss had come on September 27, 12-5 to Waverly Shell Rock.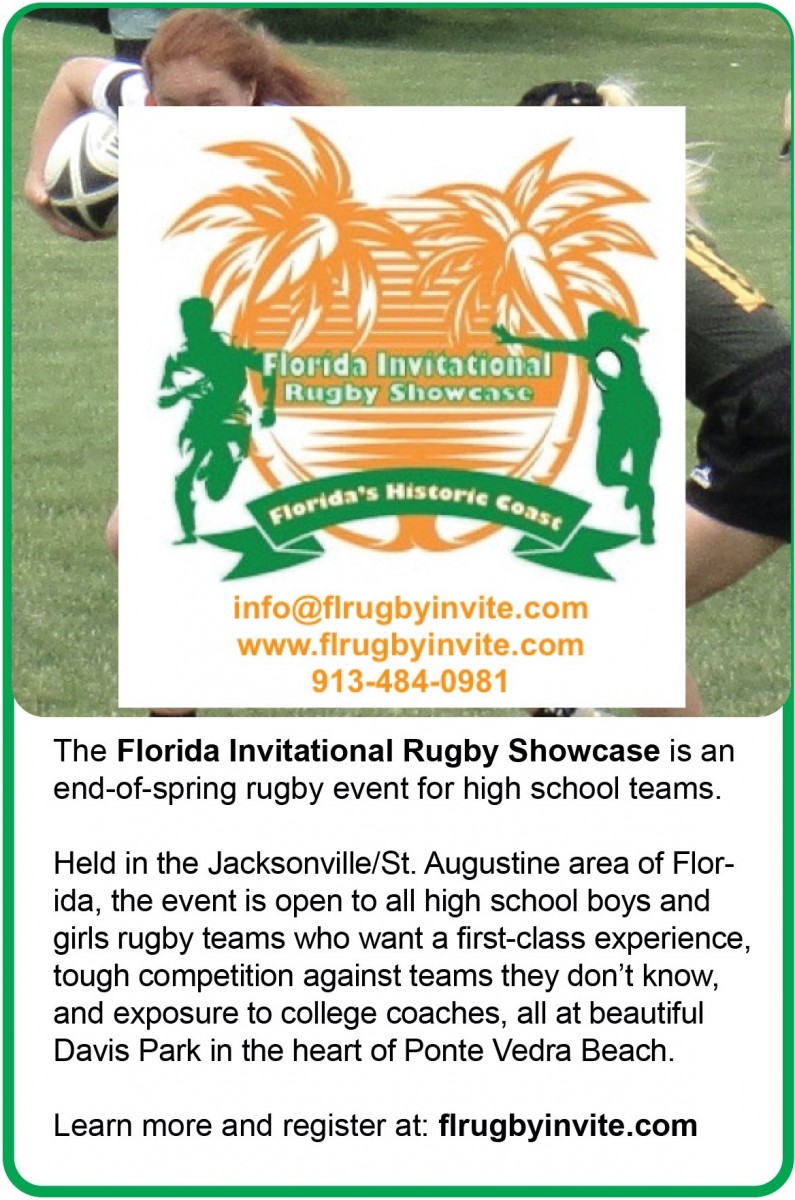 Both teams had been equally dominant. Cedar Falls, in fact, saw their points-against more than double thanks to SE Polk. Against all other opponents, the Tigers had allowed only 17 points, posting five shutouts and holding every other opponent to just one try. Polk scored four against them. 
The SE Polk Rams had also recorded five shutouts and had given up fewer points than Cedar Falls (38 to 41). 
In that final game, however, Cedar Falls put in an even stronger defensive effort, holding SE Polk to just two tries. With the final whistle set to be blown, Cedar Falls was down 10-5 when Morgan Linck broke through for the game-tying try. She then calmly converted to win the game 12-10.
"We had an amazing game against SEP," said Cedar Falls Head Coach Brent Piper. "It was a great match to watch."
Piper praised the "amazing leadership" of Linck, and also Susannah Church. Those two are the co-captains, but it has had to be a team effort.
"We have focused on conditioning this season, and it shows in every match. We have a great mix of strong, powerful players and hard runners," said Piper. "This season has been a lot of fun watching them play and our success is a direct result of the hard work put in by every team member."
Linck leads the competition in tries by a very wide margin, having scored 22 tries in nine starts. She is followed by Southeast Polk's Annika Dearden and Roosevelt's Liberty Cawthorn, with 13. Jade Kuriki of SE Polk is the most prolific kicker in the league with 27 conversions. Linck is a distant 2nd at 15 (although her points total of 140 is more than twice that of Dearden, Cawthorn, and Kuriki, who all have 69).
Maggie Gorman of Cedar Rapids Washington leads the league with 44 tackles, and Malori Swenson of Indianola is second with 41. Interestingly, both of those totals are from just eight games, when the next two on the list played in ten games. Both of these players are averaging more than five tackles a game, and the next highest rate is 4.6 (Emma Schaefer of SE Polk).  
But it isn't over. This coming Sunday will be the state championship with a double-elimination bracket. You kind of get the feeling we'll see Part 3 of this drama unfold there.
State Championship Bracket. Sunday, October 24 in Waterloo, Iowa.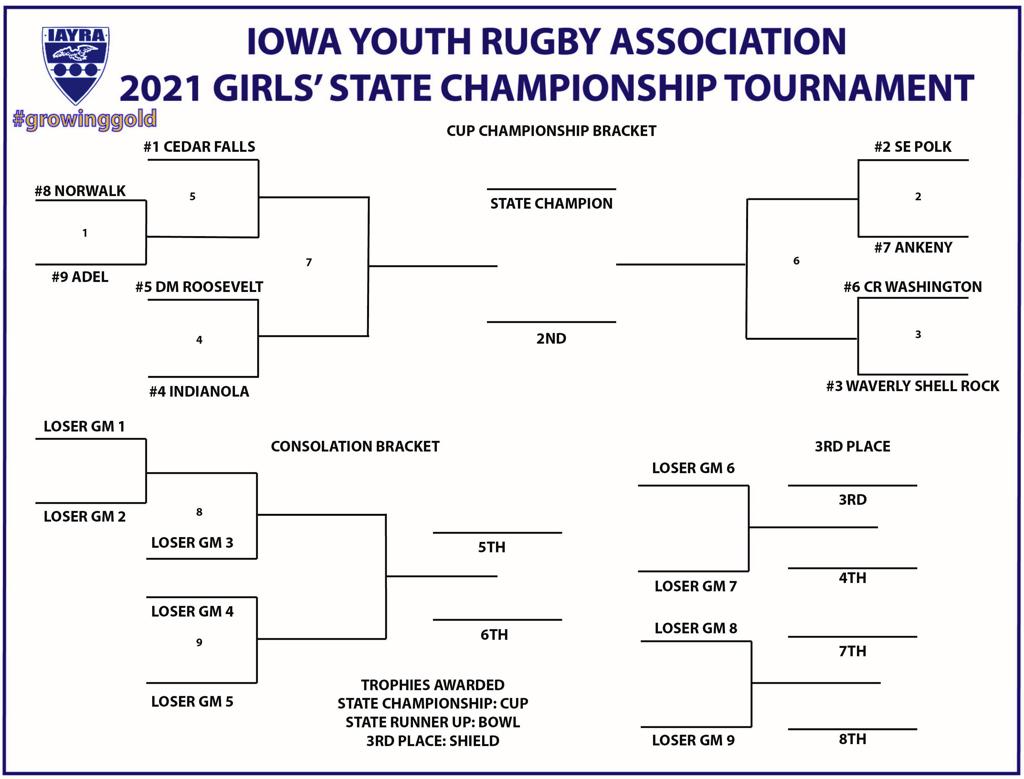 Iowa Girls Fall 7s Standings 
TEAM
W
L
T
BP
PTS
Cedar Falls
9
1
0
7
43
SE Polk
8
2
0
9
41
Indianola
6
4
0
2
26
Waverly Shell Rock
5
2
1
4
26
DM Roosevelt
4
3
1
4
22
CR Washington
3
4
1
3
17
Ankeny
2
5
1
1
11
Norwalk
2
8
0
2
10
Adel
0
10
0
1
1